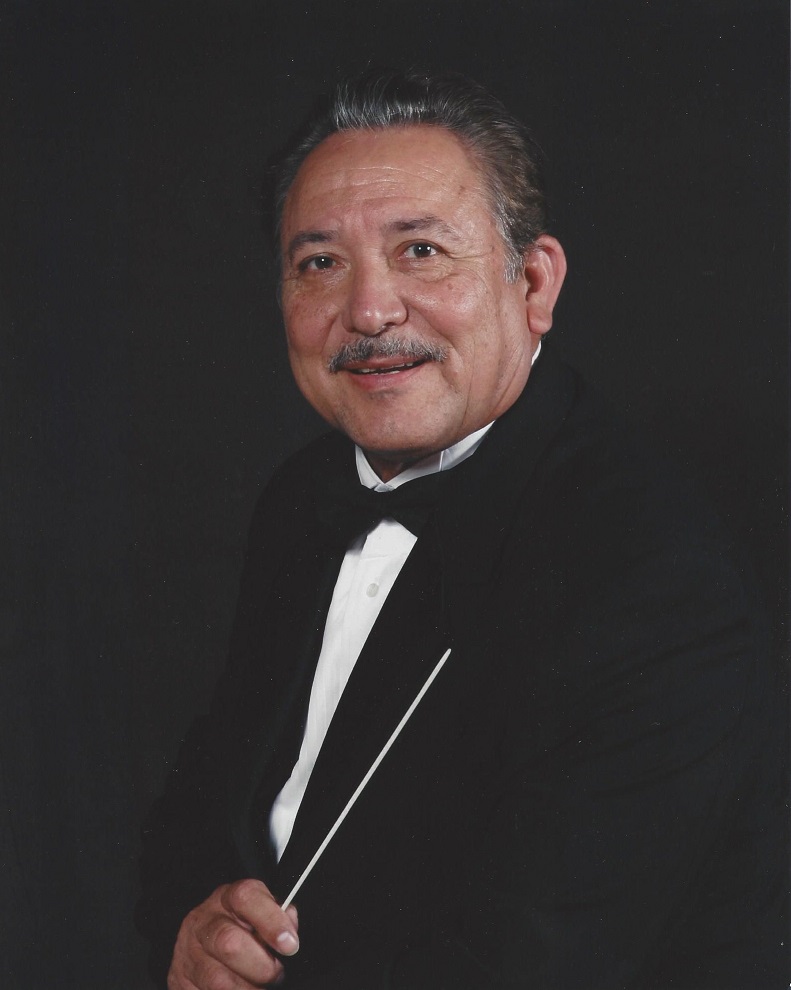 Digital Scrapbook
Rolando Molina was born May 18, 1947, to Manfredo and Bella Molina in Agualeguas, Nuevo Leon, Mexico. He is the oldest of four children, including three sons and a daughter. Rolando had his first musical experience in the fourth grade at Colston Elementary School in Kingsville, Texas. He was a member of the school choir, taught by Edith Head, and played trumpet in the band class, taught by Miss Panatoni. He continued his choir experiences at Gillett Junior High School under Mrs. Millicent Wiley and his band experiences with Estill Foster, Clifford Horn and Gus Nelson.

His musical experience expanded at H.M. King High School, where his choral instructor was Millicent Wiley. He won many awards in choir, including first alternate to the Texas All-State Choir in 1965. His band instructors in high school were Joe Rogers and Tom Stuchberry. Rolando earned a chair in the Texas All-State Band in 1966. He also played trumpet in the high school jazz band, under the direction of Gerald Babbit. He played trumpet in the high school symphony orchestra with Dr. Wilbur Gregg. While in high school, Rolando also played with the renowned Beto Leal Orchestra from Kingsville, Texas, and continued playing with them for fifty years.

Following graduation from H.M. King High School in Kingsville, Rolando attended Texas A&I University in Kingsville, Texas. He studied trumpet under Dr. Joseph L. Bellamah. Rolando was honored to be trumpet section leader for two years in this great band. He was also a member of the Texas A&I Singers, an eighteen piece ensemble that traveled extensively representing the university. Rolando was fortunate to perform with this group in the summer of 1970 on a ten week USO tour which included Germany, northern Italy, Switzerland, Vienna and Austria Rolando did his student teaching in Corpus Christi at Miller High School with Mr. Eddie Galvan Mr. Eddie Galvan was one of the most influential mentors in Rolando's career.

His first teaching appointment was at Crockett Middle School in Port La Vaca, Texas, in the fall of 1970. Crockett Middle School made their first Division I rating in 20 years at UIL contest under Rolando's leadership. In the fall of 1971, he landed a job in his hometown at Memorial Junior High School. He took over a Division V band and turned it into a Division I band in one year.

Two years later, Terry Anderson became the head director at H.M. King High School, where he remained for ten years. This proved to be one of the most dynamic band eras in Kingsville I.S.D.'s history. Terry saw Rolando's potential and promoted him to first assistant high school director. Rolando, greatly impressed with the strict and demanding style of teaching that Terry brought with him, soon adapted to Terry's style of teaching. The directors at that time included Otto Looney, Frank Cisneros, Ruben Garcia, and John Henry Rodriguez and others. The band grew to about 300 very talented members. The band program in Kingsville ISD was highly successful during these years. Rolando's bands flourished with Anderson as his mentor.

In 1981 the band students and Rolando were involved in a bus accident. The bus was coming back from all-district band tryouts and hit a car just outside of Kingsville. Three people in the car were killed. The bus flipped upside down and spun endlessly. Rolando was quick to calm down the students and get them all out safely. Soon many ambulances and police were at the site. That night was a life-changing experience for him. He felt that his life was spared so that he could continue teaching and inspiring young students. A few years later Anderson left for better opportunities and a young Rolando Molina was named head director at H.M. King in 1983.

The H.M. King Marching Band competed in the State UIL Marching Contest thirteen times. They made the finals in 1984, tied for seventh place in 2003 and placed twelfth in 2014. His band was second runner-up in the Honor Band process in 1993-1994 and sixth runner-up in 2003-2004. The H.M. King band won thirty-one sweepstakes awards during Molina's tenure at H.M. King High School. Fifty-four of his students made the all-state band. His band was featured in the Orange Bowl in 2005 and in the Cotton Bowl in 1999. His band won festivals in Washington D.C.; Orlando, Florida; Colorado Springs, Colorado; and San Antonio, Texas.

He was the director of Mariachi Del Rey at H.M. King High School from 2005 to 20015. His mariachi was a state finalist five times in the MASBA State Mariachi Contest. They were featured at the Voices of the World International Festival in Petoskey, Michigan, and also at the TBA Convention in 2014.

Rolando served as an officer of Texas Music Adjudicators Association in 1992 through 1994 and was president in 1995-96. He is an active member of TMEA, TBA, Phi Beta Mu, TMAA, ATSSB, Phi Mu Alpha, and Kappa Kappa Psi. He served as a region representative for TBA for seven years. He served on the Young Bandmaster of the Year Committee, the Publicity Committee and the Outstanding Contributor Committee for Phi Beta Mu. He served as the Region XIV vice president for twenty years.

Molina was recognized by the Texas Legislature in 2005 for his outstanding work as a band director in Kingsville, Texas. He was inducted into the TAMUK Band Hall of Fame in 2005 and the Region XIV Band Director Hall of Fame in 2015.

Rolando was recognized as a "Distinguished Alumnus" of Texas A&I University for his significant contributions to his profession, his community and Texas A&I University in 2015. In 2013, The Kingsville I.S.D. named the new fine arts complex in Kingsville as the "Rolando Molina Fine Arts Center."

Sixty-five of Rolando's students are now band directors, choir directors, or public school music teachers in Texas and throughout the United States.

Rolando's career accomplishments have been made possible through the inspiration from many close mentors. These include all of his former teachers: Edith Head, Millicent Wiley, Clifford Horn, Estill Foster, Gus Nelson, Joe Rogers, Wilbur Gregg, Tom Stuchberry, Dr. Joe Bellamah, Eddie Galvan, and also Bryce Taylor, Dick Floyd, Gary Garner, Sandra Messbarger, Richard Crain, Rey Meza, Pete Cisneros, Bill Cormack, Joe Castellano, Eddie Zamora, Dan Schreiber and Terry Anderson.

Rolando is now retired and spends most of his spare time gardening, doing band clinics, and judging band contests. His daughter Melody is married to Jacob Aleman and they have two children, Josh and Julia. They live here in San Antonio. His son, Rolando Omar, is a student at Texas A&M University at Kingsville, majoring in computer science. Rolando and his wife, Noi, have two sons, Bas, a student at Texas A&M University in Kingsville, majoring in biochemistry and Best, a senior top ten student at H.M. King High School.

Rolando is very humbled and honored to have been selected to the Phi Beta Mu Texas Bandmasters Hall of Fame. He extends his gratitude to his family, friends, band parents and former students, along with Phi Beta Mu and Mr. Alfredo Cortinas for this great honor.