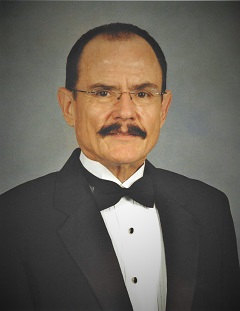 Digital Scrapbook
Dr. Tom Shine spent forty years as a Texas high school band director. Born in Belton, Texas, in 1948, he graduated from Belton High School in 1966. His band directors included J.E. "Pete" Peters, Walter Guyer, Connally Cunningham, Richard Frerking, and Richard Crain. During his senior year in 1966, Tom earned a place in the clarinet section of the Texas All-State Band. The following summer, he was privileged to tour South America with the All-American Youth Honor Band, conducted by Clifton Williams.

Entering The University of Texas at Austin in 1966, Tom majored in music education and marched with the Longhorn Band. During his four years at UT, Tom studied conducting with William Moody, clarinet with Ray Schroeder and Leland Munger, and music education with Nelson Patrick. It was in the UT Wind Ensemble, then known as the Symphonic Band, that Tom met and became engaged to his future wife, Verda Spann. Following his graduation in 1970, Tom elected to stay an additional year to work for "Dr. Pat" at the UIL while starting a Masters of Music Education degree.

In 1971, Tom accepted a job at Angleton High School, working with head director, Don Hood. Leaving in 1972, Tom and his new wife, Verda, accepted positions in the Austin Independent School District, with Tom as the Director of Bands at McCallum High School.

In 1976, the Shines left Austin and Tom became the Director of Bands for the Lampasas Independent School District. Four years later, Tom became the Director of Instrumental Music for the Duncanville ISD where the Shines would stay for the thirty remaining years of their careers. Their three children, Lindsey, Jonathan, and Nicholas were all born in Duncanville, attended the same Duncanville schools, and all played in their mother's and father's bands.

In Duncanville, the bands under Dr. Shine's leadership earned a long list of recognitions and honors. The bands were awarded both Sudler Awards by the John Philip Sousa Foundation, one of the few bands worldwide to receive both awards. The Duncanville High School Marching Band advanced to the UIL State Finals fourteen times winning championships in 1986, 1990, and 2002. The marching band also won two Bands of America Southwest Regionals in 1991 and 1992 and placed in the finals at Grand Nationals both times it entered in 1991 and 1993.

The Duncanville High School Wind Ensemble, under Dr. Shine's direction, never received less than a superior rating at any contest, and placed in the top seven in TMEA Honor Band competition eight times, being named Honor Band in 1998, 2004, and 2008. Additionally, middle schools in Duncanville earned four TMEA Honor Band awards in 1984, 2002, 2004, and 2008. The Wind Ensemble performed for MENC, twice for the Midwest International Band and Orchestra Clinic, and for the All-Japan Band Directors Association in Nemu-no-Sato Japan in 1999. The Wind Ensemble also performed in Carnegie Hall in New York, Kennedy Center in Washington, D.C., and in England and Wales.

Dr. Shine was the Region 20 band chairman for twenty-five years and also served as the region president. He was, for seven years, the vice-president of the Texas Music Adjudicators Association, conducting in-service training in both concert and marching band. In 2006, Tom was awarded the Meritorious Achievement Award from the Texas Bandmasters Association and, in 2010, was named Bandmaster of the Year. Also, in 2010, Dr. Shine and his wife, Verda, retired, and the following year were both recognized by the Duncanville Independent School District with the naming of the district performance hall in their honor.