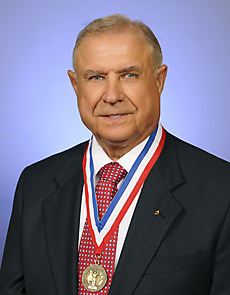 Digital Scrapbook
Donnie Owens, the oldest of three children, was raised on a farm near Kingston, Oklahoma and graduated from Kingston High School in 1955. Music had always played a vital role in his life, beginning in early childhood. As a young boy, his grandmother Owens would sit at the piano, creating the backdrop for a child's active imagination as accompanying storylines would fill his mind. He was intrigued by the combination of notes that produced a sound so unique and yet often times, so familiar. Mr. Owens' music career started in the first grade, where he would play in a rhythm band for the next four years. In the fifth grade, he was allowed to start on baritone horn, where he became the band's featured soloist. Mr. Owens' leadership also started early in life when he became vice president and president of his class and band for three consecutive years and was student conductor of his band his senior year. He was also a member of the National Honor Society and had the lead role in his junior and senior class drama productions.
By his senior year, he only had one required subject left, so he enrolled in beginner's band, junior high and senior high band and took music theory.

As time passed and thoughts turned to career choices, there were many possibilities, but only one seemed to actually "fit". So, a decision that can be somewhat difficult was actually fairly simple: Donnie Owens would study and teach music.

Mr. Owens graduated from Southeastern Oklahoma State University in 1960, where he had once again become a band president and student conductor. He was also listed on the dean's and president's honor roll his senior year. He earned his Masters in Music Education degree at North Texas State University in 1967, while playing trombone in the summer lab bands as well as concert bands and orchestras. While at N.T.S.U., Dr. David McGuire, Head of Graduate Studies, sponsored Mr. Owens into Pi Kappa Lambda, the national honorary music fraternity. School districts benefiting from his experience and knowledge include Antlers, Oklahoma; Junction City, Kansas; Durant, Oklahoma, and the Texas schools located in Dickinson, Arlington, Pearland, Fort Bend, Texas City and most recently, Waxahachie. Mr. Owens spent his first four years in Antlers, Oklahoma where the band went from a third division rating in concert the year before to a standing ovation that lasted for several minutes at the state concert contest at Oklahoma State University. During Mr. Owens' tenure at Junction City, the high school band was invited to perform for the 1966 Kansas Music Educators' Convention, and under his direction, the Durant High School Band received the coveted invitation to perform for the Oklahoma Music Educator's Convention while featuring alto saxophonist, Don Sinta. The Durant Band also performed for the 1972 Midwest International Band and Orchestra Clinic. Visitors to the Dickinson High School Band Hall are greeted by awards, plaques and trophies earned by the band with Donnie Owens as director. His efforts over twenty years produced impressive results with the Dickinson Band earning TMEA Honor Band and the UIL state marching contest five times. His concert bands are also decorated with more than forty "Outstanding of Contest" awards throughout his career.

The past eight years have found Mr. Owens serving as the catalyst for the Waxahachie Band Program by forming the foundation of the youngest band members. The Turner/Clift Middle School Bands have earned thirteen consecutive "Outstanding of Contest" awards over the past seven years in the Dallas/Fort Worth metroplex and have established a rich tradition of returning from contests with division one and division one triple plus ratings. The WISD recognized his efforts by naming Mr. Owens the Turner Middle School Teacher of the Year for 2007. His wife of 53 years, Margie, works with him as they take students from beginning stages to award-winners.

Mr. Owens has received numerous personal awards: a yearbook dedication in 1962, Oklahoma Bandmasters Hall of Fame in 1983, UIL Denius Sponsor Excellence Award in 1990, the Chamber of Commerce Don Owens Day in 1993, Citation of Merit Award by the National Band Association in 1993, the Rotarian's Paul Harris Fellow Award in 1994, the Community Builder's Award by the Masonic Lodge in 1994, the Dickinson Band Hall renamed the Don Owens Band Hall in 1995, the Torchbearer's Award at Bowie High School in Arlington in 1997 and the Meritorious Achievement Award by the Texas Band Masters Association in 2008. In December at Midwest this year, Mr. Owens has been elected as a Bandworld Legion of Honor Laureate, sponsored by the John Philip Sousa Foundation.
Mr. Owens has served as both adjudicator and clinician on numerous occasions in locations throughout the Midwestern states. He has also been named region band conductor several times; district, region and state office positions are included in his resume as well as various state committee memberships. Mr. and Mrs. Owens have three children, all Dickinson High School graduates. Their daughter, Julie, was a two-year All State Flutist, while their son Stephen earned a place in the All State Band for three years as a trombonist. The saxophonist in the family, son David, was All-State Band member for two years as well as a member of McDonald's All-American Marching Band and Jazz Band. The Owens' now have six grandchildren, two of whom are old enough to be in band. Sydney will be a percussionist in the Coppell High School Band and Reilly will be a trombonist in the Clear Falls High School Band in the Clear Creek ISD.
Donnie Owens is a contributing member of the Texas Music Educators Association, the Texas Bandmasters Association, the Texas State Teachers Association and Phi Beta Mu.

Mr. Owens is most honored to be named to the Phi Beta Mu Texas Bandmasters Hall of Fame.