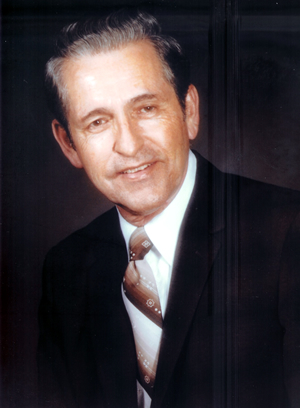 Digital Scrapbook
Through the years, Don Fleuriet was often asked why such a gifted musician, with so many opportunities for greatness, stayed in a small town, in a public school district, teaching young people. His reply was always; "I wanted to bring the beauty of music to those who, otherwise, may not have had the opportunity to be a part of that world." This statement truly encompasses the character and passion of this man who was dedicated to his work, his family, his church, and his community.

He was born March 12, 1922 in New Orleans, Louisiana and moved to Donna, Texas in 1926 with his parents, one brother and one sister. He graduated from Donna High School in 1939 and attended Edinburg Junior College. He later transferred to Baylor University where he received his Bachelor's Degree in Business Administration. He initially thought he wanted to be an attorney so he attended one quarter of Baylor Law School. His studies at Baylor were interrupted first by World War II and then the Korean Conflict. He was a second lieutenant in the United States Marine Corps. After he finished his service to his country, he returned to Baylor, and decided to pursue an education reflecting his true love—music. He received his Master of Arts degree in music in 1950. While at Baylor, he was the student conductor of the Baylor University Symphony Orchestra.

Don was associated with the band program in the La Feria Independent School District from 1952 until his retirement in 1986. The majority of those years (1952 – 1979) he was the only band director for the entire school district. He taught beginners (fifth and sixth grade), junior high, high school, marching band, concert band and provided individual lessons.

During his tenure, the La Feria High School Band was named the top concert band (Honor Band) in the state in Class AA four times by the Texas Music Educators Association. In fact, his bands finished in the top five every year they were eligible to enter the Honor Band Contest. No other public school band program in the state has ever had that kind of success. The band received a first division rating at region marching contest year. The band also received a first division rating at region concert contest every year—almost unheard of in public school competition. The band received a first division rating at region sight-reading contest every year except one. He worked with interested students after school and on weekends, with no additional compensation, to help them achieve their musical goals. As a result, he also had numerous students selected for membership in the All-State Bands. This is an incredible record of achievement when considering he was the only director for the entire school district.

Though his passion was music, Don understood that the students he taught were interested in other aspects of extracurricular education as well. Instead of trying to "compete" with athletics or theatre programs, he would work with student schedules and be flexible with his time teaching them music, so that they could pursue their other interests. This is the mark of a person who is not just dedicated to his own discipline, but to all around student success.

He was committed to the town and the school district. At the First United Methodist Church, where he was a member throughout his time in La Feria, he volunteered to direct the church choir every Sunday for over 30 years. He taught Sunday school to young people and adults. As stated earlier, through the years, he had many offers to move to larger high schools or colleges. However, he wanted to stay in public school music at La Feria 'to bring music to those who otherwise might not have it.'

His impact stretched beyond the boundaries of the La Feria Independent School District. One of his early students was Dr. Carl Seale who later was the director of the music department at Pan American University. He was a mentor for new band directors in the Valley. One of them was Mr. Perry Suggs who also won an Honor Band award in 1961 at Edcouch-Elsa High School. He also spent countless hours as a guest clinician for other bands working on their concert contest music.

His peers and colleagues have honored his achievements in the music profession. In 2006, he was selected for membership in the Rio Grande Valley Band Directors Hall of Fame. However, his most important honor has been the remembrance of people he touched throughout his life.

Don Fleuriet passed away on August 17, 1990. He was committed to excellence during his 34 years of employment with the La Feria Independent School District. His work brought unprecedented recognition to the district and the community. Public school education has always been about the growth of the individual student. Don Fleuriet's impact on the lives of thousands of students is immeasurable.