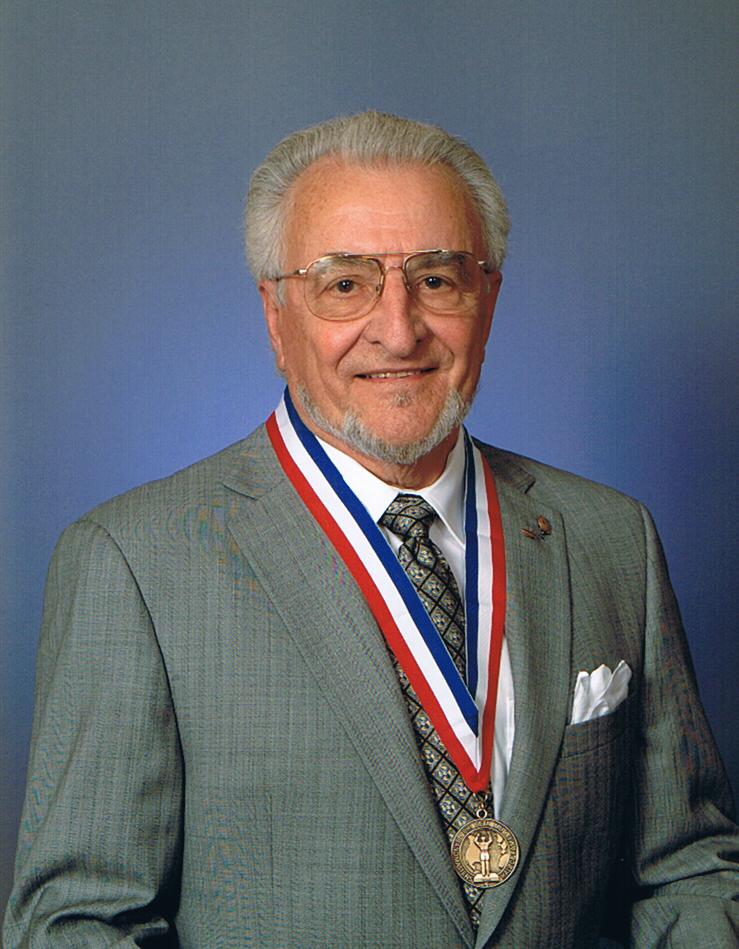 Digital Scrapbook
"I do not remember this dream, but I do love the living of the dream."
--Orville A. Kelley, July 22, 2007

Orville Autrey Kelley joins three prior Nederland High School band directors in being named as a member of the Texas Bandmasters Hall of Fame. He celebrated many firsts throughout his career, which have become standard practice today.

Born in 1928, Orville grew up during the Dust Bowl in a two-room sharecropper house south of Bokichito, Okla. His parents, Welch and Myrtis, placed wet washrags on their childrens' faces at night to prevent their breathing the dust particles that blew in through the cracks in the house. At age 5, his older sisters Annabelle and Angeletta enrolled him in school, not for education but for free lunches, and managed to have him promoted to fifth-grade work at age 8.

After graduating from high school in Nashville, Ark., he lived with a sister in Texarkana, earning an accounting certificate in one year from Texarkana Business College. There were various bookkeeping and sales jobs until World War II ended and his parents signed for him to enlist. He served in the 304th Army Band in Washington, D.C.

Honorably discharged at 19, he used his accounting skills until enrolling at Henderson State Technical College in Arkadelphia in January 1947. Throughout college, he toured with the Arkansas State Symphony. He studied French horn with E.J. Marty of the University of Arkansas and Eugene Davis with the Symphony. His formal conducting training was with Glenn Riggin of HSTC, William Haacker with the Symphony and Dr. Ray Luke.

Orville met and married Vivojean (Bibo) in college, his wife for more than 55 years. "She was my sweetheart and my everything in everything we planned or did," said Orville. "We never considered life without each other." She died of respiratory and heart failure Valentine's weekend of 2005.

During college, Orville gained teaching experience in Waldron, Ark., returning to HSTC for summer classes. He graduated in 1953 with his bachelor's degree in music education. Waldron was a great place to start a band life and their son, John, brightened their lives in 1951. The Kelleys moved to Texas, where Orville was a high school band and orchestra director as he earned his master's degree and Vivojean completed her bachelor's degree at East Texas State University, Commerce. From 1955 to 1958 the family returned to Arkadelphia, where Orville was band director and instrumental teacher at their beloved Henderson. Health conditions took them away and back to Texas, and for the next four years, Orville performed with the Beaumont Symphony.

For the next nine years Nederland, Texas was home. Orville's Nederland bands were sweepstakes winners and three times, Texas Music Education Association Honor Band Finalists. The Nederland High School marching band was renowned for musical excellence and unique maneuvers. Orville claimed the motto, "The Golden Pride of the Golden Triangle."

He devised intricate and difficult military band maneuvers while in triangle shapes, marching 6 steps to 5 yards at 60, doing "minstrel turns," all the while playing their horns. Their marching music was chosen to be difficult, always memorized and "played off" and spiced with symphonic, jazz, and Cajun on the field. They featured soloists, concert percussion on the sidelines, and just may have been the first Texas high school band to feature colorful flags on the field in 1961, made by Vivojean.

In August 1960, the band performed at the first Houston Oilers home game at Jeppeson Stadium. The crowd was amazed with the light show from 100 uniforms, each featuring 48 individual battery-powered gold lights. The Oilers named the Nederland band as their "official band" for the 1960 and 1961 seasons, which resulted in four or five nationally televised halftime shows.

Senator Lyndon B. Johnson invited the Nederland Band to march in the inaugural parade for President John F. Kennedy. It is believed that the Nederland Band was the first Texas High School Band to march in a Presidential inaugural parade.

In 1967, Orville served as sales manager representative for King Musical Instruments, traveling from Canada to Mexico. Even after being transferred back to Nederland, the Kelleys chose to return to teaching and moved to Grand Prairie, Texas City, and then to Spring ISD with a mandate to develop the music program to national prominence. His first year at Spring, Orville's band received the first Division I honor for the school. Today, Spring ISD is well known for music and academic excellence.

In 1973, the Kelleys bought into and now own Swicegood Music of La., Inc. Son John joined the business in 1982 and his wife Suzanne came on board in 2000 – they met as music majors at North Texas. John developed skills as an expert band repair businessman, contributing to the success of the family business. Suzanne serves as president of the Louisiana Choral Foundation, and performs as soloist with that group and with the Lake Charles Symphony. She is also a freelance soprano. Orville delights in their three children and in his great- grandchildren.
Orville's professional memberships include music educators' associations in Arkansas, Texas and Louisiana. He is now an active/retired member of MENC, LMEA, LBA, TMEA and TBA. He has served as clinician, adjudicator and guest conductor in many states, and in Louisiana, Orville has been recognized and honored by many bands in southwestern Louisiana for his expert guidance and instructions. Orville is a member of the American Bandmasters Association and Phi Beta Mu Epsilon, Louisiana Chapter. In 1987 and in 2002, Phi Beta Mu Epsilon named his 35-year old family business in Lake Charles "Outstanding Contributor to Bands" in the state. He has served as guest conductor of the LBA Honor Band in Baton Rouge, and conducted The Woodlands High School Bands at Midwest in Chicago in 2003 and in Seattle in 2005. In 2006, Orville was honored to conduct Kerry Taylor's Westlake Band at the annual convention of the American Bandmasters Association Convention in Richardson. From its inception in 1998, the Kelleys have sponsored "The Academic All-State Achievement Award" for choir, jazz and band members who maintain a 3.5 GPA (4.0).

Orville recognizes the long and storied histories of the bands he has been blessed to direct, and extends special thanks to the brothers and sisters of Phi Beta Mu Epsilon. He issues highest regards to the three Nederland High School band directors who have been honored as members of the Texas Bandmasters Hall of Fame. He acknowledges God as the giver of all that is great and good, and gives thanks. "My special thanks to all who have helped me and my family along the way here today," said Orville.