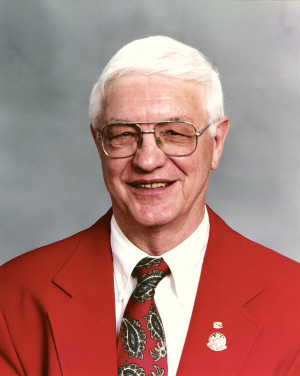 Digital Scrapbook
Jerry Payne was born in Ruston, Louisiana on December 10, 1935 to Opal Hammock Payne and Maldon Payne. When he was 3, his parents divorced and he and his mother went to live with her sister whom Jerry lovingly called, "Aunt Sister". His aunt and uncle ran a boarding house, so Jerry became part of a large, diverse family which helped him to never feel like an only child. Throughout his childhood, he was loved, nurtured, and encouraged by many family members on both the Payne and Hammock sides of his family.

He started band on a $30 used metal clarinet in the 6th grade and later picked up the saxophone. His high school band experience left much to be desired. So much so, that Jerry became a cheerleader during his senior year to avoid playing in the band. The one positive, enjoyable musical experience that he had in high school was playing in a dance band run by a classmate, David Ward-Steinman, known as "David Ward and His Rhythm Ramblers." Whatever little bit Jerry learned about music in high school was learned with the Rhythm Ramblers and not in the school band. This negative band experience motivated him to consider attending Northwestern State College and major in instrumental and vocal music education. He felt strongly that students deserved and needed a much better band experience than he had received and was confident that he could do a much better job than had been done for him.

Jerry entered Northwestern on a dance band scholarship and later, during his last 2 years of college, became the student leader of the group known as the "Demonaires." Because he had the responsibility of rehearsing, directing, and running the dance band, he gained valuable experience and knowledge toward becoming a band director. He actually had to teach his peers without them realizing that they were being taught!

Like many other young musicians at that time, Jerry hoped to be a professional player rather than a teacher, but that goal suddenly changed when he was student teaching. The "bug" bit him! He realized that he truly loved and enjoyed teaching and working with young people. About the same time, he was bitten by the "love bug". He fell in love with an attractive, talented freshman girl named Marilyn Pippen. So, after Jerry graduated from NSU, they married and 3 days later, he began his teaching career as the band director at the brand new Alexandria Junior High School in his hometown.

After 10 years, at AJH, Jerry returned to Northwestern for graduate work, earning the Master of Music Education and Specialist in Education degrees. While in graduate school, he taught at two junior highs in Natchitoches and was a graduate assistant in the Music Department. He then returned home to open a new high school – Alexandria Senior High. The ASH band, as it was called, quickly became one of the best bands in the state. Jerry was there 3 years, culminating with the band being selected as the Louisiana Honor Band at the Four State Bandmaster Assn. Conference in 1972 and a 3-week trip to Europe, participating in and receiving First Division ratings in Concert and Marching at the First International Band Festival in Vienna, Austria. His band was one of three USA bands chosen by Dr. William Revelli to present a one hour live concert on Austrian National Radio.
After receiving the Doctor of Education degree in 1973, Jerry finished his final 4 years in Louisiana as Director of Bands at Northwestern State University, his alma mater. He then retired in Louisiana and moved to Marshall, Texas hoping to rebuild the struggling band program there. He and his loyal staff composed of Al Hobson, Rick White, Anthony Robinson, Josie Ross, Beth Bienvenu, and Terry Hopkins worked diligently for 25 years to restore the Marshall band program to a place of respectability. Under his leadership, the program developed into one of the finest in the state. The band program grew in size and quality and earned numerous UIL Sweepstakes awards. Fourteen years after his Alexandria Band was the Louisiana Honor Band at Four States, his Marshall Band was selected as the Texas Honor Band. The Marshall High School Band regularly performed with guest artists of national prominence, including Wayne Dyess, Norman Brentley, Donald Sinta, and Tommy Newsom.

Dr. Payne has served as a guest conductor and clinician for numerous honor bands in Arkansas, Louisiana, and Texas and has been a clinician and judge for festivals and contests in Texas, Louisiana, Mississippi, Oklahoma, Arkansas, and Tennessee. He is active in Phi Beta Mu, TBA, TMEA, TMAA, and is a Paul Harris Fellow in Rotary International. He is a semi-professional jazz and concert saxophonist, is active as an arranger of band and jazz ensemble music, and performs with the East Texas Baptist University Saxophone Quartet.
Dr. Payne was honored in 1987 by having his name placed on the "Wall of Distinction" at the Marshall Courthouse Museum under the category of "Composer-Conductor." In 1990, he was the first inductee into the Band Directors' Hall of Fame at his alma mater, Northwestern State University. Upon his retirement in June 2002, he was greatly honored by his students over the past 45 years, family, friends, and colleagues with a Surprise Retirement Party including a 100+ member "Tribute Band," comprised of former students from Louisiana and Texas spanning his career. The Tribute Band performed a special composition, "Reflections of an Era", composed for the occasion by former Marshall High School student, Key Poulan. Dr. and Mrs. Payne were presented with an all-expense paid trip to Europe as a retirement gift from his former students.

In 2002, he was inducted into the Louisiana Music Educators Hall of Fame and with his induction today, he will become a member of the Hall of Fame in two separate states.

Dr. Payne and his wife, Marilyn, are the proud parents of five children, two sons, Maldon and Ronnie, and three daughters, Donnis, Melissa, and Jeannie. They have 7 grandchildren. The Paynes reside in Marshall and attend Immanuel Baptist Church.

When speaking about his 45 year career, Dr. Payne says, "If I had it all to do over again, next time I think I would marry Marilyn Pippen and be a band director!"