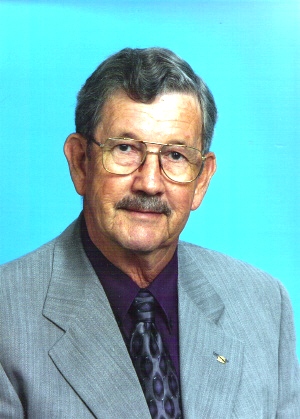 Digital Scrapbook
On October 23, 1933, Charles and Juanita Fry gave birth to a son in Sweetwater, Texas. Charlie proudly blessed his son with the name of Thomas Joseph Fry.

The Great Depression taught his parents the value of education, which they were denied, and strong personal and work ethics. They taught him to love education and the arts. During Tommy's sixth grade year, the Sweetwater High School Band played a concert at Eastward Elementary, and Tommy was enthralled. The program featured a wonderful cornet soloist, a girl, and Tommy was certain that if a girl could play that well then he, a boy, could play equally as well. The die was cast and a horn – a cornet – had to be found for the budding musician. Charlie Fry was assigned the task of finding a horn, a daunting job considering the economy, and there were few cornets to be found in Sweetwater, Texas. However, he prevailed and Tommy began his musical journey on a Grand Rapids cornet. Not only did the horn suffice as an instrument, but also twenty years later it served wonderfully as an attractive musical lamp.

Tommy diligently practiced his cornet and, though he tried hard, the sounds were not quite as melodious as those of Rafael Mendez or Billy Butterfield, to whom Tommy listened to religiously. Tommy needed lessons. Charlie Fry was assigned the task of finding a music teacher. Charlie remembered that a janitor at the elementary school, named Shorty, had played with a circus band years earlier. Shorty was not strong on pedagogy, but he wrote out the tunes from his circus days and taught Tommy by rote. By the time summer band began, Tommy dazzled his fellow beginners with a magnificent repertoire of the great old circus tunes.
D.W. (Dub) Crain accepted the band director position at Reagan Junior High School and Tommy received a more conventional teaching approach. Tommy also met his duet partner, chair-challenge rival and friend, Francis McBeth. Together, Tommy and Francis performed regularly at the Lamar Street Baptist Church, where Francis' father was the preacher. Francis' father accepted a church in another town and Francis moved away. Tommy next saw his old friend in Galveston in 1951 when Tommy was selected as a member of the Texas All-State Band and Francis as a member of the Texas All-State Choir.

James Nevins became the band director during Tommy's ninth grade year and continued through his high school years. Under his guidance, Tommy participated in UIL events and won first division awards for five consecutive years. He also encouraged Tommy to enter the UIL student-conducting contest for which Tommy also received a first division rating.

After graduating from Newman High School in 1951, Tommy received a scholarship to attend McMurry College. While at McMurry, Tommy studied theory and composition with Dr. Macon Sumerlin and they began a friendship that remains strong today. Macon encouraged the aspiring composer and reunited him with an old friend, Francis McBeth, who was a student at Hardin-Simmons University.
Tommy accepted his first job as band director in his hometown junior high school in 1955. One week before school began, he learned that he was also the choir director. After arguing vehemently that he was ill prepared to direct a choir, he conceded to the principal's logic that bands and choirs use the same notes and "music is music." The band did well at contest that year; the choir did better, and received a first in concert at UIL. It was definitely a year of firsts – first job as band director, first job as choir director, first UIL success, and the birth of his first daughter Sherri Lynn.

In 1957, Tommy moved his family, now to include his second daughter Coni, to Rotan, Texas where he accepted the high school band director position. He later moved to Big Spring and eventually to Levelland.

Tommy maintained his friendship with Wesley May, whom he had met in Big Spring, and in 1960, accepted Wesley May's offer to manage his store in Odessa. That same year, their son Michael was born. Through his interactions with band directors, who frequented May and Duncan Music, Tommy honed his skills as a clinician, advisor, and adjudicator. He also practiced his craft of writing and many bands became the testing grounds for his compositions. Most significant were the local bands, under the direction of J.R. McEntyre and Bill Dean and their successors, Charles Nail and Ed Handley. As his craft improved, his reputation grew and his compositions were accepted for publication.

His long-time friend and wife of 27 years, Bobbye, encouraged Tommy to return to teaching and in 1979, he accepted the band director position at McMurry College in Abilene. He and Macon Sumerlin had daily coffee breaks at the Kettle, where the waitresses supplied them with napkins for their compositions so they would stop writing on the table. At McMurry, Tommy doubled the size of the band and more than doubled the size of the instrumental faculty. He also created the Bi-State Honor Band and Choir, a significant recruiting tool.

In 1989, just after ending his Bi-State Band Camp, Tommy suffered a heart attack that required quadruple by-pass surgery. He recovered from the surgery well, but his vocal chords were damaged which kept him blissfully silent for two months. In 1990, because of his limited vocal capacity, Tommy accepted the teaching responsibilities of his now retired friend, Macon, and began teaching theory and composition. Tommy was co-author of a Title III grant to establish the first music computer lab and revised the curriculum to include computerized notation and composition.

In May of 1997, Tommy retired from McMurry University after eighteen years of teaching. The University recognized Tommy as Associate Professor of Music, Emeritus. In July, his wife Bobbye became the registrar at the University of the Incarnate Word in San Antonio. Wanting to remain active, he started working for Southern Music Company in the publications department. Ironically, his first editorial assignment was none-other-than Francis McBeth.

Along his long and varied musical journey, Tommy has befriended and been influenced by many fine musicians and teachers. Most notable are J.R. McEntyre, Robert Maddox, Don Baird, Bill Dean, Gene Smith, Dan Gibbs, Charles and Ike Nail, Jack Nall, Dick Clardy, Don Hanna, and Van Ragsdale. Tommy recognizes Wesley May who made it possible for him to be "everybody's assistant band director," Macon Sumerlin, who taught him composition, J.R. McEntyre, who performed his music at so many different venues, and all the wonderful west Texas folks who remain close friends to this day. It has been a long and exciting journey and God willing, it is not over yet.

Tommy holds membership in ASCAP, TMEA, TBA, TMAA, Phi Beta Mu, Honorary Life membership in Phi Mu Alfa Sinfonia, and Who's Who Among America's Teachers.