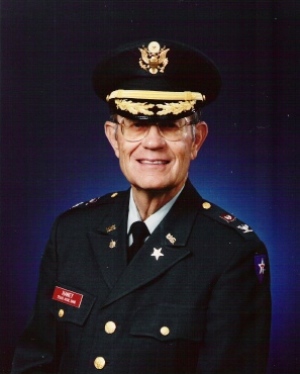 Digital Scrapbook
Joe Tom Haney was born in Colorado City, Texas, on August 19, 1927 to Clyde and Vista Mae Haney. His mother was a piano teacher, and his father was with El Paso Natural Gas Company until his death in an explosion when Joe was two years old. After this tragedy Joe and his mother moved to Marlin, Texas, where she became a bookkeeper and wrote children's plays for the Presbyterian Day School. Each spring for twenty years she authored a new play and Joe got his first opportunity to write tunes for her rhyming lyrics.

Joe had his first introduction to instrumental music when he began private trombone lessons in the sixth grade from the high school band director, Carl Cochran. From the moment he picked up the trombone, his mother never again had to goad him to practice. After one year of private lessons, he was selected for the Marlin High School Band. Following graduation from high school in 1944, he entered Texas A & M and the Aggie Band. He was there for only one semester before being drafted into the Army where he served fourteen months in Korea and played first trombone in the 282nd AGF Band in Seoul. Joe received an honorable discharge in 1947 and enrolled in the Music School at SMU. He graduated with a Bachelor of Music degree in 1950 and received his Master's in 1954 from Sam Houston.

For his first position as a band director, he sought a situation where he would know more about his job than anyone else. Hemphill was the only town he could find in Texas which had never had a band but wanted to begin one. When he was offered the job, he took it. His organizational skills were honed in this little school which had no band hall, no instruments, no music, no uniforms and few students who were interested in being in the band. His recruiting tactics included suiting up and working out with the football team and riding his horse down many country lanes to visit with parents of interested students. In the spring of 1951, the Hemphill High School Band, composed of fifty-five students, played its first concert, and every student was fully equipped including uniforms.

In the fall of 1951, Joe moved to Calvert, Texas, where he was well rewarded by a band of conscientious students who earned first division ratings in both concert and sight-reading his second year there. From Calvert he moved to Wharton, Texas, as junior high band director. He was thrilled when this band, which had not been to contest in several years, earned first division ratings.

As fate would have it, the Mexia High School band job became available, and this was the kind of town that traditionally had been known as a "good band town" though the band had slipped from its former glory. When Superintendent Alton Bowen offered the position to Joe he accepted, and once again inherited a building job. The Black Cat Band earned two first divisions at the UIL contest in the spring of '57 and won its first Sweepstakes the following year. Joe stayed in Mexia for the next sixteen happy years. The Black Cat Band won many honors during these years and once again became the "pride and joy" of the school and community.

A new and exciting adventure began in 1972, when Lt. Col. E. V. Adams invited Joe to become the Associate Director of the Texas Aggie Band at Texas A & M University. With the assurance that he would become the director the following year when Col. Adams retired, Joe moved to Aggieland. This time his main concerns were not with building a band program but with maintaining the deep-seated traditions and still integrate new music and new marching innovations.

Several years later an administrator at Texas A & M who had once been in the Aggie Band wrote: "We were fearful that a suitable replacement could not be found when Col. Adams retired… To the delight of the A & M student body, parents of students, alumni, and football fans in general, the Aggie Band has not only prospered under Col. Haney's leadership, but has indeed enhanced its public image almost beyond belief".

Sensing the need of the many musically talented students who did not wish to be in the Corps of Cadets, Joe organized the Texas A & M University Symphonic Band in 1973. This band celebrated its silver anniversary last year. It performed at the 1999 TMEA Convention. Spring break afforded the band an opportunity to tour the British Isles and Ireland with performances on university campuses.

During the seventeen years Joe directed the Texas Aggie Band, his bands made eight Bowl performances, marched in the inaugural parade of President George Bush and performed at the inaugurations of several Texas Governors. They recorded four albums which Joe produced and conducted. He wrote numerous marches and special arrangements that were performed by the Aggie Band and the Aggieland Orchestra. His arrangement of "The Spirit of Aggieland" has been performed by the Aggie Band at all football games since 1968.

"The Colonel," as he is respectfully known by Aggie bandsmen, was honored with the Former Students Distinguished Achievement Award and the BMI Music in Sports Award. A ceremony unveiled a permanent plaque on the Aggie Band Drill Field which officially named it the Joe T. Haney Drill Field. At pre-game ceremonies of a football game, he was promoted to full colonel by the Texas State Guard from which he retired after sixteen years of service. He sponsored and organized the first marching contest held by the National Association of Military Marching Bands in which thirty-two bands participated. He was awarded a lifetime membership in this organization.

When Joe retired, the Texas A & M Board of Regents bestowed upon him the title of Director Emeritus of the Fighting Texas Aggie Band, and the Texas A & M Athletic Department presented him with two lifetime seats in Kyle Field for all home football games. Last year, the Texas Aggie Band Association surprised him at the reunion dinner with the presentation of a beautiful plaque signifying twenty-five years of service to the Aggie Band. He treasures the fact that over 1200 members of Aggie Bands graduated from Texas A & M during his seventeen year tenure.

Professional memberships include TBA, TMEA, Phi Beta Mu, and ASCAP. He is a lifetime member of the Texas Aggie Band Association. Joe is listed in the 4th edition of The ASCAP Biographical Dictionary and has numerous musical publications to his credit.

Joe married the former Mary Logan of Lufkin in 1953. They have lived in the Bryan-College Station area for twenty-six years.

To be revered by your students and colleagues is the greatest accomplishment of any teacher. To be inducted into the Texas Bandmasters Hall of Fame culminates all of his fond memories, and he considers his selection to be the greatest honor he has ever received.

Col. Haney passed away in March of 2016.