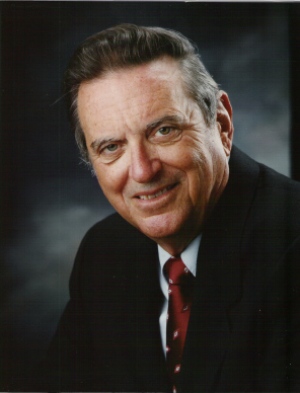 Digital Scrapbook
Robert Vezzetti was born on March 25, 1933 in Chicago, Illinois, the oldest son of Joseph and Catherine Vezzetti. He attended schools in Chicago and graduated from Fenger High School in 1950. He was attracted into the music field and started school at the famed VanderCook College of Music. It is reported that Bob was something of an accordion whiz; he did perform on that instrument to help defray expenses of education. He received a B.M.E. from VanderCook in 1954 and accepted a job in the Brownsville ISD as band director at Cummings Junior High School until Uncle Sam accepted his services as a tuba player in the 384th Army Band. He graduated from the U. S. Army Band School in 1956. Following that musical experience, Bob returned to Brownsville as the assistant high school director, working with Texas Bandmasters Hall of Fame member, Jim Murphy, until he succeeded him as Director of Bands in 1958.

Bob held that position for sixteen years, and his bands were awarded the UIL sweepstakes each year as well as appearing twice at the Midwest National Band Clinic in Chicago and twice at the Mideast National Band Clinic in Pittsburgh. His band was twice named the Outstanding Band at the Buccaneer Festival and the 1965 band was selected as the Honor Band of TMEA. The band performed a brilliant concert in Dallas at the TMEA Clinic-Convention.

During his tenure, the Brownsville High School Band had 43 members selected as All-State members, over 200 as All-Region bandsmen, and they compiled an impressive record of over 1,000 medals in UIL Solo and Ensemble competition. The Brownsville Golden Eagle Band made numerous concert tours in Mexico as well as presenting radio and TV programs in our neighbor to the south. A highlight of those sixteen years was a concert tour in Europe. Bob also found time to serve as a clinician in Texas, Mississippi and Illinois.

Bob married Isabel Garcia, daughter of a longtime Brownsville family, and they have three sons, Robertino, Michael and Joseph. Following being named as Teacher of the Year in 1969, Bob was selected for the Brownsville and Texas Knights of Columbus Outstanding Educator award in 1972. He served on many TMEA and UIL committees, and in 1974, Bob became the Director of Music Activities for the Brownsville ISD. His administrative skills were like his podium skills and in 1978, he was named Assistant Superintendent for Student Services, a position he held until his retirement in 1990.

His civic contributions to Brownsville are many. He served twice as President of Charro Days International Festival, he held a position on the City Planning and Zoning Commission, and was two times President of the Historical Society. He published a book on local history that is now in its third printing and continues to write articles on local history. Bob currently manages his ranch in Kenedy County, fishes in his spare time and travels for business and pleasure. With his typical humor, he says that with the current drought, he may sell the cattle and buy camels.

Brownsville, Texas and the band world are proud that Bob Vezzetti came our way.