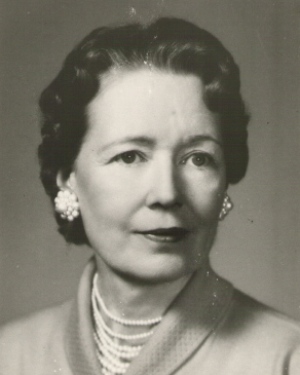 Digital Scrapbook
Ada Creel was born December 16, 1909, in Crab Orchard, Nebraska, into a family of musicians. She had four sisters, all still living, and one brother, who died at the young age of 7. The family formed a band and provided entertainment at church functions, dances, weddings, etc. Ada moved to Texas in 1933 and started teaching private instrumental music lessons soon thereafter. Her students were the outstanding musicians in the high school band, and when a concentrated effort was made to improve the high school band, her junior high players were asked to join the high school band. This included her 6th grade students! Special uniforms were required for the smaller students as the regular pants fell to their knees and the hats covered their ears. This was the start of the history-making Phillips High School Band.

Although only a high school graduate, Ada acquired a teaching certificate in 1948 and joined the Phillips Independent School District where she worked until her retirement in 1973. She began her first private lesson at 7:30 each morning and ended her day at eight or nine o'clock when she finished working with ensembles and/or the stage band. She loved seeing young people starting off with squeaks and squawks and ending up sounding like professional musicians. It was not important to her that they won medal after medal at contests. What was most important to her was that they performed to their very best ability and that they were proud of and confident in themselves
.
Being a woman, Ada was a pioneer in her own right. She blazed a trail which showed the band community that a woman could do the job. During her career she was asked to serve as a guest instructor at summer band camps such as McMurray College, Western State at Gunnison, Southwestern Summer Band Camp in Oklahoma (Col. Iron's band camp), Arlington State College and many others. As her saxophone students walked away with all the first place medals, she was asked to serve as a judge for various woodwind contests and in 1951, was asked to serve on the Interscholastic League Committee to revise the list of solos for saxophone and also to revise the list for woodwind quartets and sextets.
During the 1950's, the accomplishments of her saxophone students became known throughout the music world. Mr. Sigurd M. Rasher, recognized as the world's greatest saxophone player, heard these stories and made a trip to Phillips, Texas, to meet this talented lady. He scheduled a concert in Borger, and visited with the Phillips High School Band. In an article in the 1954 Band Guide magazine, Mr. Rasher said "Credit and thanks are due to Mrs. Ada Creel of Phillips, Texas, who through her excellent teaching has contributed much toward the clarification of some of the ideas contained in this article." The article dealt with the teaching of the vibrato to saxophone students.

In 1953, in her spare time, she organized the Music Makers, a stage band specializing in the Big Band sound. Within a couple of years, this group was winning stage band honors all over the state. The younger students were jealous, so she started the Junior Music Makers. The senior group entertained the young and old alike. They played at school dances, school assemblies, the USO Club at Amarillo Air Force Base, club functions such as Lions Club, Red Cross fund raisers, Knife and Fork Club, and many others. Once a year, the Music Makers organized their own show and presented a major production at the school auditorium. In the mid-fifties, Ada read about the use of black light to enhance performances. After becoming an expert in the field, she introduced the idea through the Music Makers. It was such a hit that she introduced it to the high school band. It was used at football games and at concerts. Soon, other schools were using the idea also. She was a pioneer.

It has been estimated that on the average, 25 new students entered the Phillip's band program each year. This means that Ada touched the lives of over 700 young people during her career. Although she was a strict and demanding teacher, she had the knack to recognize a troubled youngster. She listened, never betrayed a trust and helped the individual work out his or her problem. She showed many shy, young persons that they could succeed by working hard and doing their best at what ever they did. No one was allowed to make fun of a fellow band member or they encountered the wrath of Ada Creel.

Unfortunately, there are no records available which indicate how many awards have been won by her students and organizations. Many of her students had over 50 medals by the time they finished high school. This would calculate into thousands of medals and hundreds of band awards. The Phillips High School Band won many Sweepstakes awards, and the marching band won the Tri-State Band Contest Million Dollar Parade top award many, many times.

Ada believed that you had to practice, practice and then practice some more. She caused her students to enjoy working hard but to have a good time while doing it. She traveled with the band to all contests, and traveled with the Music Makers to all of their engagements.

Ada married Morris L. Creel on June 29, 1933, in Borger, Texas. They moved to Phillips in 1938 and lived there until 1987. They moved from Phillips to Fritch, Texas, and then to Austin, Texas, in 1996. Morris and Ada have two sons and seven grandchildren. Both sons grew up playing in the Phillips bands. Son Morris received degrees from The University of Texas and Southern Methodist University. He is currently a Vice President and General Manager with Tracor Aerospace, Inc., located in Austin. Son Bert was an outstanding saxophone and oboe player and received his degrees in music from The University of Texas and the University of Missouri. He then returned to The University of Texas where he entered Law School and received his Doctor of Jurisprudence degree. He has his own law office in Tyler, Texas.

In summary, the world is a much better place due to the work of Ada Creel. Although all may not have pursued music as a career, every one of her students, their parents and thousands of people in the audiences received the gift of music from a world class music teacher!