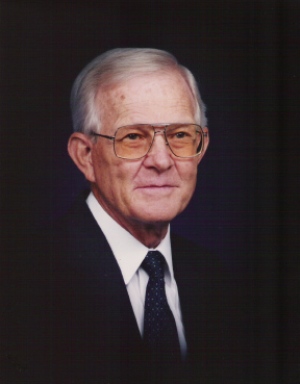 Digital Scrapbook
George Edward Nelson was born in Taylor, Texas, on June 12, 1928. While in the 3rd grade, George was introduced to the world of music when the band director, Mr. Tyrle Lee, and an instrumental salesman visited the Nelson home for the purpose of selling an instrument to George's older sister, Eileen. In the short time they were there, George showed an unusual aptitude for the cornet, and when the visitors left, Eileen had a clarinet and George had his first comet. From that moment he was headed for a career in music. Special arrangements had to be made in order for George, who was in the 5th grade, to join the high school band where he was tabbed the "band baby" by the local newspaper.

After graduating from Taylor High School in 1945, George enrolled at Southwestern University and became a Music Education major. His college career was interrupted after one year when he enlisted in the Army following a successful audition for the U.S. Army Recruiting Band stationed at Fort Sam Houston in San Antonio. As often happens in military life, George suddenly found himself on a train to Camp Lee, Virginia, where he enjoyed six weeks of basic training. At the conclusion of basic, George was assigned to the Band Training School and received Most Outstanding Bandsman Award. Following this, he served in the Eighth Army Band stationed in Yokohama, Japan.

After completing military service in 1948, George returned to Southwestern University and graduated in 1950 with a Bachelor of Music Education Degree. In June of the same year, George married Frances Deckard who had also graduated from Southwestern with a degree in Vocal Music Education. George decided very late in the summer to find employment as a band director, so he and Frances traveled to a place in the Rio Grande Valley known as Edcouch-Elsa. They were not impressed with the mid-afternoon heat and the apparent absence of any form of human life. They decided to meet the superintendent, tell him "thanks, but no thanks," and beat a hasty retreat. However, the superintendent was quite a salesman, and before they knew what happened, George signed a contract to be their first full-time band director, and Frances signed a contract to teach everything but music in the 6th grade, all of this for the combined salary of $5000. George started a band program that ultimately produced the state AA Honor Band in 1963. That first year was so lean, however, that the band learned to play only one march really well. Frances remembers standing on the street in Harlingen waiting for the Edcouch-Elsa band to appear in the parade when she overheard James Murphy remark to Warren Reitz, "Here comes Storm King."

The Nelsons moved to Georgetown in 1954 where George had outstanding bands which received straight first division ratings. Georgetown really became home when in 1958 George was hired to be the band director at Southwestern University. Due to the small size of the university, George directed the concert and jazz bands; taught instrumental methods, marching band techniques, instrumental conducting, brass and woodwind pedagogy; gave brass and woodwind lessons; counseled Music Education majors, supervised student teaching, and attended required chapel. Thankfully, the music department grew, and his teaching load was reduced to only 15 semester hours. He continued to find time, however, to be musical director for more than 20 years of musical productions jointly sponsored by the Department of Theatre.

Through George's leadership as Music Department Chairman, the music program at Southwestern gained a reputation of excellence especially in music education which he has always considered to be the foundation of a college or university music program. Southwestern had many outstanding bands and groups toured the state yearly to perform and recruit. When, in 1990, the small colleges and universities were invited to submit a tape to choose a band to perform at the 1991 TMEA Convention, Southwestern's band had the great honor to be selected. It was perhaps the highlight of George's career as a band director and fittingly occurred during his last year before retirement.

George treasures the remarks of one of his students who paid tribute to him upon his retirement with the following comments: "He has always shown a great interest in the welfare of his students and helped them get important band positions in the state. He has been able to give me opportunities that other teachers wouldn't have." As an indication of his popularity and respect on campus, he was chosen Mr. Homecoming in 1973.

In addition to the Bachelor of Music degree from Southwestern, George has Master of Music and Doctor of Musical Arts Degrees from The University of Texas at Austin. He has also done graduate study at the University of Colorado and Eastman School of Music where he studied conducting with Frederick Fennell. He has been a member of the Texas Bandmaster's Association, Texas Music Educators Association, Texas Music Adjudicators Association, College Band Directors National Association, and Phi Beta Mu and is listed in Leaders in Education as well as International Who's Who of Musicians. He has judged many band contests during the past 32 years; directed All-Region Bands in most of the regions in the state, and has been a popular and highly successful clinician.

George and Frances have three children and six grandchildren. Daughter Julie was an All-State oboist; daughter Ann an All-State flutist, and according to George, son Jon is the best trombone player to never make All-State.

George considers himself to be extremely blessed because of 45 years of marriage to Frances; 40 years of unforgettable teaching experiences, and wonderful children who all have jobs and are considerate enough to allow George and Frances to baby-sit occasionally.