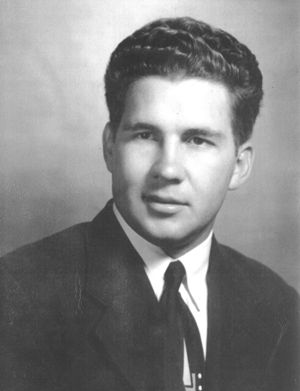 Digital Scrapbook
Thomas Wyatt Williamson was born June 21, 1927 in Willow Spring, Texas. He was a graduate of Coldspring High School in 1944, and entered Sam Houston State Teachers College the same year. He was drafted into military service in 1945, and served as Bugler-First Class for the Navy on the USS Iowa. He was discharged in 1946 and continued his education at Sam Houston State Teachers College. Mr. Williamson completed his teaching certification at Angleton High School as band director in 1948. He received his B.M.Ed. Degree in august, 1948 from Sam Houston State Teachers College. He was a graduate of VanderCook College of Music, Chicago, Illinois, with a Master of Music degree in 1954.

In 1948, Mr. Williamson began his teaching career at Refugio High School where he did an incredible job of building the Refugio band program. The Refugio band received many outstanding honors and awards during Mr. Williamson's ten years at the helm. The band was also a consistent winner of First Division ratings in marching, concert, and sight-reading at UIL contests. The band produced a numerous number of All-State student, and a tremendous number of individuals that became band directors and professional musicians.

In 1958, Mr. Williamson began teaching at El Campo High School. He was considered the most influential individual determining the direction of music in the El Campo community. He was named Coordinator of Music for ECISD in 1970, concentrating his efforts on the "beginner" music program. As the Music Supervisor, he created music appreciation classes and music theory classes at the high school level. With his leadership, the performances and sight-reading skills of the choral program vastly improved in quality. Through his efforts, school children received daily music classes in all elementary school classes and were provided opportunities to attend live concerts. Although Houston was seventy miles away, he arranged for members of the Houston Symphony to perform in the schools.

Another aspect of elementary music education that found its way into the community through the lobbying efforts of Thomas W. Williamson was the Migrant Children Class Piano Project. Mr. Williamson enlisted the help of high school students to assist in this program. He also believed that music education could occur outside the school. This explains his special interest in the music lessons for the migrant children and his active participation in the community's musical life.
Thomas Williamson married Jane Kelley in 1953, and they had five children: Sue Zanne, Thomas Wyatt, Jr., Harrell, Madge, and Clarissa. Thomas W. Williamson was not only a wonderful father, but a brilliant teacher and advocate of music education. Even after sixteen years, his influence and legacy is apparent in the El Campo and Refugio communities (and it is probably safe to include the state as well).

Thomas Williamson died June 18, 1977.