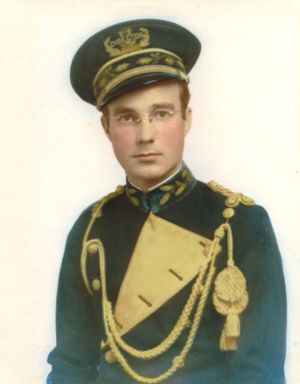 Digital Scrapbook
Roy Swicegood was born in October, 1918 in Fayetteville, Arkansas. He graduated from Okmulgee High School in 1936 where his accomplishments included winning first place in district and state on flute in 1933, and first and third in the state on oboe in 1934. Roy attended Tulsa University, University of Oklahoma, and graduated with a B.A. degree from East Central State Teachers College at Ada, Oklahoma, January, 1941. During the war he served two years in the Air Corps after having taught at Jal, New Mexico. It was during this time he received 18 months of radio and dance orchestra experience.

Roy directed bands at Okmulgee Junior College, Beggs, Oklahoma, Gaston High School, and served as assistant director of the East Central State College Band until 1945 when he became director of the White Oak High School Band, which had only 13 members when he arrived there. The band eventually included 557 of the student body. During the tenure of Roy at White Oak High School, the band was acclaimed throughout the United States and was literally showered with trophies and honors. The band appeared twice in the Cotton Bowl. It was in 1948 when they represented Penn State who did not bring a band to the New Years' Day game. For two years, they won every event entered at the Tri-State Band Festival in Enid, Oklahoma. The White Oak Band represented east Texas at a Lions International Convention in New York City, and in addition to appearing at the Lions' meeting the band played before 73,000 fans at a baseball game in New York's Yankee Stadium. They also played more than a dozen impromptu concerts on the sidewalks of New York … stopping traffic on Broadway and 5th avenue. A goodwill tour took the White Oak Band through west Texas, New Mexico, and into Mexico, and they also made numerous other tours.

Roy served as an adjudicator and clinician in Texas and Oklahoma. He was a member of Phi Beta Mu, TBA, TMEA, a 32nd degree Mason, and member of the First Methodist Church. While in White Oak, Roy was quoted as saying his favorite hobby was "raising chickens".

Roy Swicegood died October 12, 1987 and is survived by his wife, Lila, of Ft. Smith, Arkansas; three daughters: Linda and Sheila of Houston, and Vicki of Fayetteville, Arkansas; three sons: James of Amarillo, Bill of Dallas, and John of Ft. Smith, Arkansas.