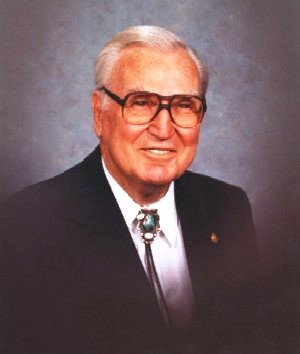 Digital Scrapbook
Player, teacher, supervisor, music dealer are each a profession and Earl Ray has done each. He was born on April 16, 1908 at Lyra, near Mingus, in central Texas. Earl graduated from Mingus High School in 1925. Since his parents could not interest his older brother in music, Earl had to do it on his own. He borrowed a violin from an uncle and took lessons to prove that he was serious about music, and it got him out of chores such as milking, churning, and chopping wood. But since Mingus had a municipal band, earl put down his violin and learned to play baritone.
After graduation from high school, Earl attended John Tarleton, a two year military school. He continued playing in the band and became an officer. Earl's family moved to Breckenridge while he was still in school. After graduating from Tarleton, earl found out that money and jobs were scarce, so he headed for Breckenridge to live with his family until he could find a job. Pop Frazier was band director at the high school , and that is where Earl spent most of his time. One day Pop told him that Monahans was wanting someone to come out and start a band and said that he should take the job. Pop gave Earl a two week crash course on reed instruments and the art of conducting.

On January 1, 1928 earl became the first Monahans band director. There was no money for salary so he charged each student $5.00 per month when he could collect. That fall, Wink hired him to start their band. He then got his first regular paycheck, and for one year he commuted between the two schools. In 1929, Earl chose to go full time at Wink because the town and school was larger. During the seven years he taught at Wink, his bands won First Place in Class C for three years, and First Place in Class B one year. This was before UIL had a rating system.
The next big move was in 1935 to Abilene, Kansas, where he took over a 35 piece band and won a First Division his second year there. His bands continued their winnings the next six years at the national regional contests in Omaha, Nebraska, Lawrence, Kansas, Topeka, Kansas, Kansas City, Missouri, and Colorado Springs, Colorado.

Earl had to continue his education during the summer months. He studied with Joseph Deluca, an eminent euphonium soloist with the Sousa Band. He also attended the University of North Texas, Hardin-Simmons University, Kansas University, and Texas Tech where he received his bachelor's degree. He received his master's degree from the University of Northern Colorado. In 1942, Earl moved to North Dallas where he taught for 4 years. He spent the 1948-47 school year as the Coordinator of Instrumental Music in the Highland Park system.

Earl joined the business world in 1948 in Lubbock. He bought his own business after eight years of working for someone else, and he sold instruments and taught band directors until 1984 when he retired. He now serves as sponsor on bus 2 for the Texas Tech band, a position he and Laverne have held for 31 years.