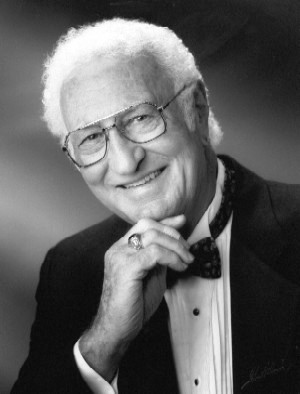 Digital Scrapbook
Bob Dickason was born on February 8, 1916 at Bluffton, Indiana. He graduated from Wink High School, Wink, Texas, in 1935. While in high school, he played clarinet under the direction of Earl Ray, another member of the Phi Beta Mu Hall of Fame. He attended three summers at Southwestern Band Conservatory, Dallas, Texas where he was a student of Joseph DeLuca. He attended Texas Tech University where he received his Bachelor of Science degree in Music Education in 1940, and his Master of Arts degree in 1950. He also did graduate work at Texas Tech.

After teaching at Seagraves for 4 months, Bob's career was interrupted by World War II. He played in service bands at Lubbock, Brownwood, Mineral Wells, El Paso, and the Philippines. He also served as 1st Sgt. and Drum Major under CWO Joe L. Haddon, another Phi Beta Mu Hall of Fame honoree. He was discharged the day after Christmas in 1945, and became band director at Wink in January, 1946.
He remained at Wink until May, 1951, and moved to Crane, Texas in September of 1951. Bob moved to El Paso in 1963 and taught instrumental music there until his retirement in 1985.

Bob's bands won numerous UIL Sweepstakes awards over the years. His Crane band was runner-up for TMEA State Honor Band in 1958. Bob is a member of TMEA, TBA, Phi Beta Mu, and TMAA. He has served on the Music Selection Committee for the UIL Prescribed Music List, and has served as Region Chairman and Region Secretary-Treasurer of TMEA. He was a charter member of Kappa Kappa Psi at Texas Tech. His curriculum guide for beginners is still used by the El Paso schools.