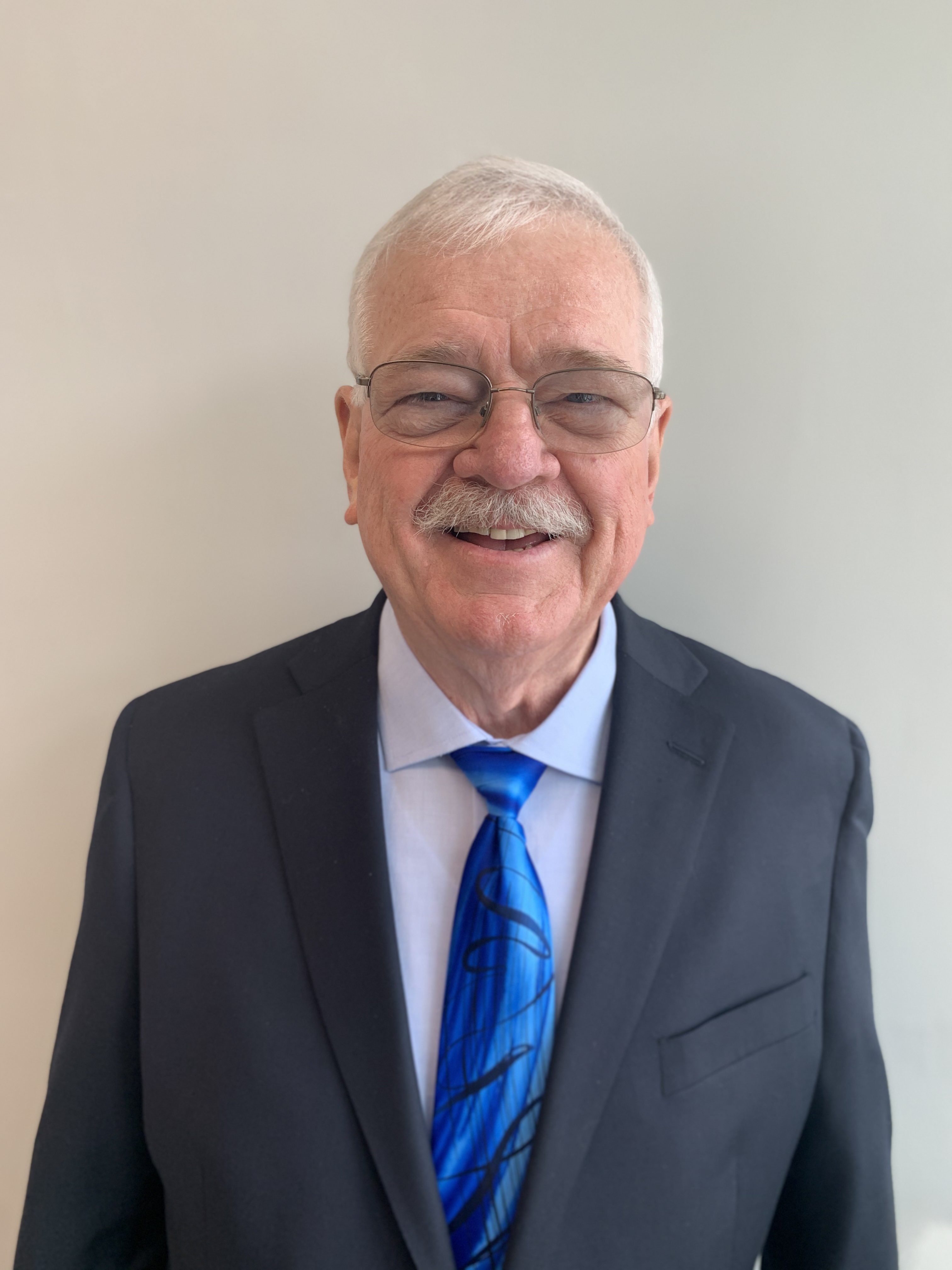 The Lord blessed Carroll "Smiley" Rhodes with many special people who had a profound influence on his life. He was born August 4, 1947, in Abilene, Texas, to Orel and Annie B. Story Rhodes, Christian parents who instilled in him two philosophies that shaped his life. His dad taught him that whenever he agreed to do a job, he was to "make a hand," to do his best. Carroll's mother gave him the blessing, "May your life in its entirety be lived for the Lord and others." Carroll's siblings, Vinita and Arvid, inspired him with their musical talents, playing clarinet in Robert Fielder's Abilene High Eagle Band. Vinita also played the piano and viola and Arvid was an All-State cellist.

Equally influencing Carroll were Mable and Jack Burford, who both blind, taught him piano and theory, respectively. Jack also taught strings, but Carroll did not think he had the talent for them which proved true when he was "privileged" to take string methods twice at Hardin-Simmons University. Fortunately, Baptists believe in grace. Assisting Jack in his custom recording business taught him not to consider them handicapped.

In sixth grade, he was introduced to the clarinet by Merlin Jenkins, Abilene Cooper's first band director. Though attracted to the trombone, the mysteries of slide positions led him to play his brother's old and very sharp Penzel-Mueller clarinet. Later in college he bought his Buffet-Crampon R-13 with Kasper mouthpiece which he plays to this day. Playing in Walter P. Childcraft's Franklin Junior High band and Russel Griep's Abilene Eagle Band furthered Carroll's musical abilities.

Seeing his brother perform with the HSU Cowboy Band during Carroll's first grade year caused him to fall in love with the Cowboy Band and set it as his life goal. Although intensely interested in Egyptology, he turned down an archaeology scholarship to the University of New Mexico for a $25 per semester scholarship to play in the Cowboy Band. Initially enrolled as a history major, he switched to music education the summer prior to his first year after attending a youth camp. Carroll had felt the Lord possibly leading him into ministry, perhaps missions. In the Cowboy band he received the nickname "Smiley" and may have been responsible for placing the rodeo jail on top of Caldwell Hall twice. He was blessed with wonderful teachers like Dr. Andy J. Patterson, Dr. Jack Dean, and "Prof" Marion B. McClure, director of the Cowboy band, whom he served as band librarian and copyist from 1966-72 and from 1971-72 was graduate assistant to Prof. His 1971 graduate conducting project was the new Karl Husa's Music for Prague 1968.
While at HSU Carroll married Susie Grantz, a gifted pianist/organist who played French horn in the HSU Concert Band. They were blessed with Marianne, who lived six weeks, Allison, and Jonathan. Graduating in 1971 with a Bachelor of Music in education and theory and composition, Carroll in 1975 completed his master thesis of an original band work and earned his Master of Music in theory and composition. While at HSU he started serving various churches as part-time music/youth minister.

The Cross Plains Buffalo Band was Carroll's first band from 1972-1976. Full of idealistic expectations, a reality check came the spring of 1973 when at a festival, Bill Woods gave the band a IV. Disillusioned and shaken, Carroll humbly asked Mr. Woods what he should do since contest was only two and a half weeks away. Bill said, "Lose this particular piece." Carroll replied, "But I really like that composer." Bill responded, "Well, he does not like you." From then on Carroll made sure the composer liked him. Bill then introduced him to Little Irish Suite and two weeks later, the band earned a II. The following fall the band earned a I in marching, the first in several years.

From 1976-78, Carroll served as band director at Shamrock and then entered full-time music/youth ministry for sixteen years, serving churches in Muleshoe, Tahoka, and Ruidoso. He found himself back in band directing in November of 1994 when he took over the Lockney band program. With the help of superintendent Raymond Lusk, the Lockney band earned a Sweepstakes. Thinking he was about to go back into full-time church work, Carroll prayed with some fellow youth directors for God to open an opportunity to serve. The next day there were two different offerings for a band job, of which one was Tahoka. In 1995 Carroll took over the Tahoka band which was on the verge of being phased out due to poor ratings. Seeking to inspire new vision and hope, the idea for the Tahoka 3-D Band came into being: Dreamin', Darin', Doin'. It took four years before the band earned the first I in Concert in eighteen years.

In 2001 Tahoka earned only the second Sweepstakes in school history with the first being in 1952, forty-nine years earlier. By the time Carroll retired in May 2022 at the age of seventy four, the Tahoka 3-D Band had earned twenty-five consecutive first divisions in Concert, twenty-four in Sightreading, twenty-one in Marching and Sweepstakes. Three times the 3-D Band was a finalist for 1A Honor Band, being the 2011 first runner-up, and also appeared in the 2A State Marching Contest in 2007 and 2011. Several years they qualified for the state finals of the ATSSB Outstanding Performance Series.

Over the years, the 3-D Band was blessed with twenty-four ATSSB All-State band students. In addition, there were two outstanding assistants, Lora Yowell Smith and Cristal Amador Burse, former student and current 3-D director, who helped create the band's success. William Owens composed four published pieces for the Tahoka band: And My Spirit Lives On, Tahoka Galop, 3-D Galop, and Smiley's Galop. In the fall of 2022, Tahoka ISD named the band hall after Carroll.

Carroll is a member of Phi Beta Mu, Texas Music Educators Association, Association of Texas Small School Bands, Texas Bandmasters Association, Phi Mu Alpha Sinfonia, and the Cowboy Band Hall of Fame. He never lost his love for the Cowboy Band, having played yearly at the Stamford rodeo and marching with them in the Dublin St. Patrick Day Parade in 2022 at the age of seventy-four. He served for eight years as the ATSSB 1A/2A State Representative and as the Region XVI ATSSB 1A/2A Middle School Symphonic Band coordinator for several years. He continues to play with the Lubbock Community Band.

During this time, Carroll also served as part-time worship leader in various churches. During his full time ministry, he sensed God intended more. He found it at Tahoka, for there he felt complete doing the three things he loved most: working with young people, creating music, and leading in worship. His daughter pointed out to him upon his retirement that he had impacted more young people's lives as a band director than even he did as a youth minister. Carroll's dream of being a missionary proved true, but it was to band students in small West Texas towns.