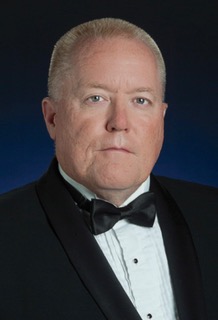 Bill Pippin Watson was born on July 19,1957, to Phillis Stalls and Bill Watson. Bill had one sister, Robin, and his grandmother Lillian played a huge part in his upbringing. His public school career was primarily spent in the Brazosport Independent School District, but Bill started playing saxophone in the Dallas ISD in fifth grade. His family moved to Lake Jackson when he was in sixth grade, and Ernest Clark (HOF 2000) was his new band director. As he continued his band studies, he was one of the fortunate ones to have the esteemed Fred McDonald (HOF 1994) as his high school band director at Brazoswood High School. After high school, Bill attended the University of Houston, where AGAIN he was one of the fortunate ones to have the incomparable Eddie Green (HOF 2005) as his college band director. Bill was a leader in the marching band and especially the woodwind section, and fellow woodwind leader, Charlotte Royall, reported that Bill decided to give the "frumpet" a try. Charlotte may also have said that the "frumpet" did not necessarily reflect Bill's best work! While at the University of Houston, Bill was president of Kappa Kappa Psi. Rick Ghinelli, when questioned, stated that this information was just about all that could be shared in public about those happy and exciting times. Bill graduated from the University of Houston in 1980 with a Bachelor in Music Education. In 1995, Bill earned a Master of Conducting from the University of Houston as well.

Upon graduation, Bill applied for a job in the Spring ISD. His interview, according to Richard Crain, was a model interview and unbelievably impressive for a first year teacher. Bill was named as the head director at Wells Middle School, rather than the role of assistant director, which is what he applied for. A year later, Charlotte Royall came to work with Bill at Wells, and within a few short years, they were named C State Honor Band. Bill moved to Westfield High School in 1985 to work with Philip Geiger (HOF 2021) as his assistant and then moved on to Spring High School in 1989 as the head director. The marching bands at those two schools were nothing short of legendary during the mid-1980s and throughout the '90s. Between the two schools, Bill was a part of multiple 5A state championships and Spring High School was named Bands of America Grand National Champion in 1993 - their score was the highest ever earned until just very recently. The Spring High School Band received the Sudler Flag of Honor in 1994. So many people played a role in the successes of his time in Spring ISD: Becky Lewis, Charlotte Royall, Diane Burton Vasquez, Philip Geiger, Gregg Rhinehart, and, of course, Eddie Green, just to name a few.

Bill moved to North Texas in 1996 to become the director at Richland High School in the Birdville ISD. Here he enjoyed working with a great team of assistants - Jed Weeks, Jason Bird and Kevin McNulty, percussion instructor Gregg Rhinehart, and middle school feeder program teachers - Melodianne Mallow, Cindy Lansford (HOF 2020), and James Smith. The Richland cluster was a success from top to bottom, and once again Bill led the band to a state marching title and numerous state honor band finals. Director of Fine Arts Henry Schraub (HOF 2007) and Haltom High School band director Greg Hull (HOF 2019) were so important to his happiness and successes at Richland.

In 2010, Bill set off on a new adventure as Director of Fine Arts in the Lewisville ISD. He spent time in the classrooms and on the marching fields, made sure that orchestra was offered at ALL middle schools, and outfitted some of the middle school campuses with the basic instruments so that all students were able to participate in band. Upon his retirement in 2017, he tackled the job of UIL Executive Secretary of Region II and performed those duties for two years. Bill was lucky to find the "right one," and he married George Maldonado shortly after retirement. The two now reside in Cedar Creek, just outside of Austin.

The individual honors bestowed upon Bill will surprise no one, but it is impressive just to hear them spoken out loud: Outstanding Young Bandmaster of the Year 1986, Southwestern Bell Sponsor of the Year 1998, Teacher of the Year 2003, Richland High School, Lewisville ISD Administrator Achievement Award 2020, Texas Bandmasters Lifetime Achievement Award 2020, and now Hall of Fame 2022.

In each of his school districts, Bill left a legacy of performance events that served as venues for outstanding ensembles to perform as well as fundraisers for the hosting band programs. Splashtown in Spring ISD, Birdville ISD Marching Festival in Birdville ISD, and the North Texas Festival of Distinction (formerly Beach Within Reach) all continue to serve their band communities to this very day.

Drum Corps International was Bill's life outside of the band hall for many years. Sky Riders, Cavaliers, Santa Clara Vanguard and Blue Devils all benefited from his expertise and took him literally across the country many times. He has been a part of multiple top five finishes and several DCI World Championships.

In his "spare" time, Bill found time to mentor young teachers in the area as well as become a HUGE supporter of the Dallas Stars, the Texas Rangers, and the Dallas Mavericks, and sometimes these two things collided - those games were probably the most that BAND was ever discussed at a professional sporting event in the history of band AND professional sporting events!

Bill is most grateful to Phi Beta Mu and the Texas Bandmasters Association for this award. His students and his colleagues have been his family throughout the years, and there are just too many to name here. He would be remiss without publicly thanking his "stand in father", Mr. Richard Crain, for believing in him from the start of his career and supporting him to this very day.