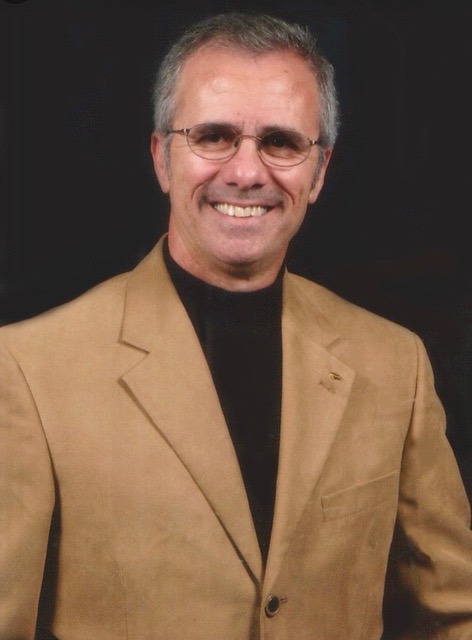 Robley Louis Toups Jr. was born in Crowley, Louisiana, on July 26, 1954. He is the youngest of four children born to Louella and Robley Toups. His parents provided a loving, Christian home life where many wonderful childhood memories were made. Rob joined his elementary school band program in 5th grade and began what would become a lifelong love affair with music.
His beginner band director was Louis Major and very quickly, Rob excelled at percussion and particularly on drum set and piano. He continued participation in middle school band under director Lloyd Hebert and under the private tutelage of percussionist Louis Jouett.

In 9th grade, Rob became a member of the Comeaux High School Spartan Band program in Lafayette, Louisiana, under band director Clarence Hebert. He was awarded All-Region band and Solo / Ensemble honors all four years of High School and was selected to the LMEA All- State Band and the LMEA All-State Orchestra. While still in high school, Rob began performing with local artists and various styled bands and continued playing as a set drummer for several years following high school. Although Rob has great memories drumming with show bands, several artists including GG Shinn, Tammy Lynn, Sammy Kershaw, Pete Fountain and jazz trios/quartets on resort circuits through dozens of major US city venues and studio recording work, his all time fondest memory was performing at the world acclaimed New Orleans Jazz Festival in 1989… An experience he has never forgotten!

Rob and the love of his life, Carolyn Rae Landry (Khaki) married in 1976. They were not high school sweethearts, however they were in high school band together. After a few years of marriage, their young family began to grow and it was becoming apparent to Rob that continuing in music performance was less than an ideal career choice. In 1982, with Khaki's encouragement, he decided to enroll at the University of Southwestern Louisiana to study instrumental music education. He completed his undergraduate studies in 1986. Rob actually began his teaching career one year before graduation, as he bargained with a local music store to provide the necessary musical instruments and equipment and created a new band program at an area Catholic school. While he completed his senior year, Rob worked each day teaching first year band students of the newly formed Saint Cecelia School band program.
This was such a new and wonderful endeavor and another experience he has never forgotten.

After graduation, Rob continued teaching in southwest Louisiana for five more years, including one year at Saint Thomas Moore Catholic High School and four years as the only band director at Delcambre High School, teaching grades five through twelve. In 1991, he accepted the head band director position at the Canton Independent School District in Canton, Texas.
Leaving his home state of Louisiana, where he grew up, where he and Khaki were married and where their three children were born, was not an easy decision. However, in hindsight, it was a move the family has not regretted to this very day. Since arriving in Canton, Texas, in 1991, those treasured years and Rob's "Texas" band directing career rolled by in what seems like a "blink of an eye"!

In his first few years of teaching, Rob quickly learned that a band director's job, although fun and rewarding, is quite difficult and not without endless challenges. It did not take long for him to reach out to more experienced and highly successful directors for help and advice. Over the years, these directors made a tremendous impact on Rob and his students' potential for success. Much love and many thanks go out to his mentors including Aaron Robin, Diane Robin, Ronny Mayard, David Rollins, Bob Cartwright, Jim Hudgins, Rick Badgett, Ronnie Todd, Dr. Timothy Rhea and James Coffman to name a few.

From his first day in Canton, Rob began the process of building a band program from one that had never before earned sweepstakes evaluations to a band program that grew into twenty years of consecutive Texas UIL Sweepstakes awards and was recognized for musical excellence. Between 1991 and his retirement in 2014, Rob's Canton Mighty Eagle bands were finalists in the Texas State UIL Marching Championships nine times, TMEA Honor Band competition five times, and ATSSB Outstanding Performance Series competition fifteen times.

Rob's Canton band program consisted of concert band, marching band and jazz band. Community outreach through performances was a very high priority for him. His high school bands performed in Canton, surrounding counties, and even in other states dozens of times every year for more than twenty years. The Canton community enjoyed small ensemble performances on the "Trade Days" shopping grounds on First Monday weekends and for concerts in the park which were held each spring. His bands performed for nearly every community event imaginable, regularly appearing at city and private social events, service organization luncheons, ribbon cutting ceremonies, holiday and church gatherings, high school basketball games, and in venues all around the United States and even outside the country. Rob took every opportunity to showcase his outstanding band students. The jazz band even performed for First Lady Laura Bush on her visit to Northeast Texas. Canton was a grateful town and community and awarded him "Man of the Year" twice and presented him with a Key to the City. That Key was displayed in the Canton band hall since he considered it an honor granted to his students.

Rob's Canton High School bands performed in Dublin, Ireland, where they were named the International St Patrick's Day Parade Grand Champions, Montreal and Quebec, Canada, throughout the United States, most notably West Point Military Academy, and a special joint performance with the US Marine Corps Forces Pacific Band at Pearl Harbor, Hawaii.

Under Rob's Direction, Canton High School symphonic bands were repeatedly TMEA Honor Band finalists, placing third three times in 1999, 2001, and 2013, placing second in 2007, and named the Texas Music Educators Association's AAA State Honor Band in 2003. From 2005 through 2013, Rob's symphonic bands also won six Association of Texas Small School Bands Outstanding Performance Series awards. His marching bands were named three-time consecutive UIL Texas State Marching Champions in 2002, 2004 and 2006. In addition, the band earned two UIL State Bronze medals in 1998 and 2008 and one Silver medal in 2000. Today, one can visit the US Congressional Archives in Washington DC and find a filed Congressional Proclamation honoring the outreach and outstanding achievements and performances of the Canton High School bands under his direction.

Rob credits the many years of his band program's success to a focus on teaching self- discipline, character, consistent music fundamentals and skill sets, and emphasizing the importance of each and every member selflessly giving all to each other in musical rehearsal and performance. The final sentence of the band creed he created in 1994, which hangs over the Canton band hall entrance, sums up Rob's life philosophy which he has modeled his entire career and instilled in his students. It simply reads, "Only through hard work shall we achieve our dreams." His work ethic is second to none and mediocrity is NOT in his vocabulary. The awards, ratings, and level of literature performed by his bands are indicative of the caliber of work he produced. He ALWAYS expected the very best from his students.

Rob Toups is currently a member of the Association of Texas Small School Bands, Texas Music Educators Association, Texas Bandmasters Association, Texas Music Adjudicators Association, Central States Judges Association (retired) and Phi Beta Mu. He holds a Bachelor of Music Education degree from the University of Southwestern Louisiana and has over 35 years of experience teaching in public and private school music. Rob has served as the Association of Texas Small School Bands 3A representative and State President from 1998 to 2010 and also
served as the Texas Music Adjudicators Association marching band Vice-President from 2004-2008. Under TMEA guidance, Rob advocated in person to the Texas State Legislative
Committees on behalf of music education to preserve music curriculum's place and standing in Texas schools. He is a recipient of the prestigious Texas University Interscholastic League Sponsor Excellence award and in 2013, he received the Texas Bandmasters Association Exemplary Bandmaster Award.

Rob and Khaki have been married 46 years. Together, they have three children, Leah Adele, Lindsey Rae, and Mark Ducre-Louis, son-in-law William Christopher Sarangoulis and three grandchildren, William Robley, Catherine Rae and Anna Grace Sarangoulis. Since their retirement in 2014, Rob and Khaki spend time with family and friends between their home in Canton, Texas, their cabin in the Appalachian Mountains of north Georgia, and on their sailboat (Questor) docked in the "Golden Isles" near Savannah, GA.

Rob is grateful to be inducted into the Phi Beta Mu Texas Bandmasters Hall of Fame, class of 2022 and is most humbled to be included with those outstanding colleagues whom he considers true heroes of Texas music education.