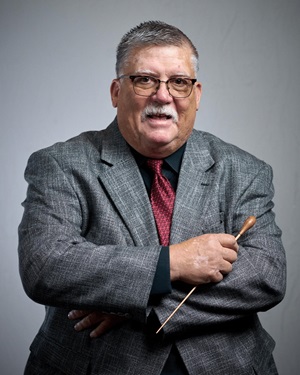 Cody Earl Myers was born in Seagraves, Texas, on October 29, 1956. His father, Billie Earl, was a ranch cowboy and trained cutting horses. Mother, June, was a homemaker. The family moved around West Texas to this ranch or that. In fourth grade, Cody met C. Doyle Gammill and the cornet in Jayton, Texas. He was hooked. His grandfather would stop by their home in Clairmont several times a week where he faithfully asked Cody to play "Winchester Cathedral". Years later, Cody realized his grandfather wasn't particularly fond of that tune, but he surmised that was the only one Cody knew!

The family moved to Morgan where there was no band program. Times were hard. The Myers family raised their own livestock, milk cows, hogs, horses, and vegetables.
One afternoon, as Cody sat in his fifth-grade class of five students, the principal came to his classroom and called Cody to the hall. "Cody," he said, "your hogs are loose and tearing up gardens all over Morgan. You better go get 'em." He did.
His father's untimely death found Cody, brother Jeff, and their mom in a one room garage apartment in Midland. Cody could hear the Midland High band several blocks away and often rode his bike to watch those inspiring rehearsals. He joined band in seventh grade and soon found himself a member of the Edison freshman band directed by Melvin Scott, and later the Midland High band under Hall of Famer Clyde Wilson. Both these men served as an inspiration for becoming a band director and as father figures during Cody's adolescent years and beyond.
High school provided a lot of great moments for Cody. He began to play regularly for the Midland Community Theatre and First Baptist Church. He was introduced to Harry Begian and Dr. Gary Garner at the WT Band Camp, an experience which transformed Cody's vision of what band was all about. The MHS band traveled to Monterey, Mexico his senior year, where Cody was featured on trumpet performing "La Virgen de la Macarena'' before ten thousand folks screaming "Ole!" "Ole!" on the city square.

Cody went to West Texas State University where he became a part of Dave Ritter's trumpet dynasty and studied under Hall of Famer Dr. Gary Garner. During his sophomore year, the WT Marching Band sported about 50 trumpeters. Higher, louder, and faster! Early in his time at WT, Cody's eye was drawn to Starrla Hinton, the beautiful young lady with long hair and short skirts! Wow! They married in January of 1979. Dr. Garner, Dr. Harry Haines, and Dave Ritter, among others, saw Cody through to graduation in 1979.

His new bride, Starrla, was in the last year of the six-year plan at WT, so Cody needed a band position near Canyon. Roger Edwards offered Cody the assistant band job for nearby Tulia ISD. Cody served as Roger's assistant, the junior high band director, and the junior high choir director. Never mind that Cody had never sung in a choir!!

What a magical time!! Cody and Roger became best friends, as did Starrla and Bennie Edwards. Roger and Cody worked hard and experienced success. They also shot a lot of pheasants! During season, they would bring their hunting gear with them to school, including shotguns! They would slip out of school an hour early and hunt pheasants at the nearby farm of a band student. They were never caught!
In Cody's first year as their director, the Tulia Junior High band made a "one" in concert, their first superior rating in over ten years. Two years later, Cody became the head director of the 2A Tulia High School band when Roger left for Borger. Cody was ambitious and naïve. That first year he programmed "Pride of the Wolverines", "Chorale and Shaker Dance", and three movements of "Lincolnshire Posy". Somehow, they made it! Being a band director in Tulia was special and created the positive experience which drove Cody the rest of his career.

Following a one-year hiatus, Cody returned to teaching band. Two years in Dimmitt led him to return to Tulia. He was more complete as a director then and the band's performance proved it. The Tulia Hornet Band appeared in their first State Marching Band Contest in 1985. They were a contender for Honor Band that same year. Cody and the Tulia High School band found themselves in a friendly rivalry with Anthony Gibson and the Muleshoe High School band. They saw each other at least yearly since they were in the same football district. Their principals wagered each time they matched up, eager to claim their band was the best. Great times, indeed.

Cody followed Hall of Famer Dub Crain as director of the Dumas High School Band in 1988. They enjoyed their first ever trip to the UIL Area Marching Contest in Wichita Falls. As the band prepared to enter the stadium, Cody and an assistant had to break up a fight between the two largest girls in the band! There was a lot of training left to do! It seemed they traveled constantly. Their football district included two Lubbock schools and Levelland. Plus, Monahans was a non-district game held in Levelland! Each of those trips was about 190 miles one way!
Cody returned to Midland High School, his alma mater, as Director of Bands in 1992. The band had fallen on hard times, and it was a real challenge to create a winning environment. The MHS band made a "one" at marching contest and advanced to their first ever UIL Area Marching Contest. They were named first alternate after the dust settled. As they were announced as alternate, the band cheered as if they were state champions. Cody told his principal, "Well, we have the only band in Texas that is cheering because they are not going to the State Marching Contest!"

The time in Midland was terrific. Cody visited with Clyde Wilson and Randy Storie almost every day to brainstorm band issues. Cody and his freshmen director, Melvin Scott, were now colleagues and taught together daily. The band became a yearly Sweepstakes winner and advanced to the state level honor band process. The Midland High and Lee High bands combined to march in the George W. Bush Gubernatorial Parade in 1995. A highlight was participating in the WT Band Clinic alongside great bands, including The Colony, TMEA Honor Band.

Cody planned on staying at MHS for life, but the Lord had other plans! In 1997 Cody became the Director of Fine Arts for Amarillo ISD, a position he held for twenty-one years before retiring in 2018. Working with superintendent Rod Schroder and the music staff in Amarillo was fulfilling and exciting. Cody focused on all programs reaching success as per UIL standards. He also began an extensive effort to implement team teaching across band, choir, and orchestra programs. In addition, Cody began increasing his role in mentorship, particularly of younger directors, in Amarillo ISD and beyond. Soon, AISD enjoyed TMEA Honor Orchestra winners, TMEA Invited Choral Groups, and participation in the State Marching Band Contest. The Amarillo High School Full Orchestra, conducted by Roger Edwards, also performed at Midwest in 1998. A real highlight was celebrating all four high school bands making a first division in marching for the first time in school district history! They continued to do it regularly in following years. The last two years of Cody's tenure, every varsity level band and orchestra in Amarillo ISD made sweepstakes.
In addition, many of Cody's protégé's and their bands experienced tremendous success, including TMEA Honor Band, State Marching Champion, ATSSB OPS honors, and more. Cody continues to mentor and clinic today. Those relationships keep him motivated.

Cody is a member of TMEA, Amarillo Rotary East, and is past president of TBA and TMAC. He continues to serve on several boards and committees in Amarillo. He received the 2012 WTAMU Distinguished Alumni award, the TBA 2012 Lifetime Administrator award, and the 2015 TMAC Music Administrator of the Year award. Cody also served as the Grand Marshall for the 2012 WTAMU Homecoming Parade. He has been introduced as a "National Treasure of Texas."

Cody is so appreciative of his mentors, Gary Garner, Roger Edwards, Clyde Wilson, J.R. McEntyre, and Charles Nail, all Hall of Famers.
His family's love, support, and encouragement have been critical to Cody's success in the band field. Starrla never balked at a potential move, always wanting what was best for Cody's career. Kaci and Holt both grew up as band kids and went on to military service. Daughter-in-law Chelsea is trying to figure out band culture as we speak!
Cody Myers is deeply honored to join the incredible ranks of the Phi Beta Mu Bandmasters Hall of Fame.