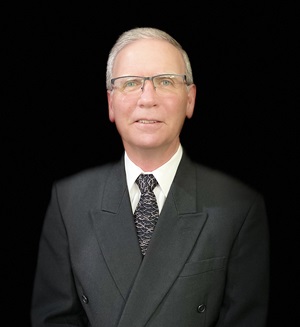 Norman Wade McDonald was born on January 17,1956, to Fred and Alice McDonald in Texas City joining his two sisters Laura and Cindy. Destined for a career in music, Wade was named after band director Wade Pogue and musician Norman Cunningham, both friends of his parents.

Wade grew up in the home of his number one mentor in the band world, his Phi Beta Mu Hall of Fame father, Fred McDonald. Mr. "Mac" senior loved his work, his students, his music, his family, and his Lord and passed onto Wade each of these loves in his life.

Wade was a 1974 graduate of Brazoswood High School. The "Buc Band'' under the baton of Fred McDonald and Rod Cannon provided Wade wonderful jazz and concert music making with some incredible musicians which included Greg Dick, Bill Watson, Gary Forse, Randy Luster, Mark Harrell, Bobby Walzel, Don Weihe, Audrey Dunn, and Sandra Benke to name a few. His junior high band director was Hall of Fame inductee Ernest Clark, and Harvey Jones was his beginner band director. His elementary music teachers were Lucille Levine and Lola Kay Hood which all had a tremendous impact on Wade's life.

After attending six years of summer band camps at Sam Houston State University under the leadership of Hall of Fame inductee and TBA Bandmaster of the Year Dr. Ralph Mills, the decision where to pursue higher education was an easy one. Wade graduated from Sam Houston State University in 1977 and began his teaching career in January of 1978 at Bammel Middle School in Spring ISD as the assistant director to Hall of Fame inductee Fred Schroeder and had the privilege to teach TBA Past President Tom Harrington beginning trumpet. Wade learned what a fabulous junior high band could sound like while at Bammel Middle School.

In March of 1978, Wade married his lovely wife Jane Brooks Strait of Richardson, Texas. Jane prayed for her husband to be a minister of music - imagine that!! She is by far the better half of this marriage and all who know her would have to agree! Jane has been his helpmate and prayer warrior now for 44 years and has supported and encouraged Wade through all the challenges of life and in the band world. Being an amazing seamstress as well, Jane gave her time and energy to make two beautiful sets of band dresses/uniforms for the girls of the McAdams Junior High band program. Jane also took care of the Dickinson High School band uniforms during Wade's tenure there. Just a side note, Jane and Wade celebrated their twenty-fifth and thirtieth wedding anniversaries at Disney World with a hundred plus band students!

In the fall of 1978, Wade was privileged to join the Dickinson band staff headed by Donnie Owens and John Gossett beginning his tenure with Dickinson ISD as the head band director at McAdams Junior High. Donnie Owens, 2010 Hall of Fame inductee and Wade's number "two" band mentor, demonstrated what it took to achieve excellence with an incredible work ethic and attention to detail that rubbed off on the entire band staff. Greg Dick joined the staff a year later and the McAdams Junior High band was selected as the TMEA Class C-CC Honor Band and performed at the 1981 TMEA Convention. Wade and Greg were in their second and first year teaching and really had no clue as to what they were doing entering the honor band process. The band had two reel to reel recordings of the UIL and Galveston festival performances which made up the honor band entry tape. Wade took a pair of scissors and scotch tape and carefully cut out the middle selection of each tape and spliced the recording onto the final tape. Then he took two reel to reel tape recorders to dub the backup for the original and submitted these for honor band competition. Obviously, beginner's luck!

In 1993, Wade was awarded the John Philip Sousa Foundation "Sudler Cup" and "Wade McDonald Day" was declared by the City of Dickinson on May 18, 1993. The McAdams band was once again selected as the TMEA Class CCC Honor Band in 1996. The band had the great privilege to premiere Julie Giroux's "Crown of Thorns" composed for the 1997 TMEA performance. Another highlight of that TMEA Honor Band concert was Wade's dad, Fred McDonald, conducting a piece in which Wade played third trumpet and son Joshua played clarinet having three generations on the stage performing together and fourth generation Granny "Myra"McDonald sitting in the audience. This was a special day for the McDonald clan. Wade was also presented the National Band Association "Citation of Excellence" at this honor band performance.

After twenty-four years at McAdams Junior High, Wade took over the head band director and Fine Arts Director position at Dickinson High School where his bands had fourth and third place showings at the UIL State Marching Band Contest as well as being finalist in the TMEA 4A Honor Band process. His bands were consistent sweepstakes winners and were selected as "Best in Class" at numerous contests and festivals.

Wade was privileged to present several clinics at both TBA and TMEA conventions, to direct many region and all city bands throughout his tenure, direct bands at both Sam Houston State and Lamar University band camps, and to serve TMEA Music Region XVII in various leadership positions over the years. The Texas Bandmaster Association presented the "Meritorious Achievement Award" to Wade in 2012.
Dickinson ISD named Wade the secondary "Teacher of the Year" in 1999, and he was named the Texas Middle School Association "Outstanding Teacher" of Region IV in 2001. Wade retired after thirty-three years of teaching band and then served an additional ten years as part time Director of Fine Arts for Dickinson ISD. He is an active clinician and adjudicator throughout the state and is a member of TBA, TMEA, TMAA, and Phi Beta Mu.

Above all, Wade considers his greatest accomplishment to be his lovely wife Jane, and his three children and their families: Joshua (4 year all state clarinetist); Caleb and his wife Becky, Meagen and her husband Brian Moreno (Clear Falls HS band director); and seven wonderful grandchildren: Annabel, Alyssa, Aspen, Eliana, Peter, Hudson, and Ondraya.

Wade is indebted to his Lord, his family, Dickinson ISD, Dickinson band staff over the years, Phi Beta Mu, and all those that have mentored him, assisted him, adjudicated his bands, and encouraged him throughout his career as well as all the of wonderful students he had the honor to teach. You are the ones that made his bands better and this honor today possible.