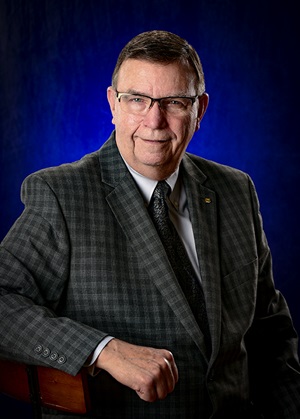 Steve Musser was born October 8, 1950 in Austin, Texas. He is the son of Richard and Tommye Musser. In 1953, they moved to the Dallas/Fort Worth area and settled in Arlington. After one year of private school, Steve attended Arlington public schools during grades two through twelve, attending Berry Elementary, Ferguson Junior High, and graduating from Sam Houston High School.

Steve became interested in band in the seventh grade at Ferguson Junior High. After conferring with band director Austin Lovell, it was decided that he would learn to play the baritone horn (which was really a euphonium). After junior high, Steve went to Sam Houston High School and continued in the band program directed by Bob Rober.
After graduating from Sam Houston in 1968, Steve enrolled at the University of Texas at Arlington as an accounting major. He was also a member of the UTA Rebel Band (later to become the UTA Maverick Band). That was Steve's first association with Jack Mahan and William (Buddy) Postlethwaite.

In May of 1969, Steve made the decision to enlist in the Texas Air National Guard as a member of the 531st Air Force Band. During his career as a "Weekend Warrior", Steve's summer deployments included Rhein-Main Air Base in Frankfurt, Germany, five times; Hickam Air Force Base, Hawaii, five times and Trinidad/Tobago- tough duty, but someone had to do it. During his twenty-two years of service, Steve received the National Defense Reserve Medal, the Air Force Outstanding Unit Award with two Oak Leaf Clusters, the Air Force Meritorious Service Medal with five devices, the Air Force Longevity Award with four devices, the Air Force Training Ribbon and the Texas Faithful Service Medal. Steve retired in May of 1991 having attained the rank of Master Sergeant and was the band supervisor and assistant conductor.

Steve returned to UTA in January of 1972 as a music major. Besides performing in the concert bands under Jack Mahan and Buddy Postlethwaite, Steve took lessons from Ray Lichtenwalter and played in the UTA Brass Choir under Ray's direction.
While working on his degree, Steve served as the band librarian and was a counselor at the UTA Summer Camps. He was also an active member of Phi Mu Alpha Sinfonia. In May of 1974, he was selected as the Earl D. Irons Outstanding Bandsman for the 1973-1974 school year. In the spring of 1975, Steve did his student teaching at Sam Houston High School with Bob Rober and Jeremy Walker and was the last student teacher that Jack Mahan supervised before his retirement.

After graduation in 1975, Steve joined the UTA Band Alumni Association. He served on the board and was president for two terms. During this time, he started the Band Alumni Solo & Ensemble Contest for middle school and high school students, the UTA Alumni Marching Festival and the UTA Concert & Sight-reading contest to raise funds to support the UTA Bands.

After several years of teaching, Steve began working on his Master of Music Education degree at East Texas State University (now Texas A&M, Commerce) in their summer program for band directors. He received his Master of Music Education degree in the summer of 1980.

In 1975, Dean Corey and Bob Copeland hired Steve as the Band Director at Nichols Junior High. This was the beginning of a thirty-one-year career in the Arlington ISD and the Lamar High School Viking Band family. Steve was the Nichols band director from 1975 through 1978. In the summer of 1978, he was promoted to the associate band director at Lamar High School with Bob Copeland. He was the director of the jazz ensemble, concert band and assisted with the marching band. In the spring of 1980, Bob was hired as the Coordinator of Music for the Arlington ISD, and Steve was promoted to Director of Bands for Lamar High School. During his career, Steve was privileged to have four outstanding principals: Billy Bob Burdett at Nichols Junior High and Sam Curlee, Weldon English and Jimmy Jones at Lamar High School.

During his tenure, the Lamar bands maintained a level of excellence in marching, concert and jazz, consistently receiving first divisions at UIL and other contests across Texas and the United States. Steve gave his students the opportunity to be well rounded musicians, not only participating in band and jazz band, but also in the Symphony Orchestra under the direction of Royce Coatney. The full orchestra was a consistent Sweepstakes winner and was chosen as the 2004-2005 TMEA Honor Full Orchestra.

Soon after taking over at Lamar, Steve realized that the district was not going to be able to fund the activities of the bands and orchestras to the needed level. He worked with both band and orchestra parents to establish the Lamar Instrumental Booster Club. The parents from both groups supported the entire instrumental music department, providing whatever was needed to help with the success of the bands and orchestras at Lamar High School. The parents also established six scholarships to encourage students to continue playing in college and two $1000.00 dollar scholarships named after Steve and longtime orchestra director Royce Coatney.

Steve was the Fine Arts Department Chair and served on the Lamar Site Based Decision Making Committee, the Arlington Music Enrichment Steering Committee, the District Band Curriculum Committee and the Arlington ISD Textbook Committee. He also hosted and organized many UIL Contests throughout his tenure at Lamar.

In 2000 Steve was awarded the Texas PTA Life Membership Award for his service to the students, teachers and parents of Lamar High School. He was selected as the 2004-2005 Lamar High School teacher of the year and received the 2005-2006 Woodrow Counts Arlington ISD High School teacher of the year. In 2006 Steve was an AWARE (Arlington Will Award and Recognize Excellence in Education) finalist, a 2006 nominee for the Texas Exes Award for Outstanding High School Teachers as well as the 2006 Denius-UIL Sponsor Excellence Award. He was selected for the Arlington ISD/Christa McAuliffe Education Flag of Learning & Liberty Wall of Fame four times.

Steve is a Member of the Texas Music Educators Association, serving as Region Band Chair, Region Vice President and President, Texas Bandmasters Association, and Texas Music Adjudicators Association. In 1988 Steve was selected as a member of Phi Beta Mu International Bandmasters Fraternity -Alpha Chapter. He served on the Membership Committee and the Board of Directors for six years.

Steve is also a Charter member of the Arlington Civic Band founded in 1976 by Ray Lichtenwalter to celebrate the Bi-Centennial. In 1992, Steve was appointed the director of the band and served in that position for two years. After his retirement from the Arlington ISD, Steve rejoined the band and served on its Board of Directors and two terms as the band president.

Steve is married to Amanda Musser, retired Arlington ISD Orchestra Director, and they have a blended family of five children: Sean Musser and his wife Jodi, Jeff Musser, Sarah Musser, Patrick Haubold and Lieutenant Commander Kyle Haubold and his wife Stacy. They are proud grandparents to eleven grandchildren.

After his retirement, in the Fall of 2006 Steve was appointed the Assistant Executive Secretary UIL Region 5 Music Contest after the passing of Jim Jacobsen. He is now the Executive Secretary of Region 5 as of January of 2017 after Bob Copeland's retirement.
Steve is honored to have been able to spend his entire career in the Arlington ISD and being selected to the Texas Bandmasters Hall of Fame is one of the highest honors of his career.