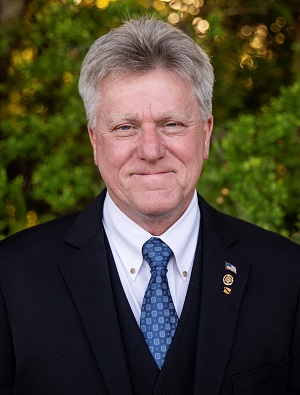 Francis G. Coachman, Jr. (Frank) was born on December 31, 1954 in Gainesville, Florida, a son of Francis Green Coachman and Adelaide Ropp Coachman, and the younger brother of Carole Coachman Kilduff and Sandra Coachman. He became the older brother to Brenda Coachman, Bruce Coachman and Heidi Coachman Triggs. Because his father went by Frank, Frank, Jr. was called "Coach" by his siblings and childhood friends. Coach began using the more formal name, Frank, during his junior high years.

His father, a graduate of Clemson University in 1942, served as a military officer in World War II, Korea, and Vietnam. Adelaide, a graduate of Columbia College, who had served as an educator in South Carolina, became a stay-at-home mother not long after Coach's birth. As a military brat, he lived in Gainesville, Florida; Leavenworth, Kansas; Springfield, Virginia; and Oslo, Norway before coming to Fort Hood and Killeen, Texas in the summer of 1964. Coach was entering the 5th grade in the fall of '64.

In the fall of '65, it was time to pick an instrument for the beginner band class, taught by Marshall Riemenschneider, at the newly opening Sugar Loaf Elementary School in Killeen ISD. Coach asked to play saxophone but was informed by Mr. Riemenschneider he was not teaching saxophone that year and Coach would be playing trombone, an order Coach followed.

In junior high, Frank would flourish under the outstanding direction of Ms. Carol Allen in the Nolan Junior High Mustang Band, eventually as the principal trombonist in both 8th and 9th grades. Frank continued his band career at Killeen High School in the 10th grade under the direction of Dick Thomas for marching and concert band and Robert Schlessinger for jazz band. David Pennington would become director of bands beginning Frank's 11th grade year and would become a principal influencer in Frank's future.
Frank was elected Student Council Vice President his junior year and President his senior year. He worked on the Roo Review newspaper staff, was a band council officer, and was awarded the Arion Award.

During his senior year Frank began performing with the seven-piece, Chicago style band, High Castle. The group would tour on weekends during the school year and was on the road most of the summer and fall of 1972. It was the spring of 1973 when Frank entered college at Texas Tech University. He spent the spring and fall of 1973 in the music school as an applied major studying with Robert Deahl and performing in Anthony Brittin's concert band, Don Turner's jazz ensembles, and Dean Killion's marching band.

Wanting to focus more on theory, composing, and arranging, Frank transferred to McMurry College in Abilene to study with composer Dr. Macon Sumerlin who had been the college music theory professor for Francis McBeth and Tommy Fry, both of whom Frank admired for their concert band compositions. Frank took many extra college hours with Dr. Sumerlin pursuing his goal of becoming a creative composer and arranger.
During his time at McMurry, Frank played trombone and euphonium in the Wind Ensemble for Roger Rush followed by Michael Barry. He also played a role, with Mr. Barry, in founding the McMurry Jazz Ensemble in 1974. It was during a jazz ensemble tour for a performance in Seagraves, Texas that Frank was introduced to Bill Woods, whom he would see again in Abilene, as a conductor for the Tri-College reading band. Bill became a life-long mentor and dear friend. Frank is especially appreciative of the guidance of cooperating teachers Joe Mack Hill and Warren Thaxton during his student teaching experiences at Madison Junior High and Cooper High schools in Abilene. Both Hill and Thaxton bolstered confidence in Frank toward becoming a successful band director.
Completing his B.F.A. degree in 1977, Frank began looking for employment. Several opportunities were afforded in the Abilene area, but Frank's high school band director, David Pennington, convinced him to return to Killeen and take over the band program at Nolan Junior High. This began twenty-two years of band directing in Killeen ISD. Frank served one year at Nolan Junior High before becoming Associate Director of Bands for the opening of Ellison High School. Frank served as the Symphonic Band director, Jazz Ensemble director, and provided marching drills and music arrangements for the Screaming Eagle Band. During his third year as associate director Frank met his future bride, Kaye Steelman. Kaye was an English teacher for Ellison and had also been assigned to be the dance team director. After serving three years as the associate director, Frank became Ellison's Director of Bands in 1981. That same summer he married his soul mate, Kaye. Frank and Kaye worked closely together for 18 years as the Ellison Emerald Dance team was an integral part of all the marching band presentations. Frank and Kaye still work together harmoniously in their retail venture, 21 Main, in Salado, Texas.

The band program at Ellison received numerous awards and recognitions under Coachman's direction and he attributes much of this success to mentors David Pennington, Bill Woods, Durward Howard, Richard Floyd, Robert Floyd, James Sudduth, Paula Crider, Don Haynes, Lynn Low, Michael Brashear, Leland Sharrock, along with amazing Ellison High School and Killeen ISD staff members though the years. This includes band directors Albert Ainsworth, Jeff Smith, Tim Young, Katy Boltz Flowers, Darrell Umhoefer, Patrick Neault, Terri Harkey, Alan Harkey, James Metcalf, Susan Metcalf, Harry Blake, Richard Blomquist, choir director Richard Surface, fine arts director Nick Boltz, and principal Marvin Rainwater.

Coach or "Mr. C", as his students would call him, is honored to have been able to teach the thousands of students who participated in the Ellison Screaming Eagle Band program, including the Emerald dance team and Excalibur color guard. He is thankful to the parents who supported the program. Most of these students and parents have become life-long friends.

Mr. C fostered numerous students to enter the music education profession. Upon his departure from Ellison, three former students were serving on its staff. Many more of his former students have become music educators.
Both of the Coachman's daughters were in band at Nolan Middle School with director Patrick Neault. Heather played flute, and Mary Frances, French horn. When at Ellison, both girls followed Kaye's "footsteps" becoming Emerald dance team members.
During his time at Ellison, it was Pennington and Woods who suggested Frank become involved in TMEA. He did, in fact, and went on to serve in multiple TMEA leadership positions. He served as Region 8 Jazz Chair from 1981 to 1984; Region Band Chair from 1982 to 1990; State Band Division Vice President from 1990 to 1992; and with stern encouragement from Bill Woods and Tom SoRelle ran and was elected TMEA President in 1997. During most of this period, Frank was dueling with Durward Howard in a PC vs. Mac battle in providing audition tabulation services for Region 8 band, Area D band, and eventually the All-State band beginning when David Pennington served as TMEA Band Division Vice-President.

In the spring of 1999, TMEA posted a new position at TMEA. Frank was encouraged by Pennington, Howard, Woods, and many other colleagues to apply for the position. He was chosen and assumed the duties of Deputy Director for TMEA in July of 1999. Frank appreciates Robert Floyd for entrusting him to be his "partner in crime" at TMEA.
As of this coming 2021-2022 school year, Frank is in his 22nd year with TMEA. During this time, he not only has served as Deputy Director for TMEA but also served Salado ISD as a member of the Salado Education Foundation board and a term as its president. He was also elected to the Village of Salado Board of Alderman, serving six years and was Mayor Pro-Tem for three years.

Frank extends his sincere appreciation to Phi Beta Mu and the Hall of Fame Committee for this very humbling honor and to his wife, Kaye, daughters, Heather Lopez and Mary Frances Sellen, son-in-laws, Adrian Lopez and Michael Sellen, and grandchildren, Noah Lopez and Gabi Lopez, for their everlasting love and support.