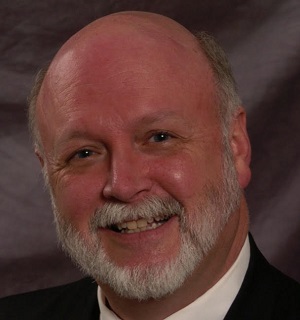 Fred J Allen was born to John and Doris Allen November 14, 1953 in Longview, Texas. Those closest to him called him "Fred J" to distinguish him from two other Fred Allens in the extended family. Both sides of his family loved music, and they sang with piano and a cappella at all gatherings. With his three sisters, he grew up singing in harmony in their home, and young Fred thought all families sang in parts! He took piano lessons as a child and seemed destined to follow his two older sisters into choir, but a fortuitous thing happened: his sixth-grade class was to be the pilot class for starting Longview ISD band members at the elementary schools, and many of his friends joined.

After a few weeks, he regretted not trying an instrument, so he went to band with his class and asked director Don Turner if he could join. Turner was reluctant, but he thought Fred could catch up because of his good grades and the fact that he had three years of piano. However, there one proviso: he had to play either cornet or trombone. Poor Fred J! He had wanted to play bassoon after hearing it on recordings in music class. Bassoon was not an option in this pilot program beginner class, so in his young mind, the saxophone looked the most like the bassoon. With only two options, however, he chose cornet.

Because of his father's position as a State Representative to the Texas Legislature, the family moved to Austin in the spring of the seventh grade. Fred simply told the band director there that he played saxophone, and he figured it out on his own. When he moved back to Longview for the eighth grade, he told his friends "they changed me to saxophone in Austin." Paul Stroud, the new band director at Foster Junior High, did not know that Fred had played cornet the previous year.

Fred played in the bands of Verna Covington and David Pennington in Austin and under Paul Stroud and Jimmy Yancey in Longview before becoming a member of the Longview High School Band under John C. "Pete" Kunkel. He played oboe (self-taught) during concert season in high school and marched as a saxophonist, and he made all-state band on alto sax. He was in the Longview High School Orchestra on viola (self-taught), under Dr. James Snowden, and played one season in the Longview Symphony on horn (self-taught). During his high school years, he seemed destined to be a band director due to his fascination with learning to play all the instruments.

Fred played his first musical as a woodwind doubler while in high school, performing on piccolo, flute, clarinet and saxophone. During high school, his interest in arranging music was nurtured by Mr. Kunkel and he wrote several arrangements for the Lobo Band before graduating. His first major composition for band, "A Shepherd in the Hills," was played by the Longview High School Band his senior year. Interestingly enough, the piece was premiered by the Sturgis (MI) High School Band, Harry D. Blake, director, simply because their Spring Concert was the week before Longview's.

Allen's undergraduate studies were at Abilene Christian University under Dr. Charles Trayler, who remains his primary mentor. Following graduation, he taught public school for eleven years, beginning with three years in Dimmitt, TX, working with Ralph Smith, and continued with eight years at North Richland Junior High in Birdville ISD. During those years, he was fortunate to be mentored by Henry Schraub and Jim Van Zandt. North Richland Junior High was in the same region as the bands of Greg Hull, Danny Prado, Joe Gunn, Tom Wine, John Winslow, James Osborn, Dick Clardy, Jolette Mitchell Wine, Cheryl Pittman, Barbara Lambrecht, Stuart Shipley, Steve Winslow, Kathy Johnson and Melodianne Mallow. While teaching in Birdville, he earned a Master of Music Education at Texas A&M at Commerce, after which he undertook doctoral work at Texas Tech. Though his doctorate was never completed, he feels fortunate to have studied conducting and arranging with James Sudduth.

Following a successful career as a junior high band director, Allen was hired at Abilene Christian University where he worked for seven years (1987-1994), three as assistant and four as Director of Bands, performing once at the TMEA convention of 1992. In the small music faculty at ACU, every faculty member wore several hats, and Allen taught band, flute, clarinet, bassoon, woodwind methods, brass methods, orchestration, secondary instrumental methods and student teaching observation. He also maintained a flourishing flute studio for area high school flutists, and taught several all-state musicians.

After teaching at ACU, Allen was appointed Director of Bands at Stephen F. Austin State University (SFASU) in Nacogdoches, Texas, a post he held for twenty-four years (1994-2018). In addition to conducting the Wind Ensemble, Allen taught conducting, orchestration and music education classes. In 2012, he received both the SFASU Achievement in Teaching Award and the Texas Bandmasters Association Meritorious Achievement Award. He was named Director of Bands Emeritus of SFASU in 2021.

Under Allen's direction, the SFASU Wind Ensemble performed at the Texas Music Educators Association Clinic/Convention six times, in 1994, 2000, 2004, 2008, 2014, and 2018. Additional performances by the Wind Ensemble include for the 2002 and 2006 College Band Directors National Association Southwest Regional Conventions, the Texas Chapter of the National Association of Composers/USA, and for the South Central Regional Music Conference in Monroe, LA, both in 2009. Under his leadership the SFASU Wind Ensemble continued to commission new works from composers, a tradition that began under former Director of Bands Melvin B. Montgomery, and continued by the next SFASU Director of Bands, John L. Whitwell.

At SFASU, Allen was fortunate to work with a talented and motivated instrumental music faculty. In his time there, he and his instrumental area colleagues achieved the following: the Lumberjack Marching Band increased from 135 to consistently over 300, the number of instrumental (wind/percussion) music majors doubled and the number of instrumental graduate students tripled. This time was characterized in the instrumental area by the emphasis on the music education degree, with an average of 95% of instrumental majors headed toward teaching. Allen is proud of his students who populate the band teaching field across Texas and in other states. Though his primary focus at SFASU was to prepare public school music educators, he is also proud of his many students who hold teaching positions in universities and of those who completed their doctorates. During the first ten years he taught there, he was director of the SFASU Summer Band Camps, at a time when 1500 students visited the campus over three weeks of camps.

Allen has conducted over 100 all-region and all-state bands throughout Texas and the United States, and he has also been an active concert clinician and adjudicator. A frequent guest conductor for bands performing at the Midwest Clinic and TMEA Convention, he has also conducted ensembles in Korea, Taiwan, Hong Kong and Australia. He has a special affinity for the bands in and around Hobart, Tasmania, where he traveled twice to serve as a guest conductor and clinician.

He has published several pieces for band, orchestra and flute choir and has many unpublished works, both arrangements and compositions. Many of these works have been performed at conventions and festivals across the United States and internationally. Many of his works were commissioned.

Allen played principal clarinet with the Ft. Worth Civic Orchestra for five seasons, bass clarinet with the Irving Symphony for three seasons, and clarinet in the Irving Symphony Woodwind Quintet for six years. He held the piccolo position with the Abilene Philharmonic for six years and played both flute and clarinet in several community bands. As a woodwind doubler, he performed professionally for Opryland USA, the Ice Capades, Ringling Brothers & Barnum and Bailey's Circus, as well as over forty musicals and operas.
He is an elected member of the American Bandmasters Association. He is also a member of the Alpha Chapter of Phi Beta Mu International Bandmasters Fraternity, Texas Music Educators Association, Texas Bandmasters Association, College Band Directors National Association and ASCAP.

Following his retirement, he has continued to work as a consultant/clinician for several band programs, as well as a presenter of staff development sessions for public school districts and as guest lecturer at several universities.

Fred J Allen would like to thank Phi Beta Mu for this honor and TBA for hosting the ceremony honoring the recipients.