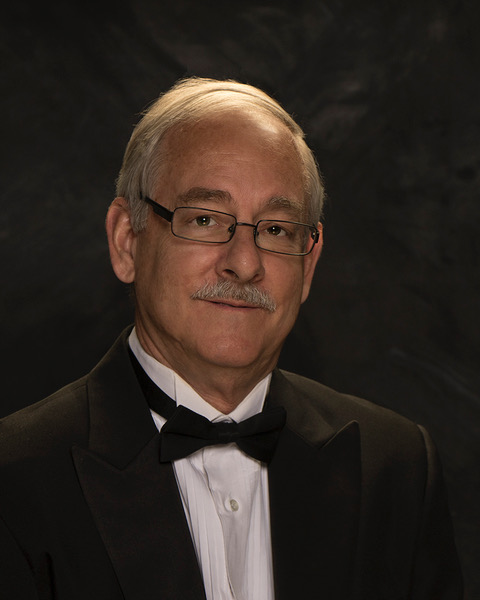 Rick Yancey had a wide experience teaching band in Texas. He held every job, middle school assistant, head middle school, assistant high school, head high school, third guy, and orchestra teacher.
He closed a 5A high school, Westchester, and opened one, Elkins.
Rick Yancey grew up in Texas City, Texas, an oil refinery town. Rick's father, George, worked at the American Oil refinery and his mother, Gertrude, was a social studies teacher. Rick played the clarinet in the wonderful Texas City bands under Mr. Robert Renfroe and James Brannon. Tom Easton was his beginning clarinet teacher.
Band was the big thing in town. The band played exciting music and brought in such notables as William Revelli and Fred Fennell. It was very important to be a good player, and marching practice was one day a week. Rick made All-State Band in 1970 and then All-State Orchestra in 1972, which was the first time that he played in an orchestra, and it was overwhelming. The TMEA experience was powerful, and he was hooked! The Texas City High School theater teacher, Mr. John Martin, was a huge influence. He took Rick and several other students up the road to Houston to hear the Houston Symphony. They were actually better than the Texas City band. Rick had a good voice, and starred as George M. Cohan in the musical. He did have to learn to tap dance to perform this role. The tap dancing later proved invaluable in dealing with administrators.
Mr. Renfroe advised that he go to the University of Houston, to study with James Matthews, and he did. Close Texas City High School buddy and trumpeter Jim Vassallo roomed with Rick in a mobile home purchased by their parents. Rick's portion of the lot rent was $15 a month. Teaching private lessons several nights a week provided an opulent lifestyle for a college student. In the UH marching band, Mr. Bill Moffit always had a gimmick. After a year of marching clarinet and Patterns of Motion, Rick became one of the "famed" Houston letters. These were huge Styrofoam letters that spelled out HOUSTON and towered over the band. Friend Larry Matysiak was the O and Rick was the U. None of the other letters could see where they were going. Although having lots of college fun, Rick became very serious about playing the clarinet and the weekly lessons with Jeffrey Lerner. Mr. Lerner studied at Julliard with Daniel Bonade, who studied with Klose, so there you go. Eventually, he became principal clarinet of the University Symphony Orchestra and Wind Ensemble under A. Clyde Roller and James Matthews and had many memorable playing experiences with these wonderful directors. One year was spent in the UH Jazz Ensemble under Mr. Aubrey Tucker. Rick played second alto sax and Tony Campese played first, before joining the Stan Kenton band later that year. Other important teachers at UH included Dr. Robert Jobe, Dr. Robert Nelson, Moreland Roller, and Albert Hirsch.
In 1975, friend Bill Wakefield convinced Rick and Jim to attend the Aspen Music Festival in Aspen, Colorado. After the first wonderful summer, Rick won the audition for the clarinet fellowship and became principal clarinet of the Chamber Symphony during the second summer. Rick was the only principal wind player that wasn't already a member of a professional orchestra. During the two years in Aspen, he played concerts with Itzhak Perlman, Aaron Copland, James Conlon, Pinchas Zukerman, Leonard Slatkin, Jorge Mester, Sergiu Commisiona, Dan Welcher, Harvey Pittel, Ray Still, Leonard Sharrow, Gary Gray, and Gerard Schwarz. Speaking of Schwarz, during his first season in Aspen, Rick was assigned to play in Schwarz's repertory class the following morning, to play Ravel's Dapnhis and Chloé. In fear of doing poorly on this difficult part, and the wrath of Schwarz, Rick and the other clarinetist stayed up the entire night practicing the parts. Monday morning, they were pumped. The class began. The flutist missed her first entrance and announced that she was sight-reading. Schwarz was enraged by her lack of preparation and dismissed the class, the clarinets having never played a note. But, it's good to be prepared. Rick's clarinet teacher in Aspen was John Moses, and he was a wonderful player and teacher.
Back at UH for year five, Rick was contracted to perform with the Rapides and Lake Charles orchestras in Louisiana, and in Houston with Theater Under the Stars (TUTS), the Houston Ballet and Houston Pops Orchestra under Ned Battista. He began teaching a beginner band three days a week while still in college, serving as band director in tiny Damon, Texas.
In 1977, Rick graduated. His first teaching job was at Northbrook Junior High in Spring Branch ISD as assistant to Darrell Jensen. After all the great performing in Aspen and playing professionally, Rick knew everything he needed to know to produce a top-level band from day one. Within the first twenty seconds of the first rehearsal of that seventh-grade band, reality hit him in the face. This did not sound like the Aspen Chamber Symphony. There was so much to learn! After a successful and fun first year, Darrell moved to Northbrook High School, and Rick moved to Westchester High School as assistant to Jerry Tate. Music Supervisor Wade Pogue had plans for Rick. Westchester had a fun trip to the Rose Parade that year. The first head band director job came shortly thereafter at Westchester Junior High. Denis Kidwell, in his first year, was assistant and they began putting that program on track. The last two years at WJH he was joined by Merlin (Pat) Patterson, and they worked together, learning as they went, for the next ten years. It was during this time that they were friended and mentored by Mr. Eddie Green, now teaching at U of Houston. Eddie's influence and help was massive and inspirational, and continued for twenty years.
Mr. Jack Greenberg became Music Supervisor in Spring Branch. Jack spent countless hours helping, teaching, attending rehearsals and concerts, hanging out, and talking with Rick and Pat, and so many other young Spring Branch teachers. His friendship, passion for music, and mentorship was beyond measure.
Rick joined the Manny Green Orchestra, which was an eleven-piece dance band conducted by Jack's dad, Manny Greenberg. They played gigs in the Houston area, usually 8-midnight. By the time you went for breakfast (or eggs, as Jack would say) and drove home, you usually got home about 3 a.m. There might have been some consumption of alcohol at these gigs. Rick was the youngest member of the band. When he quit, twenty years later, he was still the youngest. The paycheck in 1977 was fifty-five dollars a gig, big money back then. Twenty years later, it was $75. Still, it was a lot of fun. Sitting next to Robby Caston on bari sax was an experience, musically and personally.
Many weekends were spent attending the great band contests of the day—Six Flags Over Texas, Buc Days in Corpus, and the Greater Southwest Festival in Galveston. You learn so much by listening and then discussing. There were several road trips to Richardson to attend rehearsals of the amazing North Junior High Band, directed by Marion West.
Rick began dating Jill Schaper, a cute first-year band director at Spring Branch Junior High. Jill was from Galveston and was a fabulous flutist. In fact, she was first-chair All-State.
They were in love and married in 1982. Shortly thereafter, Rick was promoted to head high school director at Westchester High School. He was twenty-eight years old. There were three wonderful years at Westchester High School. Rick recalls doing 5A sight-reading the first time after three years of Class C. It was daunting! The last years' band trip was a cruise to Nassau on the cruise ship Carnivale. Mr. H. Robert Reynolds rehearsed the bands on the cruise ship and gave a concert. How was Mr. Reynolds convinced to do this? His wife took the phone call.
Happy news! In January 1985 Christopher Alan Yancey was born. It was preordained that he would play the trombone. Rick was voted "proudest new dad" by the Westchester faculty. Spring Branch ISD had declining enrollment, and the board decided to close two high schools and two middle schools, including Westchester HS and Northbrook Junior High, where Jill was now the head director. It was very controversial. Westchester closed, and Rick and Pat went, along with most of the band students, to next-door rival Stratford High School. The Stratford band kids responded admirably to losing their band director, and being "taken over," so to speak. The kids blended well. A young and very skinny Russ Holcombe guided the percussion and was student teacher.
Rick stayed at Stratford for six years and had some memorable experiences. The football team, under coach Oscar Cripps, went deep in the playoffs and all the way to the state finals in Austin. At the state finals game, in December after school was out, a special halftime show was needed.
In December of that year the U.S. Congress made "The Stars and Stripes Forever" the national march of the United States. So, Stratford borrowed a huge American flag that would cover the field, and would claim to be the first band in the country to play the march since it became the national march. The game-day halftime came, and Rick was up in the booth to announce. Plano went first. They did what is described above, the same exact thing. Can you change halftime shows instantly? Remember about the tap dancing? Stratford twice played for president George H. W. Bush, and Rick got to conduct "Hail to the Chief" when President Bush entered the Astrodome. One year, a memorable marching show, that ended with "Somewhere" from West Side Story, resulted in advancement to Area Marching Contest. This was back when only two bands advanced in tough Region IX. There was a wonderful band trip to London, where they played at Stratford-On-Avon and live on the BBC kids show Blue Peter. Other fantastic colleagues in Spring Branch included Randy Fitch, Mike Brashear, Robby and Nancy Caston, Joyce and Les Boelsche, Karen Parmely, Matthew McInturff, Sandy Bow, Noe Marmelejo, Jim Gabbard, Tye Ann Payne, Marty and Charlene Nelson, Dennis Hopkins, Sherry Merritt, and Chuck Kingsley.
Rick and Jill left Spring Branch in 1989 and moved to Sugar Land. Rick went to be third director at Clements High School with friend Larry Matysiak, and his foot was in the Fort Bend door. After a great year at Clements, Rick became head band director of the new Lawrence Elkins High School, opening with seventy kids in band, ninth and tenth grade. Keely Fitch Erickson took the percussion, all seven of them, under her wing. With a lot to prove, they survived a tough marching contest and made a UIL Sweepstakes the very first year! Thirteen more would follow. The program grew in size and quality. Rick and Nancy Caston helped each other, only the two of them doing the high school and Lake Olympia Middle School. The next year, Robbie Caston came to be assistant and a strong team was formed. Rick and Robbie loved to coach individual students and many strong players were developed. Robbie was brilliant on saxophone and produced an All-State first chair on alto and tenor and second chair on bari. In 2004, Elkins had seventy All-Region players and eleven All-Staters. With help from Bill Watson, Dean Westman was hired to run the marching band, and he incredibly skilled with marching and with personality to burn. An extraordinary percussion program was developed with the work of Dusty Norris. Other great assistants that came through were Neil Hershey, Rory Davis, and Robert Green. Due to staffing cuts, in 2006, Rick took over the orchestra and treated them as one of the bands. Other highlights from Elkins include wonderful trips to New York; Washington, D.C.; Durango, Colorado; Chicago; Corpus; Dallas; and of course, San Antonio. The Elkins High School Band won fourteen consecutive UIL Sweepstakes awards and were Outstanding in Class at numerous festivals. Eight CD recordings of Elkins Band performances are available through Mark Custom Recordings. Elkins had some wonderful clinicians in those years that included Tom Bennett, (many times) Denis Kidwell, Matt McInturff, Rob Carnochan, Harry Begian, Gary Garner, and Frank Wickes. Elkins had tremendous teachers at the feeder middle schools. Kudos to Jamie Larson, Tom Easton, Greg Countryman, Keith Fickel, Beth Adams, Joe Pruitt, Michelle Berry, Joe Freilich, Nancy Caston, and Mark Keene.
Rick was TMEA Region XVII Band Chairman for ten years and was Area F Chairman two different times. Mr. David Lambert was a steady hand as Fine Arts Director for Fort Bend and provided tremendous support and guidance. His friendship was invaluable. Friends and colleagues Larry Matysiak, Bill Duggan, Daniel Galloway, and Ronald Thornton were influential and important. Rick is proud of his many students that became band directors and performers, including three-time Grammy Award-winning pianist Robert Glasper, San Diego Symphony principal horn Ben Jaber, and Saint Louis Symphony percussionist Alan Stewart.
Another personal highlight was to see son Christopher (trombone, remember) perform with First Colony Middle School and Clements High School at the Mid-West Band and Orchestra Clinic twice, 6A TMEA Honor Orchestra, in Carnegie Hall, and in the All-State Symphonic Band and All-State Symphony Orchestra.
After retiring from Elkins, Rick was orchestra director at Lamar High School in Houston ISD for three years, teaching strings and serving as department chair.
In 2007, inspired by the experience at the UIL State Wind Ensemble Festival, Rick started the National Wind Band Honors project, which got off to an encouraging start. Jon Locke started a very similar event, The Mark of Excellence, the very same year. Jon convinced Rick to combine the two, and the result is the Mark of Excellence / National Wind Band Honors project. Rick runs this event, which had 279 entries in 2018 and has received entries from thirty-eight states. It has proven to be a very significant event in the band world, providing inspiration and recognition to many ensembles. Rick also works for Jon Locke and Director's Choice to run the Music Across Texas festival, which is a noncompetitive festival held inside amusement parks. Rick is eternally grateful to Jon Locke for his vision and opportunities that he has opened up. In addition, Rick serves as a board member of The Foundation for Music Education, which sponsors the Mark of Excellence and several other projects that support music education.
In 2016, friend Larry Matysiak had the idea to form the Sugar Land Winds, a wind ensemble composed of band directors and private teachers in the Fort Bend County area. Rick and Larry conduct this group, which has proven to be a quality ensemble that gets better every year. A conductor must mind their business with a flutist wife on the front row. A highlight for the group was a wonderful performance at the TBA convention in July 2018. The band continues to flourish.
Rick judges many UIL and other band and orchestra competitions in Texas, Oklahoma, and Louisiana. He frequently conducts region honor bands and presents staff development for school districts. He has presented six clinics at TBA and TMEA conventions that were well received.
Rick and Jill have had many wonderful experiences traveling and cruising, having visited Europe a dozen times. Wonderful time is spent with family. Son Christopher, now head band director at Stratford High School, daughter-in-law Dr. Kelly Sammis Yancey, who is audiologist for Klein ISD, and grandchildren Sadie, Samantha, and Cole, ages eight, seven, and two months.