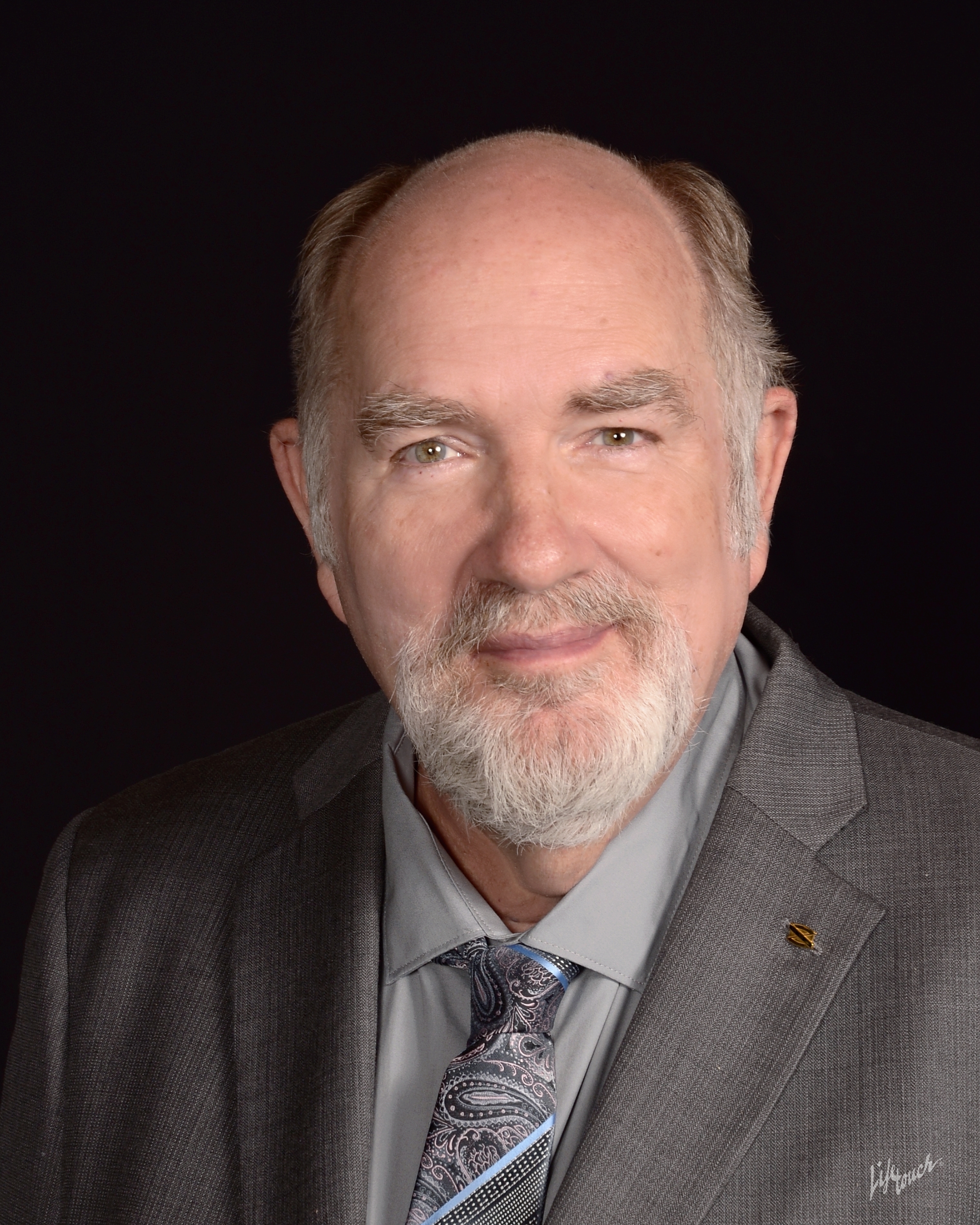 Elmer Schenk, born on April 23, 1949, began his music career on a Sears and Roebuck accordion at the Oak Cliff studio of Mr. and Mrs. Jacobs.
He is a 1967 graduate of Grand Prairie High School and 1972 graduate of North Texas State University (currently the University of North Texas.)
In high school, Elmer was Band Captain, first-chair trombone, and the recipient of the John Philip Sousa Award. At Grand Prairie he was a student of Charles Vick, a Hall of Fame member, and Colonel Andrew Davis, a baritone player who performed in the last decade of the John Phillip Sousa Band. Elmer and his wife, Anita, were high school sweethearts. Anita was first-chair clarinet and a twirler. When he was a senior and she was a sophomore, Elmer proposed to her on the band bus to the Wichita Falls Ryder football game. She said "Maybe." Next year, Elmer and Anita will celebrate their fiftieth wedding anniversary.
At North Texas, he was a student of Maurice McAdow and Doug Wiehe, both Hall of Fame recipients. He completed his student teaching under Rex White in Lewisville.
Elmer taught one year at Pilot Point and four years in Ferris before spending twenty-five years building the Howe School band program. Under Elmer's direction, the Howe High School Bands were named Texas State UIL Marching Contest winners three times—in 1980, 1995, and 1997—and finished in the top seven fifteen times. His bands at Howe were named TMEA Honor Band in 1985 and 1999 and regularly placed in the top five as finalists. He amassed twenty-two Sweepstakes trophies at HHS and, after his retirement from Howe, he continued teaching and claimed nine Sweepstakes trophies with the Clark Middle School Band in Princeton, Texas.
Other commendations with Howe include three UIL State Outstanding Wind Ensemble awards, three first-place awards for Association of Texas Small School Bands (ATSSB) Outstanding Performance Series, many Best in Class awards with concert bands at Walt Disney World, Six Flags, and Astroworld as well as Best In Class at Plano, De Soto, and the Colony pre-district marching competitions.
Elmer is a founding Charter member and permanent board member of the Association of Texas Small School Bands. Although ATSSB is currently an integral part of TMEA, it took several brave souls many hours of hard work behind the scenes and the bravery of those committed to make ATSSB a reality and accomplish this monumental endeavor. In his humble opinion, this was Elmer's greatest contribution to bands in Texas.
For the first ten years of its existence, Elmer was the ATSSB Region III/XXV Coordinator. He was later voted the class 3A Representative for several years. He originated many of the names and procedures at the state and local level for ATSSB and selected most of the brass etudes that are still being used today.
He has been a member of the Texas Music Educators Association and Texas Bandmasters Association since the early '70s, Texas Music Adjudicators Association since the mid '80s, and Phi Beta Mu since the early '90s. In the mid 1990s he served on the UIL State Marching Band Advisory Committee. This committee accomplished some radical changes to the State Marching Contest format. Examples of his input included creating a system to assign points to brass, woodwinds, and percussion, designating three judges to focus on music and two judges to focus on marching, and starting the term "body motion" to help make guard inclusive.
He was a recipient of the National Band Association Citation of Excellence Award for outstanding contributions to band and band music and the Certificate of Merit for Marching Excellence, also from the NBA.
While at Howe, he was chosen by Texas Educators Association to create a video to be used as a teacher training tool.
In the past, Elmer has performed with the Sherman Symphony, the Association for the Preservation of Barbershop Singing in America, and the Border Band (a jazz band made mostly of band directors from both sides of the Red River). For a time, he led the Catholic church choirs in Lancaster and then Sherman, Texas, and conducted the Howe Community Band.
His Howe High School Bands have performed at the invitation of Phil Graham, Ralph Hall, George W. Bush, and Ron Clark. Recently, Elmer was named by the Howe Chamber of Commerce as "among their top twelve most influential persons of the Twentieth Century."
In Howe, Anita worked with twirlers, flags and clarinet students. At first, the drill team became her guard, but once she started her own color guard in 1989 her students won every Outstanding Flag trophy for every pre-district marching contest they entered. She received her training as a travel professional at The International Aviation and Travel Academy in 1997.
Elmer and Anita have one son, Anthony, a former Howe Band member and an ATSSB All-State trumpet player. Anthony attended Texas A&M University-Commerce, the Art Institute of Dallas, and received his B.A. at the University of North Texas. He is currently employed by Imaging Spectrum in Plano, Texas.
As a retiree, Elmer continues to stay busy by mentoring and substituting for former students and associates who are currently teaching band. His current performance organizations include the Plano Community Band, the Frisco Jazz Band, the McKinney Dance Band, and the McKinney Community Band, where he is also the Associate Conductor. His small performance ensembles include Nate and the Rules, a 1970s rock 'n' roll band, the JP Jazz Quintet (playing for high society social events), and a Christmas Trombone Choir.