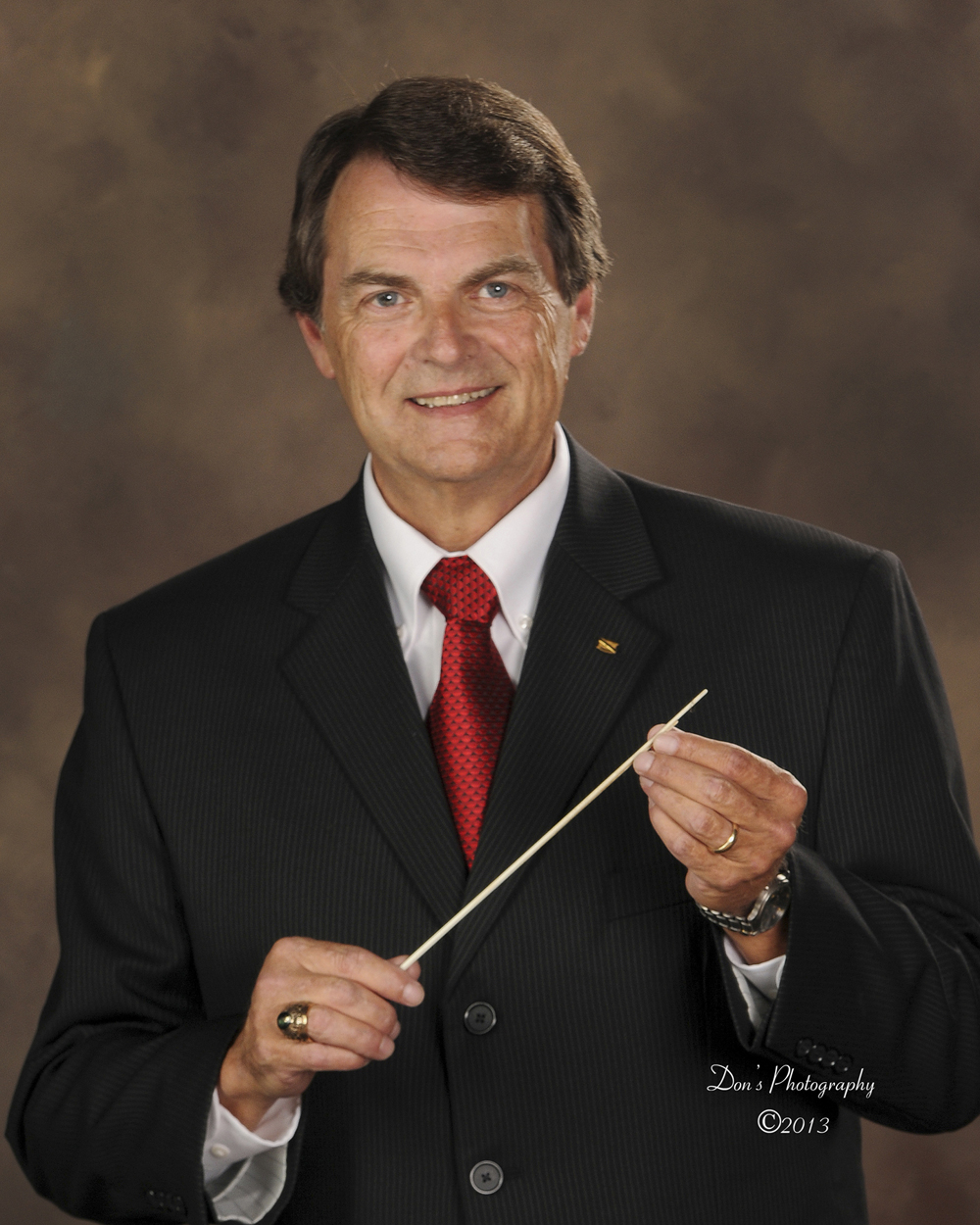 On May 27, 1950, in Gilmer, Texas, W.C. (Bill) and Mable Jones were blessed with their second son, Jim C. Jones. After Bill returned from World War II, he became a salesman for R. B. Cook & Company for seventeen years and in 1962 was elected as Upshur County Tax Assessor.
That same year Jim started beginner band under the direction of Wilson Barnett. After showing all the instruments to the class, Mr. Barnett asked each student, "What do you want to play?" Jim's response: "Football." Mr. Barnett's response was, "You're a trombone player, now sit down!" That began Jim's musical career.
After a year of only earning first chair one time, Mr. Barnett asked Jim if he would like to play tuba, and Jim agreed. He made several First Divisions at solo and ensemble contest and played in the Honors Band at the Cotton Bowl under the direction of Henry Mancini.
After graduating from Gilmer, he attended Kilgore College under the directorship of Wallace Reed and Jerry Hale. During his two years at Kilgore he marched in the Macy's Thanksgiving parade and performed with Doc Severinsen. In 1970, Jim transferred to Stephen F. Austin State University and was under the directorship of 1994 Hall of Fame member Melvin Montgomery. While at SFA, Jim received several scholarships and was Mr. Montgomery's band manager. Those years as band manager under Mr. Montgomery were invaluable in learning organizational skills, drill design, repair of instruments, and musicality. He was also asked to reinstate the band fraternity Kappa Kappa Psi. Jim was the charter President of the reinstated fraternity and also served in Phi Mu Alpha music fraternity. In 1973, he was chosen as the first Outstanding Bandsman of the Lumberjack Band.
Upon graduation, he married Marsha Gimble (Drum Major of the Lumberjack Band) and began his first job with Gerald Fagan (2017 Hall of Fame member) in Center, Texas. Through Mr. Fagan's mentorship he acquired numerous ideas of how a band should sound, how to stack a marching band, how to rewrite parts, and how to build an outstanding band program. After Jim's junior high band had received several UIL First Divisions, he moved to Pittsburg, Texas, as head director. During his stay at Pittsburg, the band received numerous Sweepstakes awards and in 1979 was the only 3A band at the UIL contest to receive a First Division rating. In 1981, Jim entered the Pirate Band in the Gilmer Yamboree marching contest and the Kilgore Invitational marching contest on the same day. The Pittsburg Band received First Divisions from all the judges and was chosen Outstanding 3A Band in both contests. Under his direction, the Pirate Band performed at Disneyland and Walt Disney World and in 1981 performed at President's Park (the White House) in Washington, D.C.
In 1982, Jim took the position at Pittsburg ISD as Assistant Superintendent and Business Manager. After a year in administration, he moved to Cleveland, Texas, as Director of Bands and Music Administrator. He began the first year with 48 students in a 4A (now 5A) conference and watched it grow to over 120 members. His military marching band received First Divisions at all marching contests except one during his tenure at Cleveland. Jim's Cleveland band also earned Outstanding 4A-5A Band, Outstanding Drill Design, and First Division ratings at the National Association of Military Marching Bands contest (State Military Marching Contest). His bands made Area finalist at the UIL marching contest and were chosen to advance in the Region and Area Honor Band process. He had numerous All-State band members, and more than 50 percent of the band members have competed in the Texas State Solo and Ensemble Contest. The Cleveland Band was filmed for a Walt Disney World commercial for their unique military style of marching. The Cleveland Band also performed in Washington, D.C., at Walt Disney World, and Disneyland.
After a seven-year battle with cancer, Marsha, Jim's wife of twenty-three years, passed away. The family moved to Carthage, Texas, in January of 1998. This move brought them closer to his parents and Marsha's parents to help raise his two daughters. He then began his tenure as Director of Bands and Music Supervisor at Carthage ISD. His Carthage Band received Sweepstakes awards every year, except for one second division at sight-reading contest. Jim's bands had numerous Region, Area, and All-State students, with all First Division ratings at UIL and NAMMB contests. In Carthage, he met his current wife, Deanna, and began a very blessed life.
In 2005, Jim took the position of Director of Bands at Center, Texas. The program had three directors prior to his arrival and a total of sixty-eight members. The program now has over 250 in the high school band. The Center Band, under Jim's direction, received three Sweepstakes awards in his four-year tenure. The Center Band performed at Walt Disney World and at the Lincoln Memorial in Washington, D.C. He currently works for Tatum Music Company, where he still enjoys working with bands and visiting with directors.
At Kilgore College, he was the president of the Church of Christ Bible Chair; at Pittsburg he was band chairman of the District Honor Band; and in Cleveland he was band chairman of the Southeast Texas Honor Band and Texas Music Educators Association Region X Band Chairman. While in Carthage, he was elected to the position of Association of Texas Small School Bands 3A (now 4A) State Representative and in 2006 was elected as ATSSB President Pro-Tem. On February 11, 1995, he was inducted into Phi Beta Mu, Alpha Chapter. In 1996 and 2017, he was elected President of the Lumberjack Band Alumni Association and, in 1995, received the University Interscholastic League Sponsor Excellence Award. In 2013, he was inducted into the SFA Band Directors Hall of Fame. In 1996, Jim was elected President of the National Association of Military Marching Bands and for the last ten years has served as the Executive Secretary of the organization.
Words cannot express the gratitude that Mr. Jones feels toward his mentors: W.E. "Bill" Taylor, Gerald Fagan (Hall of Fame member), Waymon Bullock (Hall of Fame member), Neil Grant (Hall of Fame member), and John "Pete" Kunkel (Hall of Fame member).
A sincere abundance of gratitude is extended to the assistant directors that inspired, helped, and lived through various adventures in band directing. Thanks to Don Carnathan, Jonathan Kelly, Brent Stuart, Sharon Bird, and Nicholas Durham.
On June 20, 2008, he was blessed with a marriage to Deanna Burkert and to quote Deanna, "Life has been an adventure ever since!" They are blessed with daughters and sons-in-law Misty and Brandon Hall and Jessica and Chris Anton; sons and daughters-in-law Cameron and Tiffany Burkert and Spencer and Lindsey Burkert; and three wonderful grandchildren—Amelia Anton, Conrad Burkert, and Sawyer Burkert. Jim feels the good Lord has truly blessed him with a loving, caring, giving family.
Mr. Jones is truly honored and humbled to be joining the ranks of so many great music educators in the Hall of Fame. Special thanks go to Jonathan Kelly, Don Lawler, his lovely wife, Deanna, and the Phi Beta Mu Hall of Fame committee for this great honor.