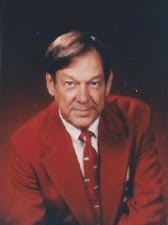 Eldon A. Janzen was born in Medford, Oklahoma, March 21,1928, the son of Jacob and Sara Janzen. He was born into a musical family and was baptized into the Mennonite Church, where his father served as Choir Director. He considered the opportunity to grow up in the community of wonderful people in Medford as a valuable asset for a person from a family of less-than-modest means. His father was the village iceman; his mother had a nice singing voice but died at an early age of cancer. His cousin owned what was considered a luxury, a piano, and introduced him to the keyboard and cultivated his singing voice. His early formal music training began on cornet in the fourth grade, but he switched to trombone when an instrument became available on loan from the son of Rev. Trout, minister of the First Christian Church. Eldon was especially fortunate to have teachers who recognized his musical interest and talent. Two band directors in particular were very helpful. Jack Norman gave him his first lessons on trombone and arranged for the "Band Mothers Club" to fund his first own instrument through a bake sale, which netted $25 to purchase a newly reconditioned trombone. Later, Delvis Roberts sought out an upgraded trombone and loaned Eldon $112 to make the purchase. The loan was gratefully repaid before the summer was over with earnings from Eldon's job at a local grocery store. Of special note was a local secretary and former high school choral director, Madge Warzyn, who took Eldon as a voice student, developing his natural vocal talent.
Janzen was active in both music and athletics during his high school years. He played in the band, sang in the glee club, and played on the Medford Class C State Championship football team. He was also named to the Oklahoma High School All-State football team in 1945 before graduating from Medford High School in 1946. Upon graduation he chose a $25 music scholarship over a full athletic scholarship and enrolled at Oklahoma A&M College (OSU). Upon graduation in 1950 he began a lifelong career playing in, teaching, and conducting bands. He was offered the position of Band and Choral Director in his home town, where he served until called into the Armed Forces in January of 1951. While stationed at Red River Army Depot, Texarkana, Texas, he served as Band Leader and Chaplain's Assistant. He also organized his own dance combo and played regularly at the Army USO and Service Clubs.
Janzen was united in marriage in 1952 to the former Nelda Routon of Texarkana, Arkansas. After the loss of their first child, they became the parents of two children, Jana and Scott. Both eventually played in their father's band and graduated from the University of Arkansas. Nel and Eldon took great pride and satisfaction in the fact that both kids enjoyed lifelong careers as band directors, along with son-in-law David Gorham, a successful composer and conductor. The Janzens have one grandson, Brant, who also excelled in music and sports.
Upon discharge from the Army in 1953, the Janzens moved to Denton, Texas, where Eldon enrolled in graduate school at North Texas State University and Nel was employed as secretary to the Dean of the College of Education. Janzen was asked to stay a second year as assistant to the Director of Bands, the late Maurice McAdow.
For the next fifteen years Janzen served as Band Director in New Boston, Greenville, and Irving, Texas. His reputation began to develop after an invitation to include the New Boston Band in the pregame show of the nationally televised Cotton Bowl football game in 1956 and to conduct the pregame show the following year. He moved, in 1959, to Greenville, where his work in developing a dormant band program led to his appointment as the Irving High School Director of Bands in 1962. His band was chosen for the Texas Music Educators Association Convention in Dallas to demonstrate the contrasting style and sound of the symphonic band versus the wind ensemble by the world-renowned Eastman conductor Frederick Fennell. The distinctive sound of the symphonic band Janzen had developed led to great demand for him as adjudicator, clinician, and guest conductor around the country.
After five years as director of the Irving High School Band, he was appointed Director of Music Activities for the Irving School District, which had grown to more than 25,000 students. During his teaching years in the public schools, he established band programs that received national acclaim from notable conductors, including W. Frances McBeth (Ouachita University), Dr. Frederick Fennel (Eastman School of Music), Dr. William D. Revelli (University of Michigan), and Dr. Fred Ebbs (University of Indiana).
In 1970, he was offered the position of Director of Bands at the University of Arkansas at Fayetteville. During this twenty-five-year tenure he directed the Razorback Marching Band, Symphonic Band, and Concert Band. The Razorback Band appeared in most major bowl games during his leadership, including the Cotton Bowl (twice), the Sugar Bowl, the Holiday Bowl, the Liberty Bowl (twice), and the Orange Bowl (twice). The Symphonic Band performed at the College Band Directors National Association conventions twice, the Bicentennial National Music Educators convention in Atlantic City in 1976, and the American Bandmasters Association convention in 1983. In 1985, he was appointed Coordinator of Music Education, supervising student teachers, as well as Professor of Graduate Instrumental Conducting.
Janzen served on numerous national committees and was President of the Texas Bandmasters Association in 1970, originator and President of the Arkansas Bandmasters Association, President of Southwest Division of College Band Directors Association, and President of Phi Beta Mu International Bandmasters, where he established a record of leadership in the North American band movement, continuing his service on the International Board of Directors. In 1985, he was invited to membership in the prestigious American Bandmasters Association, an organization of fewer than 300 members led by well-known band personalities, including Edwin Franko Goldman (First President) and John Philip Sousa (Lifetime Honorary President).
Eldon continued to work as adjudicator and guest conductor throughout the United States and Canada. Since retirement in 1995, he has served as President of the University of Arkansas Retirement Association and the Red River Army Association of Korean War Veterans. One of his favorite pastimes was assisting the Community Meals Program, supported by the Central United Methodist Church of Fayetteville, where he and Nel have been members since 1970. This program provides hot meals for the less fortunate individuals in the area. Janzen's favorite role was "dishwasher"!
Throughout his forty-five-year career as band director and music educator, he found time to direct Methodist church choirs in three communities, organize and conduct an adult community band known as the Arkansas Winds, and counsel dozens of his former students who are now professional educators. His book, The Band Director's Survival Guide, has been used in college methods courses throughout the country.
He was inducted into the Arkansas Bandmasters Hall of Fame in 1992 and was named Lifetime President of the Arkansas Bandmasters Association in 1998. The expanded rehearsal facility in the Lewis E. Epley Band Building is named the Eldon A. Janzen Rehearsal Hall in his honor. He received numerous awards in recognition of his career, including those from his high school in Medford, Oklahoma State University, and Kappa Kappa Psi Band Fraternity. The University of Arkansas Marching Band received the Sudler Trophy for Excellence, in 2006, as one of the outstanding college marching bands in the nation. He was installed into the Phi Beta Mu International Bandmasters Hall of Fame in Chicago on December 21, 2007.
Eldon would like to thank the Hall of Fame Committee and, in particular, Keith Bearden, for bringing him to the attention of the committee. The bands and band directors of Texas are unquestionably among the very best in the nation, and perhaps in the world. He considers it a tremendous honor to be included in this group of superior teachers and conductors.