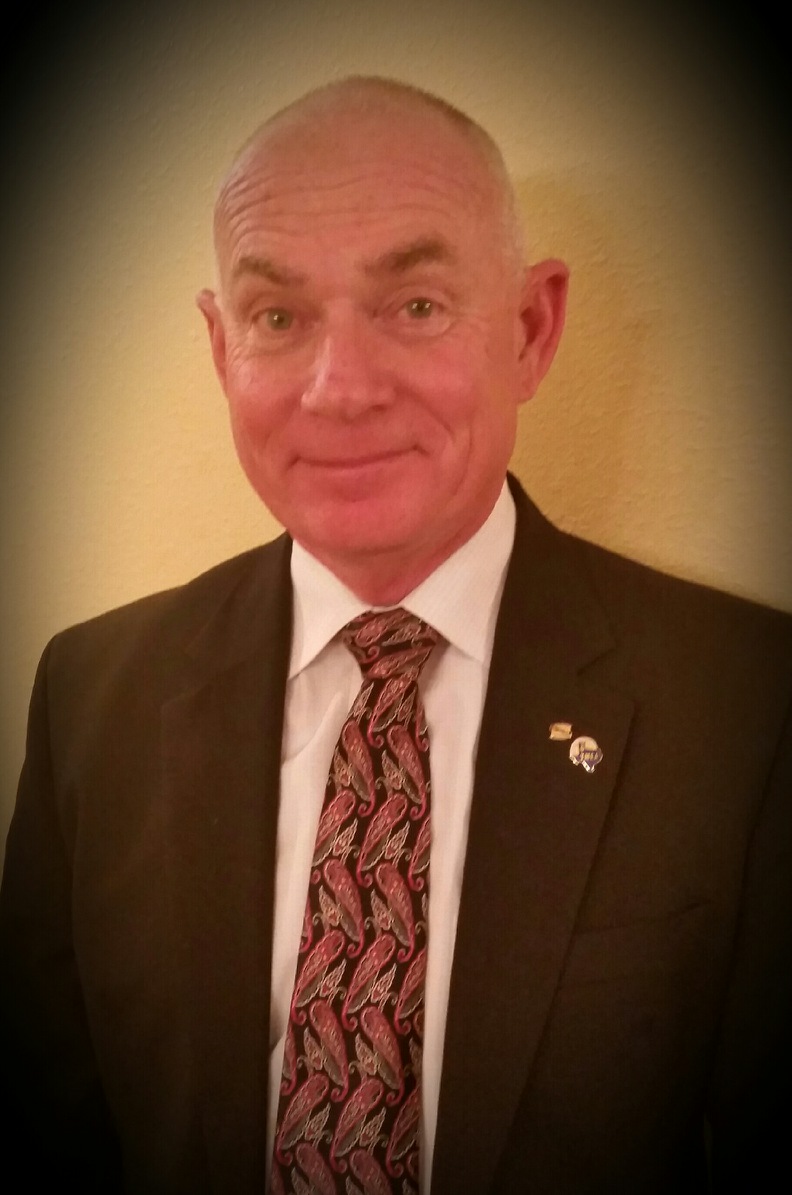 James Coffman was born on January 5, 1954, in Clarksville, Texas. His mother and father, Robert and Mary, had grown up in the Red River County agriculture community near Avery, Texas, and were accustomed to making the most out of very frugal means. James regards his dad, a gentle giant of a man, as the hardest worker he's ever seen and a model of utmost integrity. His mom, also a very diligent worker, displayed love in action as she made sure the family's needs were cared for on a daily basis.
The Coffman family having moved to Greenville, Texas, James recalls his interest in band was sparked with a recruiting visit to the elementary school by the high school director, Bob Cartwright. Soon after that, his mom and dad acquired a Conn 24M saxophone and James's marvelous journey in the band world was launched. Mr. Cartwright suggested private lessons for James. It is still not quite clear if the suggestion was for remediation or merely enrichment. Fortunately for James, Hall of Fame member Gary Wells, who was in his junior year at East Texas State University, became his private lesson teacher and later his junior high band director.
James's love for music and desire to become a band director grew throughout his high school band days under the direction of Mr. Cartwright, an outstanding musician and director who had developed an award-winning program that received numerous UIL Superior ratings and included a very accomplished jazz band. James became very interested in writing and arranging music for the jazz program and recalls numerous hours of extra attention from Mr. Cartwright, reviewing chord voicings and part writing for the jazz ensemble. Due to the tutelage and constant encouragement from Mr. Cartwright, James continued to improve his arranging skills and was recognized at the Brownwood Stage Band Festival for one of his arrangements performed by the Greenville High School Stage Band.
It was also during his high school years that James met Denise Robinson, the greatest earthly blessing of his life, and the two began "going steady" at the ripe old age of fifteen. Fifty years later, they are still "going steady." Upon high school graduation, James became a music major at East Texas State University, where he studied saxophone with Dr. James Deaton, who taught him musical concepts he has been privileged to pass on to thousands of students. During his senior year of college, James Keene became the Director of Bands at East Texas State University and James was most fortunate to study band methods with Professor Keene, as well as perform in ensembles under his direction.
James began his teaching career in Texarkana, Texas, as Band Director at Westlawn Junior High School in 1976. His task was to rebuild the quality of a band that had received very low ratings (IV, IV, V) the preceding year in UIL competition. Through encouraging phone calls to every band student prior to the start of school, James found a receptiveness from the students to work hard and strive to be the very best they could be. This attitude resulted in straight Division I ratings at UIL marching contest that fall.
Upon their arrival in Texarkana, James and Denise were introduced to the "band director seminar" held every Wednesday afternoon/evening at the Shrimp House across the street from Jerry Loveall's music store on Stateline Avenue. Directors from the Four States area would gather while minor instrument repairs were being completed at the music store. These weekly "sessions" provided an opportunity for James to be reconnected with his former private lesson teacher and junior high band director, Gary Wells. His "real world" band directing education began here as Bob Ingram, Frank Garza, Charles Herring, Larry Tucker, Travis Smith, Robin Watson, John Bird, Gary Wells, and many others constantly provided input and advice on a recommended music selection, rehearsal strategy, or marching diagram on a napkin. Mr. Wells, especially, took James "under his wing" and provided mentoring that would transform his teaching methods to provide consistent opportunities for student success. It was during this time James began to realize the importance of these professional relationships as they developed into lifelong friendships.
In 1979, James accepted the position of Director of Bands in Quitman ISD, where he taught beginning, junior high, and high school bands. Once again, he found students willing to work hard, with a desire for excellence that resulted in numerous Division I ratings in UIL competition. At that time, the school provided every instrument for each student; however, the instruments were very old and in disrepair, greatly restricting student progress. Fortunately, James was able to convince the school to provide $100,000 for new instrument purchases during his second year. He also held various leadership roles in the Four States Bandmasters Association, leading up to serving that organization as President. James and Denise were blessed with the birth of their son, Adam, during this time.
Upon completion of his third year in Quitman, James received a phone call from Hall of Fame member Robin Watson, informing him the director job at New Boston High School would be open as Robin was moving to Lamar Consolidated High School in Rosenburg. Later that summer, James was offered, and he accepted, the position of Director of Bands for New Boston ISD. His charge would be to continue to build upon the excellent work established by Mr. Watson. New Boston was a very supportive community, with high expectations of the band program, and James found it refreshing to have parents call him that summer requesting his rehearsal schedule in order to be sure as to not schedule orthodontist or dental appointments in conflict with rehearsals.
When James arrived in New Boston in 1982, the band program consisted of a beginning band in sixth grade at the elementary school, a seventh-grade intermediate band transported from the junior high to the high school daily for band, and the eighth-through-twelfth-grade high school performing band, with the eighth-grade transported from the junior high school to the high school daily. With the support of school administration, James was able to implement a true seventh-and-eighth-grade junior high performing band during his third year. This group, under the direction of Gary Meggs, earned a Sweepstakes in UIL competition during its first year of existence. The New Boston band program also continued to thrive as students at all levels exhibited success, with numerous Division I ratings in solo and ensemble performances and earning positions in District and Region Honor Bands. The New Boston High School Band became a consistent UIL Sweepstakes performer and James was given the opportunity to serve the Four States Bandmasters Association as Executive Secretary for a number of years. James and Denise were also blessed with the birth of their daughter, Ashley, in 1984.
After a brief stop at Greenville High School and serving as an administrator back in New Boston ISD, James returned to the band hall at New Boston High School in 1992 as Director of Bands. The following several years proved to be extremely rewarding for students, as they exhibited outstanding performances in all areas under the direction of James, Jimmy Wiggins, Charlie Melton, and Margie Manning. During these years the New Boston High School Band maintained a consistent UIL Sweepstakes performance level, earned numerous awards in the National Association of Military Marching Bands competition, consistently received ATSSB Outstanding Performance Series recognition, performed at the UIL State Marching Band Contest, finished in the top five in the TMEA Honor Band, and was named the TMEA 3A Honor Band in 1996, with the performance in February 1997.
The summer of 1996 brought an immense blessing to the Coffman family. Adam's close friend Andy Eldridge had been living in Colorado with his family for the past year and encountered extenuating school circumstances; therefore, the request to come back to New Boston to finish high school was explored, resulting in Andy joining the Coffman family. At the time, no one could possibly comprehend the marvelous impact Andy would bring to the family, resulting in years of blessings as the family grew together, experiencing life's challenges, hardships, and joys.
Preparing and performing for the 1997 TMEA convention was extremely challenging, rewarding, and humbling. An amazing work ethic and the dedication of the students and directors created a positive atmosphere that, while taxing at times, allowed everyone to experience a tremendous sense of accomplishment. Directors from the Four States Area, freely giving their time, talents, and expertise, pitched in with assistance, giving extra section rehearsals and evaluations. James witnessed the "heart" of our marvelous profession through this tremendous display of care and support from colleagues for students outside their own band halls. Once again, he was reminded, the greatest blessings in life are always a direct result of relationships.
With Adam and Andy off to begin study at the university level as music majors and Ashley, a very proficient oboist and athlete, entering high school, James left the band hall in New Boston in the summer of 1999 to assume ownership of McKay Music Company from his former high school band director and mentor, Bob Cartwright. He recalls this was a most heart-wrenching decision, due to his immense respect for everyone associated with the New Boston bands, especially the students and parents. However, he was deeply drawn to the opportunity to work with bands across the Northeast Texas area, which has proven to be a most rewarding endeavor, filled with rich relationships and memorable performances. With Richard Lovelace taking over as Director of Bands in New Boston, James had utmost confidence the program would continue to blossom and grow. Richard and Mary Lovelace's friendship through the years, as they have shared in Coffman family celebrations and heartbreak, has been a true godsend.
The Coffman family experienced profound and pivotal events in the summer of 2004. First, the joy of witnessing the marriage of Adam to Sabrina Turner. Then, one month later a horrific automobile accident took the lives of Adam, Sabrina, and her younger sister, Jennifer. All were or had been members of the Goin' Band from Raiderland at Texas Tech University. During this time of great tragedy, James was deeply humbled by the love shown to the Coffman family from their church family, friends, and the band world. Directors traveled from across the state to the rural community of New Boston simply to provide a hug, share healing tears, and express heartfelt love. The Coffman family will forever be indebted to Keith and June Bearden, who opened their home on numerous occasions to them, the Turner family, and the "Lubbock family" of Adam, Sabrina, and Jennifer. These times of healing will forever be uplifting memories. Special note must also be made to the officers and board of Alpha Chapter of Phi Beta Mu, ATSSB, and the directors of Region III and IV who reached out so deeply and frequently to the Coffman family. Once again, James witnessed the value of professional acquaintances growing into lifelong friendships through the nurturing of colleagues as we all share the gift of music.
Over the past twenty years serving the Northeast Texas and Metroplex areas through McKay Music Company, James has been given the pleasurable opportunity to provide extra "ears" to groups of all classifications as they prepare for UIL performances. He is humbled to have been asked to guest-conduct on TMEA Honor Band performances as well as being invited to step on buses to celebrate UIL performance awards and State Marching Contest championships with numerous bands. Even more, he is honored to have been allowed to step on those buses to provide a "hug" or share in disappointment when results fell one-tenth of a point short of the goal. Also during these McKay years, one of the greatest impacts on James's life was his friendship with Doug Turner. Doug joined the McKay Music family as an Educational Representative; however, he joined the Coffman family as a "brother." Doug's joy, peace, and enthusiasm were contagious. We also learned it was acceptable to wear "Texas burnt orange" every day. It is most definitely the richness of these relationships with colleagues, directors, and students over the years that provides a depth to life that is immeasurable.
Due to the many outstanding educators, friends, and colleagues in his life, one of James's great passions is mentorship. He is so very humbled to be allowed to share teaching strategies, perceptions on working with school administration, and priorities of life with colleagues. Early in his time at McKay Music Company, James met Jeff Bradford, a young man fresh out of university, who had taken over as Band Director at Cooper High School in Cooper, Texas. The band program was in really poor shape, with only a few members left in the band; however, Jeff was determined to provide a quality experience for the students. Whenever James would point out an issue, Jeff's response was always, "How do I fix that?" He always wanted to know how to remove the "roadblock" standing in the way of opportunities for his students to succeed. Jeff spent countless hours on Saturday mornings with James in the office at McKay Music doing score study, breaking down chord structures, and addressing musicality. Within a few years, the Cooper Band was selected to perform as the TMEA 2A State Honor Band. James is thankful to have been allowed to watch Jeff's career flourish as well as his development as a man, husband, father, and mentor.
James is also fortunate to have witnessed Dr. Brian West mentoring Andy as a percussionist and young man through the years. He is also overwhelmed to observe his daughter, Ashley, being mentored by Cindy Lansford, a colleague for whom he has utmost respect. In addition, James also benefited from Cindy's mentoring and was excited to observe her clinic Ashley's middle school band as he was serving as long-term substitute for his daughter in the spring of 2018. Once again, these relationships that turn into lifelong friendships bring such quality to all our lives.
James treasures the opportunities he's been given to serve as President of the Four States Bandmasters Association, President of the National Association of Military Marching Bands, and President of Alpha Chapter of Phi Beta Mu. He would like to express his appreciation to these organizations, along with the directors of Region III and Region IV, for their trust, support, and guidance through the years. James would also like to express special thanks to Don Lawler—for his years of leadership and mentorship; Randy Jones—for the many prayers they've shared through the years for their families; his children—for allowing him to be at the band hall sharing music with so many; and his wife, Denise—for always being the "rock" of the family, bringing sunshine into all their lives each and every day, providing him much needed grace, and being the face of Jesus to so many again and again. He says, "You are truly the greatest earthly blessing in this life."
James and Denise, now Pops and Granny, tremendously enjoy the blessing of their grandchildren and families. Ashley and her husband, Dustin Kahler, live in Keller with their two daughters, Emilyn and London. Ashley currently serves as an assistant principal in Northwest ISD. Andy and his wife, Jennifer Eldridge, live in Mansfield with their daughter, Brynn. Andy, now Dr. Andrew Eldridge, is currently Coordinator of Percussion for the University of Texas at Arlington.
James is very humbled and honored to be inducted into the Texas Bandmasters Hall of Fame. He most certainly credits his family, friends, mentors, colleagues, and the many former students for all his success. Upon reflection, James is amazed how people are placed in our lives throughout our journey, providing guidance, friendship, love, and grace at precisely the times we need them the most. He is so thankful to have been allowed to be a Texas band director.