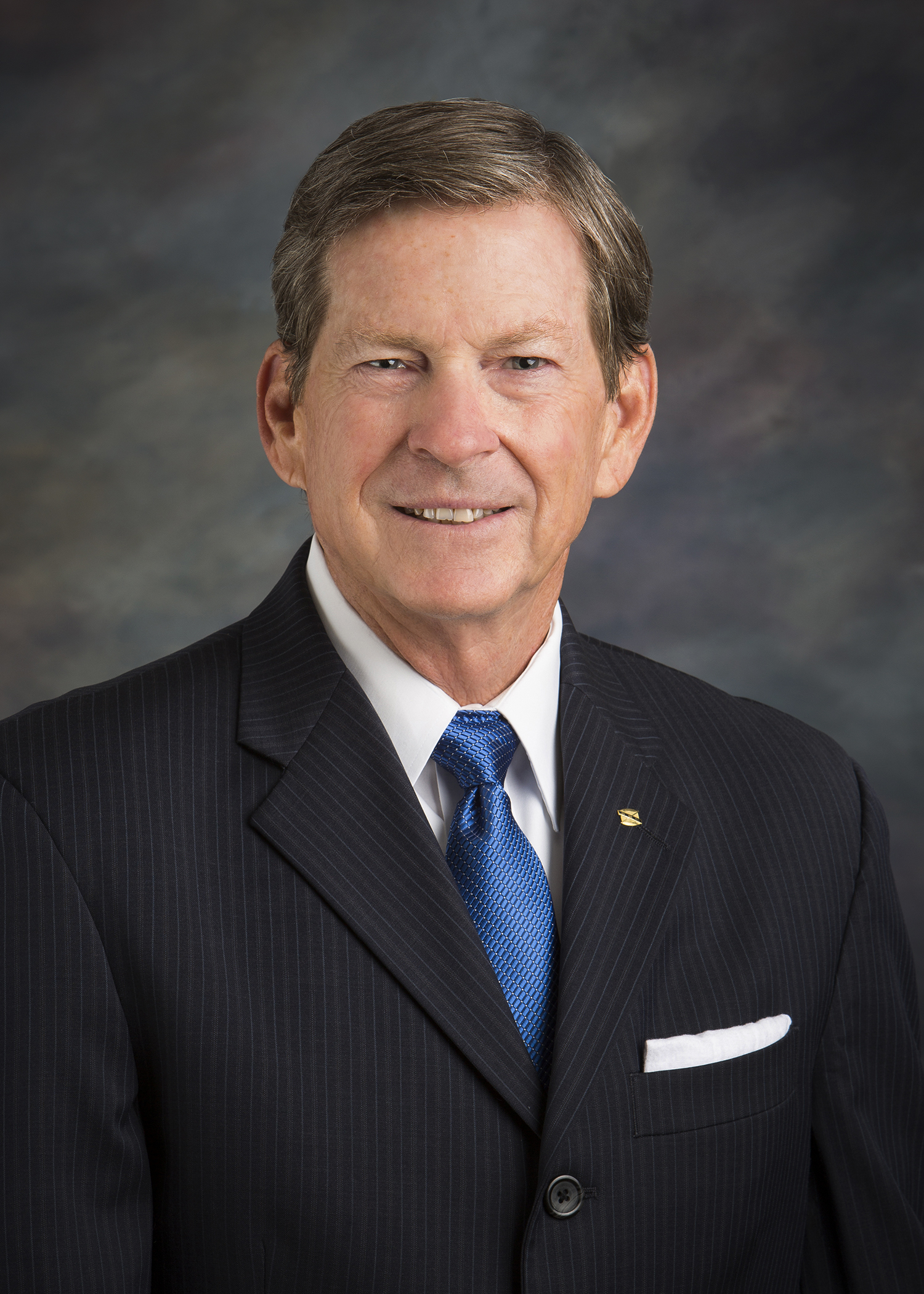 Robert Virgil Bryant (Bob) was born in Big Spring, Texas, December 1, 1952, to Neal and Virginia Bryant. Bob's interest in becoming a trombone player began when his mom's brother, Don Barber, a member of the Midland High School Band, began to let him "buzz" and play on his trombone. Prior to his start in seventh grade band at Runnels Junior High, Bob's parents purchased him a trombone from Wesley May of May and Duncan Music Company. From Runnels throughout his years in the Big Spring High School Steer Band, Bob realized that he wanted to be a band director. His biggest influence was his band director, Hall of Fame Bandmaster Bill Bradley. Throughout junior high and high school, Bob was a member of the marching bands, symphonic bands, and jazz bands (also playing tuba in the BSHS Dixieland and German Bands. While in high school, Bob and a few others were able to travel occasionally to Texas Tech University on Saturdays to receive private lessons from Texas Tech Music School faculty members. After graduating from Big Spring High School in 1970, Bob found his place at the School of Music at Texas Tech University. It is here that he auditioned and became a member in "The Goin' Band from Raiderland", Texas Tech Symphonic Band, Texas Tech Symphony Orchestra, and the Texas Tech Jazz Ensemble participating in all throughout his undergraduate career. His primary teachers and directors were Dean Killion, Paul Elsworth, Robert Deahl, and Don Turner. It is at Texas Tech that Bob met the love of his life, Felice, and immediately after his graduation they were married in August of 1974.

Bob finished up his last classes on August 8, the wedding rehearsal on August 9, then he and Felice were married on August 10. With a Bachelor of Music Education degree from Texas Tech, and his new bride still lacking one more year to finish her degree, Bob accepted the band director position in Sudan ISD and reported for work on August 14, 1974. Beginning his band director career in the small school district of Sudan provided great experiences and allowed Felice to finish her college degree. Bob was determined to offer the students of Sudan quality music experiences. Here he was not only the high school band director (grades 8-12), but also the 4th grade general music teacher, 5th grade beginning band director, 6th grade band director, 7th grade band director, AND taught 5th grade Reading and Social Studies, 8th grade American History, and served as the elementary school playground monitor during lunch recess. (It was the playground that provided him with the best time for recruiting future band members!) During his tenure at Sudan High School, the SHS Concert Band earned its first UIL Sweepstakes Award since director Lee Boyd Montgomery sixteen years earlier. The high school band grew in membership from 32 to 96 (with only 102 in total 8-12 grades enrollment). It was on the band's trip to Colorado for a Music Festival that Bob began his friendship with Richard Crain as both bands entered the same McDonald's for lunch! Early and lasting relationships with many directors across the South Plains began. Help was easily obtained from mentors Bill Woods, J.W. King, O.T. Ryan, Sam Robertson, Earl Ray, Raymond Lusk, and Dean Killion who answered MANY questions from this young director. Thank you for sharing your knowledge and time.

The summer of 1977 proved to be a busy one! It was during this time that Bob was offered and began a position as a director at the Texas Tech University Band Camp. During this time, he was offered and accepted the position of high school band director in Lamesa, Texas. On August 19, Nathan, the first of the Bryant's children was born! During Bob's time as director at Lamesa High School, the band program began to grow and flourish, topping out with a band enrollment of over 225 students. Working with a supportive principal and experienced assistant, Mr. Dois Pace, the program was able to improve each year earning awards with the marching band, concert bands, and jazz bands in numerous festivals, parades, and UIL competitions. But it is possibly the "life experiences" for the students that Bob was able to provide through music in a "family atmosphere" that will be the most treasured by his students. One of Bob's most memorable events of his time in Lamesa was not advancing to the State Marching Competitions, or being a finalist in the TMEA Honor Band Competition, or winning the Texas Tech Marching Festival, it was the night of a band clinic in preparation for UIL in which Lee Boyd Montgomery and Bill Woods provided "valuable insight" and investment in him as a director. Being a part of the faculty at the Tech Band Camp for 23 years afforded Bob the opportunity to learn from and grow relationships with additional mentors Rick Lambrecht, Barbara Prentice Lambrecht, James Sudduth, and others. Daughter, Natalie, was born in the summer of 1980, necessitating a speedy trip home from Tech Band Camp on Monday, but she was in attendance at her 1st band camp concert on Friday, four days old, as her dad conducted his band (thank you, Bill Woods, for covering the two days of rehearsals in my absence).

While finishing up his Master of Music Education Degree in 1983, studying with James Sudduth, Bob was interviewed in the Texas Tech Band Office and later offered the head band director position in Katy ISD for Katy High School. It is during their time in Katy, 1987, that Noel Andrew Bryant was born. During his seventeen year tenure as the director of bands and fine arts department chairman, the Katy Band grew from just over 100 members to a maximum band enrollment of over 420 students. He and his staff were committed to always providing an atmosphere of valuing each student in the program, no matter their musical ability when entering, encouraging each to always "better their best" each day. He continues to maintain this focus as he works with other school bands as well as the Lone Star Symphonic Band, a Katy-based community band of which he is the musical director. Under Bob's direction, the Katy High School bands earned many recognitions, named "Outstanding Ensemble", "Overall Outstanding Program" and "Superior" performance awards at various music festivals in state and out of state, as well as numerous UIL Marching and Sweepstakes Awards allowed the students to realize the value of their hard work in preparation. A concert performance highlight for the Katy High School Symphonic Band was their concert performance in Carnegie Hall. While maintaining a busy schedule with a growing program Bob served in leadership positions for TMEA as the Region Vice-President and President for several years, as well as on committees for the Texas Music Adjudicators Association and UIL Music. In 1995 Bob served as the Texas All-State Symphonic Band Organizer for Dr. Frederick Fennell and during that same TMEA Convention was inducted as a member of Phi Beta Mu, Alpha Chapter.

Bob will be the first to tell you that he and his wife have been very blessed. After a 26 year band directing career, 17 in Katy, Bob interviewed and was named the Executive Director of Fine Arts for Katy ISD, a position allowing him to serve over 60,000 students in fine arts education, taught by more than 300 teachers. In 2006, Bob was awarded the distinction of "Outstanding Music Educator" by Texas Tech University. The honor of "Texas Music Administrator of the Year" for 2007-2008 was awarded to Bob by the Texas Music Administrators Conference the state organization of which he later served as an Executive Board Member and then President in 2014-15. In 2015, the Houston Symphony recognized Bob as the recipient of its "Jacob L. and Sophia Meyer Farb School Bell Award for Lifetime Achievement in Music Education" and later that same year Bob was awarded the distinction of the "Lifetime Administrator Award" by the Texas Bandmasters Association during the annual TBA Conference. Bob and Felice were honored for "Remarkable Achievement" by the Texas Tech School of Music, College of Visual and Performing Arts and served as a keynote speaker during their "Celebrate Success" event in August of 2016.

Bob retired in August of 2015, after forty-one plus years as a public school educator. Since his retirement, he has kept busy with assisting schools, school programs, and band directors as requested. Bob currently serves as the Music Director of the Lone Star Symphonic Band, a community band based in Katy, Texas. This band was the recipient of the "Sudler Silver Scroll" a distinction from the John Philip Sousa Foundation in 2013 and presented a concert as an invited band during the "Community Band Day" at the 2016 Texas Bandmasters Association Conference. He continues to work with various non-profit organizations in the greater Houston/Katy area to provide for needs of economically-challenged students and schools. Bob and his wife Felice are very active in their community serving as mentors through the Katy ISD KEYS mentoring program to students in need at five different schools, volunteering in a low-income school community to help as needed, and serving through their church. In the fall of 2017, Katy ISD opened its doors to its fortieth (40th) elementary school, Robert and Felice Bryant Elementary, a truly humbling honor! They are seen quite often at various Bryant Elementary activities engaged in activities with the students, staff and parents.

Bob and Felice will soon be married for forty-four years (August). Their son Nathan and his wife Christina live in Missouri City with their two children, Zeke and Maggie; their daughter Natalie, her husband Matt, live in Schertz with their children, Alison, Jacob, and Emily; their son Noel and his wife Kate live in Portland, Oregon with their daughter Lucy, and granddaughter-to-be-born in December of 2018.

Bob wants to express his most since appreciation to the love of his life, Felice, who his is God-provided lifemate and constant support. He wishes to thank his children, Nathan, Natalie, and Noel for allowing him to share part of "their" time growing up with other students throughout his career. A most sincere thank you must go to Bob's closest mentors throughout his career - Hall of Fame Members: Bill Woods, Richard Crain, Rick Lambrecht, and James Sudduth for their investment in him for over 40 years. Bob is very humbled and honored to be included in the Texas Bandmasters Hall of Fame, placing this honor at the feet of his Lord and Savior, Jesus Christ.