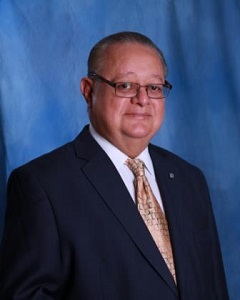 Reynaldo "Rey" Meza, Jr. was born to Reynaldo R. Meza and Aurora Verastigui Meza in San Antonio, Texas, on March 11, 1948. He attended a parochial school early on and finished his public school education in 1967 at John F. Kennedy High School in Edgewood ISD. He credits his high school band directors Jacinto Guzman, Marcus Adams, Anthony Castellano, and best friend Richard Luderus for his music teaching career. As drum-major of the John F. Kennedy Rocket Band his senior year, he wrote and rehearsed all the marching halftime shows, including the UIL contest show, to assist the new band director. Mr. Castellano was previously a choir director whose band experience came from playing bassoon in James Murphy's famed Brownsville Band.

After high school, Meza earned a Bachelor of Music Education degree from Southwestern University in Georgetown, Texas, in 1971 where he studied under Dr. George E. Nelson. In 1976, he completed his graduate work at Texas State University and received a Master of Music degree, studying under James Sudduth.

In 2007 Rey Meza retired as the Director of Bands of John Marshall High School Ram Band in San Antonio, Northside ISD. During his thirty-seven year career in Texas public schools, he taught music in grades five to twelve in Georgetown ISD from 1971-1984 and at John Marshall High School from 1984-2007. The two band programs received many honors throughout Rey's thirty-seven year tenure, including thirty-seven consecutive UIL Sweepstakes Awards and nineteen State UIL Marching Contest appearances. He also led them to six consecutive Class 4A UIL State Marching Championships and nine finalist standings. Other accolades include two TMEA Honor Bands and several "Best in Class" awards at national concert festivals. Rey was
the governor approved State of Texas representative for the "American Musical Salute" in conjunction with the White House Bi-Centennial Celebration. This incredible event culminated with a concert at the Lincoln Memorial by the John Marshall Symphonic Band.

The John Marshall Ram Band also performed for special events like ABC's TV – Dick
Clark's Sea World All Star Celebration production, and they played during many sporting events such as an ESPN NFL Vikings football game, the Alamo Bowl, the NBA World Champion San Antonio Spurs basketball game, WNBA Silver Stars, and the CHL Rampage hockey team. The Ram Band was a multiple time featured band for San Antonio's Battle of Flowers Band Festival and Mr. Meza is a three time past producer of the Battle of Flowers Band.

Personal recognitions include the TMEA Leadership and Musical Achievement Award, the National Band Association's "Citation of Excellence," and the Texas Bandmasters Association Meritorious Achievement Award in 2012. He was selected for Who's Who Among American Teachers after being nominated by students, received Northside ISD Teacher of the Year award, and in 2014 was inducted into the Edgewood ISD Hall of Fame. He is past president of the International Bandmasters Fraternity, Phi Beta Mu Alpha Chapter. It was during his presidency and after several years of ground work that he appointed a Phi Beta Mu Hall of Fame committee charged with establishing the Hall of Fame. He asked Barbara Lovett, one of the first female members, to chair the committee and find committee members. Also, he has been past TMEA Chairman for Regions XVIII and XI and has served on UIL Sight reading and Prescribed Music List Committees. Meza is also a charter member of the Texas Music Adjudicator's Association
and past member of the Committee of Standards and Performance Practices. In addition to currently being the UIL Music Executive Secretary of Region XI, he has proudly
served the band directors of Texas as a member of the Board of Directors and past president of the Texas Bandmasters Association.

Mr. Meza is very appreciative of the wealth of knowledge learned from the many mentors
during his teaching career. He would also like to thank his generation of Texas band directors whose performance standards were so inspirational and were examples to emulate, such as those being honored here today. To past Superintendent Jack Frost at Georgetown ISD and Rodney Klett he is grateful for their unwavering support and their help in developing his rehearsal skills during those formative years. Since then Rodney, Mary Ann, and family have been lifelong friends.

During the tenure at Georgetown, both men were a part of a transitional change in the marching band style of the time. Since assistant directors were not prevalent back then, they implemented a team teaching approach that was fairly new in central Texas. Eventually the program had five directors plus private instructors. Meza remembers his first year's schedule. The day began with an out of town bus route, a junior high band class at the high school then transporting students to their campus. He was assigned to be a home bound teacher, which was a fairly new program in Texas. Next, was driving a bus to transport the high school marching band to an elementary school for rehearsal, teaching a fourth grade general music class, a recess class, and a fifth and sixth grade band class. At the end of the day he and Rodney would have sectionals and private
lessons after school and finish their day at about nine pm. Until talking with other directors at TBA, he thought that was a typical schedule shared by all other band directors.

He thanks James Miculka, Northside ISD Director of Fine Arts and former John Marshall Director, for a strong, successful partnership dating back to 1984 in SanAntonio that still continues today. He offers special thanks to former associates Wallace Dierolf and George DeRocher who shared the passion of band directing and teaching music at a high caliber to all students, and especially for their shared commitment to performing live music and not allowing the pursuit of a trophy to be the sole indicator of success.

Of course, he feels much gratitude to the many band students whose commitment and dedication enlightened and provided the catalyst for his long career. And finally, he will never forget the awesome band boosters throughout the years that followed him and made many things possible as supportive parents and volunteer workers that became lifelong friends.

Since retirement, Meza has continued to teach part time with Northside ISD high school bands, including one semester at Southwest High School where, as an assistant, he conducted the non varsity band to a First Division UIL rating, the 38th of his career. Besides his UIL Executive Secretary duties, he frequently is a clinician, region band conductor, curriculum consultant, and adjudicator in Texas and Lafayette, Louisiana.

Rey Meza married his high school sweetheart Gloria Lozano who is truly responsible for his career and well being since 1971. They have known each other for fifty years and are currently celebrating their forty-fourth anniversary. As teacher retirees they continue re-learning life without school bells and marching bands. They have two wonderful children, Jennifer Renee Martinez and Christopher Rey Meza, daughter in-law Anna Jane Meza, and two grandchildren, Nicolas Rey Martinez and Aislen Marie Meza.

Rey and Gloria Meza are most grateful and truly humbled by this distinctive and prestigious honor of the Phi Beta Mu Texas Bandmasters Hall of Fame. This accolade is shared with all of his awesome students and mentors that made this possible. He and his family will cherish this honor for a lifetime. Thank you.