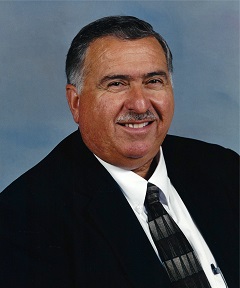 Raúl A. González was born May 20, 1949, to Mrs. Ninfa González and the late Mr. Raúl González in Del Rio, Texas. He is the second of seven children, including two daughters and five sons.

Raúl began his musical experience at Garfield Elementary in Del Rio. He joined the band in the sixth grade with the encouragement of his parents, whose friend had given them an old silver trumpet. Under the direction of band director Mr. Leslie Ross, he continued in middle school, eager to improve his individual playing. He was very competitive and was known to alternate the first chair section spot with a good friend. Two high school band directors, Mr. Paul Reed and Mr. Carlos García, encouraged Raúl to continue with his music.

While in high school, he formed a Tejano band, where he played trumpet. The band was made up of six high school band students and became very popular, playing for many social events in and around Del Rio. One of his most memorable performances with this group was playing for the wedding party of his high school band director, Mr. Carlos García.

Following graduation from Del Rio High School in 1967, Raúl attended Texas A&I University in Kingsville, Texas, now known as Texas A&M University-Kingsville. He studied under Dr. Joseph Bellamah, who was always very positive and supportive during his four years at the university. Raúl obtained his Bachelor's of Music degree in 1971 and his Master's of Music Education degree in 1976, both from Texas A&I University. He did his student teaching in Corpus Christi with Mr. Eddie Olivarez at Moody High School and Mr. Eddie Galván at Miller High School. Mr. Galván became his mentor, friend, and the most influential person throughout his career.

His first teaching appointment was at Crystal City High School, as an assistant band director under the head director, Mr. Roberto Botello. The band had not been to a UIL contest in eighteen years. Since the city had been through a major political upheaval the year before, many families of band students moved out of town. This created a major challenge for the band program, though Raúl was not aware of this before his hiring. Raúl's main goal after graduation was finding a position as an assistant under a strong mentor. Mr. Botello had come from a very successful program at Travis High School in Austin, Texas. The first year was an experience that he will never forget. They started with beginners in high school because of the small size of the band and managed to make it to their first UIL concert and sight-reading contest, where they received a Division III in concert and no rating in sight-reading. The following year the band program gained two additional band director positions when two of his best friends from college, Mr. Alfredo Cortinas and Mr. Manuel Sosa were hired. The novice band directors worked tirelessly with Mr. Botello and the band received their first Division I in marching, Division II in concert, and Division II in sight-reading in the school year of 1972-73.

In the spring of 1973, Al Cortinas was offered a job in Rio Grande City and he decided to move at the end of the school year. Also, during that following summer, Mr. Botello was offered the head position at his alma mater, Martin High School in Laredo and he accepted the offer. Because he felt he was not prepared to take a head job after only two years of experience, Raúl started his job search, but he was recommended for the head position at Crystal City High School. Along with Mr. Manuel Sosa, Mr. Cesar García, Mr. Ben Delgado and Mr. Jorge Ibarra, Raúl took over the band program.

The 1973-74 school year was full of surprises and blessings for Raúl. He started the school year as the Crystal City High School head band director and married in December. His beautiful and very supportive wife, Rosalinda B. González, had just completed her education in foreign languages at Southwest Texas State University, now Texas State University in San Marcos, Texas. This past year, they celebrated forty-one years of marriage.

In 1974, the band made the same ratings as the year before, but from 1975-1980 the Crystal City High School band received six consecutive sweepstakes awards. In 1978, the Crystal City High School band came in third in the state marching contest in 3A competition. In 1973, Raúl decided to start a jazz band after all other sectionals and full band rehearsals were over. These jazz band rehearsals took place after school and required all participants to meet in the evenings from 7:00-8:30 pm. In 1974, the newly formed jazz ensemble started competing at the Texas A&I University-Kingsville Jazz Festival where they placed second that year. The jazz band placed first from 1975 to 1980, the year Raúl left Crystal City.

In December of 1976, the Crystal City Jazz Band was invited to Hawaii for a ten-day tour with several other high school jazz bands. His former Director of Bands at Texas A&I University-Kingsville, Dr. Joe Bellamah, organized the ensemble tour. The band boosters and students paid the trip in full through the hard work of fundraising. The community strongly supported this endeavor and allowed each of the band students plenty of once-in-a-lifetime sightseeing experiences. Originally the group was scheduled to perform one day and be off the next. The jazz band's performance was so well received the group was invited to play on stage more than previously scheduled. Upon arrival in Honolulu, Hawaii, Raúl rented two large vans and between performances, the group would sightsee on the island. It was a wonderful experience for all the students and parents that made the trip.

In the summer of 1981, Raúl was offered the position of Director of Bands with Eagle Pass ISD. The Eagle Pass High School band had endured a 10-year drought of any first division ratings at any UIL contest and had not received a sweepstakes award since 1957. Since the students were not excited about the band program, this was a significant challenge, Soon after, Raúl helped hire a good college friend, Mr. Manuel Castañeda, and together they began changing the mindset of the band students. Raúl clearly recalls that after the first rehearsal with his new band, he considered returning to his previous position in Crystal City. But it wasn't long before the new leadership guided the band to a First Division at UIL Marching Contest. That very year the community, school board, administration, parents and students became overwhelmingly supportive and through this process, validated what hard work and dedication could do. Raúl's work wouldn't stop there. The band continued receiving first divisions in marching for twenty-two consecutive years and numerous sweepstakes awards until his retirement in 2003.

In 1993, he began an experimental mariachi group for Solo and Ensemble contest. At that time he used xylophones and marimbas instead of violins, and a string bass instead of guitarron. Along with these substitutions, he utilized the traditional guitars, trumpets, and singers, which all performed extremely well together. The following year the string bass player switched over to guitarron and he replaced the keyboards with flutes. He convinced the high school administration to add a Mariachi class to the fine arts curriculum. Raúl used this class to increase his band budget and expand the personnel. With the addition of this group and the rapid growth, the allocated funds for the entire music program increased. His mariachi, "Mariachi Aguilas de Oro," quickly became a favorite of the community and was attractive to many prospective band students. By 1998, the group was a complete mariachi ensemble with six violins, three trumpets, four guitars, one vihuela player, and one guitarron. Through the direction of Raúl, his Mariachi "Aguilas de Oro" rapidly became an award-winning ensemble in many prestigious mariachi competitions.

Raúl retired from active teaching in 2003 and was hired in Del Rio CISD as a part time music consultant, where he worked until 2011. He continues to be active as a clinician and adjudicator throughout South Texas.

Raúl served in Region XI as a region band chairman for ten years. He is a member of TBA, TMEA, TSTA, Phi Beta Mu, TMAA, and Phi Mu Alpha. In his community of Eagle Pass, Raúl was selected by the Business Journal as Teacher of the Year in 2000 and Wal Mart Teacher of the Year in 2001. He received a recognition award from the Chambers of Commerce, from the city council he received a proclamation as "Ambassador of Good Will" in 2001, and in 2003 both Raúl and Rosalinda were recognized as "Very Special Persons" with another proclamation from the city of Eagle Pass.

Raúl's career accomplishments have been made possible through the inspiration from many close mentors. Throughout his career Raúl has impacted many students. His love and passion for music has served as a model to many. Through his strategic teaching, many of his former students are now accomplished band directors and skilled performers in Texas and beyond. He feels blessed to have made a difference in the lives of so many wonderful students and to witness that many have followed a successful career path. He extends sincere thanks and appreciation to his very capable staff in Eagle Pass for all their work in making this community a band supporter's community. He thanks the following staff members who worked with him all or part of the twenty-two years at Eagle Pass: Manuel Castañeda, David Solis, Gloria González, Leo Lugo, Carlos Martínez, Noemí Pérez, Jorge Vargas, Maribel Lozano, Rubén Rodríguez, Alejo Garza, and music secretary, Anna Martínez.

Raúl and Rosalinda, now a retired high school teacher and high school counselor have three beautiful children. Raúl A. González II, a sergeant with the Eagle Pass Police Department and married to Barbara a homeland security officer, have three beautiful girls, Abigail, age eleven, Adayah, age seven, and Andrea, age one. Roxanna (Roxie) is married to Victor García from New Braunfels, Texas. Both work with a merchant service company that services the entire Texas area. Rosalinda (Rosie) is married to Rai Morales. She is a band director with Ingleside ISD and her husband is a Professor of Music (trombone) at Texas A&M-University in Corpus Christi; they have two beautiful children, Rai, age five and Katie, age two.

Raúl and Rosalinda are very active with church activities at St. Joseph's Catholic Church in Eagle Pass and the ACTS community. His wife is president of the St. Joseph Altar Society and Raúl is the music director and guitarist of the Eagle Pass Catholic Men's Church Choir.

Raúl is very humbled and honored to have been selected to the Phi Beta Mu Texas Bandmasters Hall of Fame. He thanks God, our Lord and Savior for the many blessings bestowed upon him throughout his life. He extends gratitude and thanks to his family, friends, band parents and former students, along with Phi Beta Mu and Mr. Alfredo Cortinas for this honor and respect.