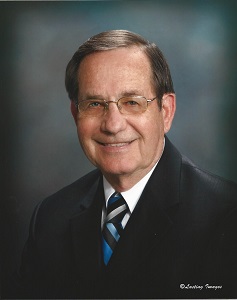 Digital Scrapbook
Anthony Michalsky was born on October 17, 1938, in Crosby, Texas, to Ignatz Valintine and Antonia Rose Kubin Michalsky. He was surrounded by music at a young age as Ignatz Michalsky played trumpet professionally in the John Baca Orchestra. Anthony was the sixth of nine children, lived his entire childhood in Crosby, and participated in band throughout junior high and high school. Crosby High School band director Charles Forque was a major influence in his young life. After graduating from Crosby High School on May 22, 1956, he joined the US Army. Anthony served our country for two years, stationed mainly in Germany. He was trained as a radio operator, but rather quickly became a member of the 87th Infantry Band, and then the 10th Infantry Division Band. He began pursuing a Music Education Degree at what is now the University of North Texas. Having thought he'd secured employment with Ardmore High School in Oklahoma, he planned to make the move after his graduation from college January 27, 1963, yet those plans changed when the opportunity fell through.
Anthony returned to his hometown of Crosby the summer after graduating from college, and during a visit with Arnold Garbs, president of Crosby State Bank, a job opening at Buna High School was mentioned. As it turned out, Arnold's aunt Georgia Ratcliff had taught Buna's Superintendent Bob Cummings in Sunday School, and she was happy to mention the young man eager to procure employment, who just happened to have a newly earned degree in music education. Anthony began his tenure as Director of Bands for Buna ISD in the fall of 1963 with only seventeen high school students in the program. Seventh and eighth grade students performed with the high school students to bring the numbers up to thirty-eight. "The first year I taught, beginning students had to choose between band and PE," laughed Anthony. "I only got them if didn't want run and play."
In just a few short years, the Buna Band would grow in number and in talent, winning their first of many Sweepstakes Awards in 1969, and outgrowing their facilities. Anthony requested new accommodations for the thriving program in the late sixties to Superintendent Cummings, and though Cummings was doubtful they would ever fill the requested 3,200 square foot band hall with students, the Board of Trustees approved the addition. By the late seventies, the Buna High School Band boasted 150-160 students, overfilling the new band hall, and surpassing its capacity!
During his thirty-one years as band director for Buna ISD, Buna bands have earned twenty-two UIL Sweepstakes awards, thirteen of those consecutive, in the years 1969 through 1981, and again consecutively from the years 2001 through 2007. His leadership and influence afforded the band program a total of twenty-nine first divisions in UIL Marching contests, twenty-four first divisions in UIL Concert contests, twenty-four first divisions in UIL Sightreading contests, and twenty-two UIL Sweepstakes awards, as well as two state marching performance awards and thirteen All-State Band members, both TMEA and ATSSB.
Anthony credits mentors Roy Swicegood and Phil Baker with his success, as he often relied on their support throughout his career. Many former band students credit him with their musical success, relating that his continued influence and support led them to where they are today. W.B. Bingham, Robert Austin, Charles Austin, Cody Cunningham, Courtney Gallagher, Pamela Bridges, Rob Morris, and Kelly Austin are a few of his former students who have gone on to be music educators. Still others have become professional musicians such as Pamela Bingham Sheppard, Mike McQuerry, and Mark Nesler to name a few. Former CEO of the Country Music Association and music promoter Steve Moore also hailed from the Buna Band under the direction of Anthony Michalsky.
As he holds a masters in secondary education, in addition to a Bachelor of Music Education degree, Anthony filled a need in the community by becoming the elementary school principal in the fall of 1985, and served the district in that capacity through 2004. Under his leadership, Buna Elementary School was rated Exemplary for five years, Recognized for three years and was a Significant Gains Campus for one year. He was also selected as TESPAN of the year in 1995 and served as President of the Region V Elementary Principal/Supervisor Association the following year. Anthony went above and beyond the call of duty once again when he worked as both band director and elementary school principal from 1998 until 2004, when he resigned as principal to return to his first love, Director of Bands for Buna ISD until his retirement in 2007.
Anthony continues as mentor to current Buna High School band director Samantha McCarty as he did her predecessor Tami Goss, Director of Bands at Bridge City ISD. He currently serves as board member on the Buna ISD Board of Trustees, yet always has the time to lend support to anyone requesting it, whether it be director or student. He remains to this day an ardent supporter of the band programs, volunteering his time to offer instruction for students privately on region music and solo and ensemble music, as well as lending his advice, when asked, to the current director concerning concert or marching band. He has been a dedicated member of the band movement in the great state of Texas for over thirty-one years, serving as adjudicator in marching, concert, sightreading and solo and ensemble contests throughout the state, as well as lending his time and talent directing several region bands.
Anthony has been a respected community member in Buna for fifty years, raising his family, alongside his wife of forty-six years, Rebecca. Daughters Jenny Michalsky Trahan, the late Tina Michalsky Longoria, and son Bryan J. Michalsky continue to bring joy to the Michalsky's in the form of five grandchildren. He has served the community of Buna as president of the Lions Club and the Chamber of Commerce, as well as serving on the Buna Veterans Memorial Board of Directors. He is a member of the St. Francis Catholic Church in Buna, and has served as the director of religious education and music director for the congregation. He is currently the Treasurer of the Buna Lions Club and is a director on the Jasper County Water Control Board. He was named Buna's Citizen of the Year for 1996, and was chosen, along with Rebecca, as the Redbud King and Queen in 1999. Furthermore, he was honored by the townspeople of Buna in 2004 when they declared October 16, 2004 "Anthony Michalsky Day" for his continued outstanding support and dedication to the community.
The Michalsky's are deeply honored, and the Michalsky Bands Alumni Association is very grateful that Phi Beta Mu has included Anthony Michalsky in the Bandmasters Hall of Fame.