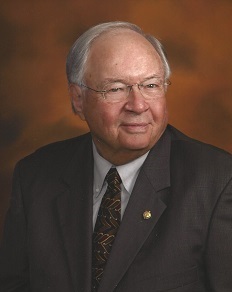 Digital Scrapbook
Ray C. Lichtenwalter's musical heritage stretches deep into the history of small community bands in southeastern Pennsylvania. Like his father, Norman, and mother, Mildred, Ray cut his chops as a member of the Palmerton Band. First organized as the Lehigh Gap Band in 1883, the subsequent Palmerton Band brought music to many summer evenings in the borough's park, political rallies, and church picnics. Ray began playing the piano at age six and the cornet at age seven. At age seventeen while a high school senior, he served as organist and choir director for one of the local churches.

Ray graduated in 1962 from Lebanon Valley College in Annville, Pennsylvania, with a bachelor's degree in music education. A year later he received his master's degree in wind instrument performance from The University of Michigan, Ann Arbor, where he studied and played solo cornet under the direction of Dr. William D. Revelli. Ray began his teaching career in 1963 as the band and orchestra director at Harrison Morton Junior High School in Allentown, PA. In 1964, he joined the faculty of the Interlochen Arts Academy and National Music Camp in Interlochen, MI, as Instructor of Trumpet and Associate Conductor of Wind Ensembles.

Ray married his hometown sweetheart, Susan Eck of Bowmanstown, PA, in January 1967, and later that year, they moved to Texas, where he began an accomplished, 40-year-tenure at the University of Texas at Arlington. Beginning as instructor of trumpet, Ray later became Director of Bands, then head of the wind and percussion division. In 1969, twins, Jennifer and Jason were born, adding their own "music" to the once-quiet home.

Under Ray's direction, the UT-Arlington Wind Ensemble appeared on five convention programs of the Texas Music Educators Association, as well as two convention performances for the College Band Directors National Association. The UTA Wind Ensemble also performed as part of the Youth Music Debut Series in New York's Carnegie Hall and on a concert tour of Mexico City.

In the early 1980s, Ray founded the Arlington Civic Band to bring the community-band concept of his childhood to new audiences. The band evolved into an auditioned group of players, who formed the Arlington Wind Symphony. The John Philip Sousa Foundation recognized their collective talent and honored the Arlington Wind Symphony with the prestigious Sudler "Silver Scroll" award. The group also was one of five adult concert bands from the United States to perform in Luzerne, Switzerland, commemorating that country's 700th anniversary.

Later, the Texas Wind Symphony took to the stage, a group of professional players whose significant talents elevated the standards of wind-music performance for sixteen years.
The Texas Wind Symphony's guest appearances included convention performances for the National Flute Association, the Association of Concert Bands, Arkansas Bandmasters Association, College Band Directors National Association, National Band Association, and the Texas Bandmasters Association.

Tragedy struck in March 1988 when Ray's wife, Susan, died of cancer. To commemorate her gifts in church music and in life, the UTA chapters of Kappa Kappa Psi and Tau Beta Sigma commissioned a musical work. In Memoriam by David Maslanka, which was premiered by the UTA Wind Ensemble at the 1990 Texas Music Educators Association annual convention. It is based on the hymn tune Wer Nur Den Lieben Got ("If You but Trust in God to Guide You").

In 1993, Ray traveled to England and Scotland, where he researched new wind-band repertoire. While in Great Britain, he also appeared as guest conductor and clinician for the Edinburgh (Scotland) Concert Band, the Regimental Band Coldstream Guard, London, and the Wells Cathedral School Wind Ensemble, Wells, England, where he proposed to his future wife.

Ray was married in January 1994 to Nancy (Crofford) Walker of Arlington, whom he had met in 1990 during a joint concert of the Texas Wind Symphony and the Arlington Civic Chorus. The creative family grew with the addition of Nancy's son, Brad, who holds a bachelor's degree in theater from Northwestern University.

In1998, Ray was honored as an inductee to the prestigious American Bandmasters Association. Ten years later, UT-Arlington bestowed upon him the title of Professor Emeritus, for his "immeasurable contributions to the University and the department, and in honor of [his] legacy of friendship, teaching and leadership, all of which have made a permanent impression on [the] community."

The twins, Jason, and Jennifer, are grown and making music of their own. Jason is a classically trained musician, with degrees from the Oberlin Conservatory and the Eastman School of Music. Today he plays oboe and English horn with the Colorado Symphony. Jennifer creatively uses her musical training as a professional writer. The sounds of words and the rhythm of phrases come together to tell many stories, including this biography, which she had the honor and privilege to write for the man who taught her how to listen intently, love deeply, and never, ever give up.