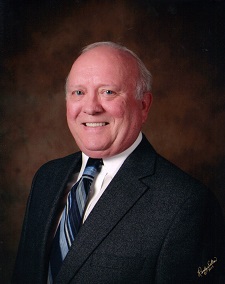 Gary was born on November 22, 1945, in San Luis Obispo, California. Gary's mother and father, George and Betty, were both only children so Gary has no aunts, uncles, or cousins. The family soon moved to Atlanta, Texas. His earliest memory of an interest in music was how much he enjoyed general music class taught by Hall of Fame member Bill Goodson.

Gary began band in the sixth grade, under the direction of F. B. Ward. During Gary's freshman year, Bob Cartwright became the band director at Atlanta High School. This relationship would influence Gary's desire to become a band director. Mr. Cartwright took a great interest in the entire band and developed an award winning stage band in addition to several sweepstakes awards.

At the beginning of Gary's junior year at East Texas State University, he was asked by Bob Cartwright, who had become band director at Greenville High School, to teach private lessons. His first student was James Coffman, who became a lifelong friend and colleague. Gary was fortunate to practice teach with Mr. Cartwright and this experience solidified his desire to become a band director.
Gary began his teaching career at Greenville Junior High in 1968, and his bands received the first superior ratings in the school's history. He was fortunate to be able to consult with Mr. Cartwright every day which began his real "band directing education."

In the fall of 1971, Gary moved to Hope, Arkansas, to become the band director at the high school. The band program was at a low point and the students and community were anxious for improvement. During Gary's tenure at Hope, 54 students earned All State honors and the band received numerous first division ratings and best in class awards. The band was invited to perform at the Four States Bandmasters Association in 1977, and in the same year Gary received the ASBDA Stanbury National Award for Band Directing. While at Hope, Gary served as president of the Arkansas Bandmasters Association, served on the state board of the Arkansas School Band and Orchestra Association and was named Teacher of the Year for Hempstead County. Gary's most prominent student from the Hope bands is David Gorham, who has established a nationally known band program at Owasso, Oklahoma and is a well known composer.

During Gary's time at Hope, he met associates who became both friends and mentors. Wendell Evanson at Henderson State University, Dr. Francis MacBeth at Ouachita University, Don Kramer, Wes Branstine, Stuart Verdon, Larry Tucker and Ron Allen all contributed to the success of the Hope bands.

A mention must be made of the "band director seminar" held every Wednesday afternoon/evening across the street from Jerry Loveall's music store at the Shrimp House. Band directors from the Four States area would congregate while their instruments were getting quick repairs at the music store. Jerry Loveall, Bob Ingram, Charles Herring, Larry Tucker, Frank Garza, Don Ledbetter, John Bird, James Coffman and others could always be relied upon to supply a much needed music selection or draw a new marching maneuver on a napkin.

After brief stops at Daingerfield High School and McCullough Middle School in Dallas, the Wells family, which now included Alex and Beth, moved to Hamshire-Fannett High School. His task was to rebuild the program since the marching band had just eighteen instrumentalists. Gary remembers seeing people in the crowd counting the members as the band took the field. With the help of Bob Jordan, Stephanie Hickman, Jeannie Weaver, Gloria Douglas and Tina Parr, the band grew in size and quality. From eighteen members when he started, there were well over 100 members when Gary retired. The Hamshire-Fannett band was a consistent sweepstakes winner and placed many individuals in both TMEA and ATSSB All State organizations. Prominent Hamshire-Fannett bandsmen are Kevin Heckaman, Joey Love – a noted composer, and Alex Wells, band director at Port Neches-Groves High School.

Gary's main musical outlet these days is the Golden Triangle Handbell Ensemble – a group of adult ringers with whom he enjoys working. His "ding-a-lings" perform several times during the year.

Gary enjoys his duties at secretary-treasurer of Alpha Chapter Phi Beta Mu and wishes to thank both the Hall of Fame Committee and the past presidents with whom he has had the privilege to work – Larry Tucker, James Coffman, Cindy Bulloch, Paul Worosello, David Lambert, Danny Prado, Greg Countryman, and now Scott Coulson.

Gary would like to thank those who have helped him along his journey. His children Alex and Beth – it was so much fun having them in his band, James Coffman and Stuart Verdon – lifetime friends and colleagues, and his wife, Judy, who made his career possible by her love and support – not to mention her half time announcing. She is truly the best teacher he has ever known.

Gary enjoys the usual retirement stuff, especially the grandgirls - Annika and Lorelei.