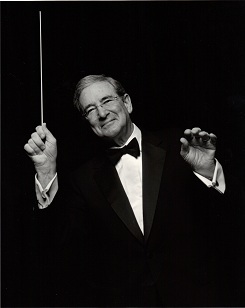 Digital Scrapbook
Lamar University President James M. "Jimmy" Simmons holds a unique position among the nation's top educational executives. An accomplished musician on clarinet, saxophone, and piano, he continues an active performance and conducting career after rising through the ranks as a music educator and administrator to Lamar's 10th president.

Response to Simmons' appointment on February 1, 1999, was enthusiastic – from his native Beaumont, throughout the region and from colleagues and former students across the country. He was the first Southeast Texas-born Lamar president, described as "the perfect man at the perfect time for this community," in the words of one supporter.

"Watching Lamar University grow and flourish under Simmons' presidency is a true pleasure," said saxophonist and Grammy-winning composer-arranger Don Rollins, a 1983 Lamar graduate. "Looking back at my years as Jimmy's student is like looking back at my father; the older I get, the smarter he seems,"

A member of the faculty and leadership team at Lamar for more than four decades, Simmons served as dean of the College of Fine Arts and Communication, as Interim Executive Director of University Advancement, as Music Department Chair and as Director of Bands. Simmons joined the faculty in 1970. He earned his Doctorate in Music Education from McNeese State University, his Master of Music degree from the University of Houston and Bachelor of Music Education degree from Memphis State University.

"He taught us a lot more than just music. We who experienced Lamar through him agree that his leadership and encouragement helped not only to launch our careers, but our lives as successful teachers, musicians and human beings," said veteran educator and musician Donnie Todd, a trombonist and 1979 Lamar graduate.

With Simmons playing coach, quarterback and head cheerleader, Lamar revived the proud tradition of Cardinal football in 2010 after an absence of more than two decades. With football came the "Showcase of Southeast Texas" marching band, which invigorated another tradition: Lamar's 350-member "Grandest Band in the Land," which Simmons directed beginning in 1970.

The Simmons children – daughter Jennifer and twins Matt and Mike – were raised at the football stadium, Simmons' wife, Susan, recalls. Members of the band would babysit and the children often joined in band practice. The president and first lady are proud grandparents to six.

As a student at Beaumont High School, Simmons played running back and safety on the football team and ran hurdles in track. He was a leader in musical groups – such as Jimmy Simmons and the Corvettes – and was a member of the 1960 All-State Band. He also enjoyed the rare experience of performing with the jazz band and studying clarinet at Lamar. After a stint at Stephen F. Austin and bachelor's degree from Memphis State University he earned his teaching certificate from Lamar and became band and orchestra director at his high school alma mater, Beaumont High, as well as director of the Purple Queens drill team.

Throughout his educational career, Simmons has attracted acclaim as a musician backing up or performing with some of the biggest names in entertainment over several decades. That impressive list includes Steve Allen, Bert Bacharach, Cab Calloway, Ray Charles, Rosemary Clooney, Natalie Cole, Helen Forrest, The Four Tops, Robert Goulet, Marvin Hamlisch, Bob Hope, Jack Jones, Steve Lawrence, Jerry Lewis, Johnny Mathis, Helen O'Connell, Donald O'Connor, Martha Rae, Debbie Reynolds, Frank Sinatra, Frank Sinatra Jr., Kay Starr, The Temptations, B.J. Thomas, Danny Thomas, Marlo Thomas, Dinah Shore, Jerry Vale, Dionne Warwick, Barry White, Chicago and Joe Williams.

"Jimmy has more talent in his little toe than the rest of us have in our entire bodies," said Travis Harris, a 1990 Lamar graduate and now a band director in North Texas and renowned performer on trombone.

Simmons made international musical history in 2001 when he became the first university president to be featured soloist before the Texas Music Educators Association for a concert conducted by Barry Johnson, then Lamar's Vice President for Student Affairs. His performance rated a prime-time slot with the Lamar Symphonic Band at the TMEA conference in San Antonio. He continues to be a popular attraction as featured soloist with Lamar ensembles – including faculty artists' and jazz band performances at the university's innovative Lamarissimo! concert series, which Simmons initiated in 1990 while serving as music department chair.

On numerous occasions, he has served as guest conductor for the popular Fourth of July concerts performed by the Symphony of Southeast Texas on a floating concert stage in the Neches River. His ensemble is also a popular attraction at the annual Beaumont Jazz+Blues Festival, which honored him as the inaugural recipient of the Dr. Raul Ornelas Lifetime Music Achievement Award "for his contributions to music and for being am exemplary citizen and ambassador to the city of Beaumont."

Phi Mu Alpha Sinfonia, the oldest and largest music fraternity for men, honored Simmons in 2010 as a Signature Sinfonian. The award recognizes alumni who have achieved a high standard of accomplishment in their field or profession, thereby bringing honor to Phi Mu Alpha Sinfonia. Also in 2010, the Christus Health Foundation of Southeast Texas paid tribute to Simmons at its 30th annual gala, billing him "Beaumont's own king of horns" as he shared the spotlight with Chicago, featured entertainment attraction for the evening.

Young Audiences of Beaumont honored Simmons with the establishment of the annual Jimmy Simmons Artists Showcase, a testament to his decades of contributions to the arts in the community. The Southeast Texas Arts Council recognized him for Outstanding Achievement by an Artist, and The Art Studio Inc. selected him for its top honor. He is a member of Phi Beta Mu, national honorary band directors' fraternity.

A number of other accolades have come Simmons' way. On April 5, 2009, in Oklahoma City, he received the Chief Executive Leadership Award from District IV of the Council for the Advancement and Support of Education, which includes Texas, New Mexico, Louisiana, Arkansas, Oklahoma and Mexico. After presenting the conference's keynote address – and moments before accepting the award – he performed a jazz rendition of "Oklahoma" on saxophone, to the delight of conferees.

The Press Club of Southeast Texas has twice honored him as Newsmaker of the Year (1999 and 2009), as well as naming him Newsmaker of the Decade. The Beaumont chapter of the American Heart Association honored Simmons and his wife Susan with the Jay C. Crager Award, bestowed on an individual or individuals whose endeavors exemplify making the community a better place in which to live. Simmons also has been recognized as a Paul Harris Fellow by Rotary International, Executive of the Year by the Sales and Marketing Executive Club of Southeast Texas, as King Neches the 53rd and Citizen of the Year by the Neches River Festival and as "Mr. East Texas" by the Texas Dogwood Festival in Woodville.

As president, Simmons has led the university into a new era of dynamic growth. Momentum has been the watchword of his administration, a period in which enrollment recorded its largest increase in Lamar's 89-year history, with more than 14,500 students in fall 2011. Even in the wake of two major storms – Hurricanes Ike in 2008 and Rita in 2005 – Simmons and his team kept classes and graduation on schedule, restoring the campus after major damage and adding state-of-the-art facilities. In spring 2008, Lamar University launched its first comprehensive campaign, "Investing in the Future," with the ambitious goal of $100 million. Nearing that mark in January 2012, the goal was increased to $125 million.

To launch the campaign, Simmons assembled an all-star cast of musicians – most of them Lamar alumni – for the Jimmy Simmons & Friends Encore Concert. The musicians hailed from coast to coast. An audience of several hundred shared in the occasion, with the announcement attracting campaign cabinet leaders and prominent Lamar alumni from all over the country, along with local and state dignitaries and friends of the university. A CD recording of the encore concert provides a lasting memento of the evening.

In February 2005, Simmons presided over the original Jimmy Simmons & Friends Homecoming Concert, a musical event that also attracted alumni talent from across the country. Making it all the more memorable, the ensemble's director was none other than Simmons, who had been teacher and mentor to the vast majority of the "Friends" performing in the concert. The live performance and studio sessions resulted in the first "Jimmy Simmons & Friends" recording.

He has been a featured soloist with the Allentown Symphony Orchestra, performing on clarinet and saxophone and with Maestra Diane Wittry at the baton. An encore performance with the Norwalk Symphony Orchestra in Connecticut, where Wittry also conducts, attracted an enthusiastic audience in 2003.

Simmons' thoughts often turn to the era when he continued the legacy of band directors like Arnold Whedbee, Ralph Hale, Pete Wiley and Karl Wandenpfuhl and then passed the tradition to Wayne Dyess, Barry Johnson and others, most recently Scott Deppe. "My favorite thing was the exhilaration you have the night of the performance when people are so excited about it and giving the band standing ovations, and the kids are so happy and proud."

Whether he's performing before thousands – such as his audience at TMEA – or before a dozen visiting educators at a campus reception, Simmons attracts admiration and applause. His love of music and his rare gift for sharing it with others are trademarks of this remarkable artist.

Some of his musical pursuits have, by necessity, taken a back-row seat recently with Simmons' increasing involvement in leadership at Lamar. But he often says music is his first love, and he graces the stage in venues from concerts to jazz festivals to back-to-school convocations.

"At Lamar University, the musician sits in the president's chair, and it's hard to tell where one ends and the other begins. . . . Jimmy Simmons' band is just a whole lot bigger than it used to be," according to a profile. "What Southeast Texans have seen in Simmons for all of his adult life, whether directing a band, teaching music or playing in a jazz band, is what they still see."

During Lamar's 50th anniversary celebration in 1973, another journalist wrote, "Watching Simmons direct is like watching a lover of music respond to a full musical background; he appears to feel the beat from head to toe . . ."

The beat goes on as Simmons continues to orchestrate a new era for Lamar University.