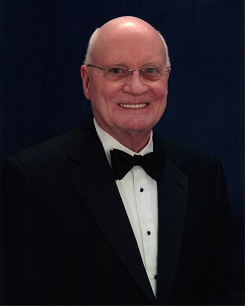 Digital Scrapbook
Bob Parsons was born on March 3, 1942, in Gilmer, Texas. He had his first trumpet lesson in the fourth grade from Alto Tatum, the first of many Hall of Fame members who have crossed his path over the years. Bob was marching with the small high school band the next school year. He continued his interest in music and trumpet throughout high school, making the All-State Band in 1957. He will always be thankful for the encouragement and unwavering support of his parents for his interest in music. He entered college at The University of Texas in 1960, where he enjoyed playing in the Longhorn Band under Vincent DiNino, Hall of Fame Class of '98.

Eunice Hart, a wonderful high school Latin and English literature teacher had piqued Bob's interest in the liberal arts and languages. Even though music had been a serious consideration, he became a liberal arts major with a minor in German. He entered graduate school in linguistics in 1964, and in 1966 he received a Rotary Foundation Fellowship for a year of study in Germany.

Near the end of his second semester in Germany, Bob was visiting his sister Mary, who was working for the U. S. Foreign Service in Bonn. He received a telephone call from his dad back in East Texas, who informed him that New Diana High School needed a band director in the worst way. His dad knew of Bob's latent interest in being a band director and thought that Bob might be interested.

"When would I have to start?" Bob asked.

"Next Monday night!" answered his dad.

So after a few hours of thought, Bob changed his travel plans from a German freighter bound for New Orleans to a Pan Am flight back to Dallas.

In his third year, the New Diana band earned the UIL Sweepstakes award, and Bob had received a lot of help from Alto Tatum and several other more experienced directors. For three summers he took courses both at East Texas State and at SFASU to become certified to teach music. He is especially grateful for the help and mentoring he received from Mel Montgomery, who was then director of the band program at SFASU. Bob is really thankful to the many fine friends and teachers he learned from in those early years, some of whom are in this room now or who are included in this Hall of Fame.

In 1970 Bob moved to Bishop Dunne Catholic High School in Dallas. Bob accepted Principal Brother Adrian's offer to start a band there.
Within about four years Bishop Dunne began to place players in the Region III All-Region Bands, and eventually players in the All-State bands and orchestras. In 1977 the concert band won the National Tape Contest of the National Catholic Bandmasters Association. Bob really enjoyed the socio-economic and ethnic diversity of Bishop Dunne and the challenges he faced in starting the band from scratch. In November of last year the Bishop Dunne school board named the renovated band hall after him.

In 1979 Scott Taylor asked Bob to assume the role of associate director at Richardson High School. After one year in Richardson he received a call from East Texas friends informing him that Val Rose (Hall of Fame Class of 2008) was leaving Jacksonville after many successful years. Bob interviewed with the Jacksonville school board and was hired.

Bob was able to continue Val Rose's string of Sweepstakes awards through his tenure in Jacksonville, and the band finished as an Honor Band finalist in 1981, 1983, and 1985, was named the State Honor Band in 4A in 1986, performing at the TMEA convention that year. The Jacksonville band was named Best in Class at the Southwest Music Festival in Galveston (1981), American Music Festival in Opryland (1982), Six Flags over Georgia (1984), Buccaneer Music Festival (1985), and the Smokey Mountain Music Festival (1986). Bob is grateful for the work of his able assistants Gary Robbins and Steve Wise in those years.

Bob has always enjoyed the camaraderie among band directors in our state, and he enjoyed that in East Texas in particular. He still enjoys fast friendships with Neil Grant, of Tatum Music Company, and Jim Hagood, Executive Secretary for Region XXI.

In 1990, after a phone visit with Kerry Taylor, Bob made another career leap of sorts – to West Ridge Middle School in the Eanes district of Austin. Moving back to Austin was not a problem, since Bob and Funny had often visited Austin since Bob was a student there in the 1960's. Teaching middle schoolers all day – that was the leap! Though not missing marching band and Friday night lights so very much, Bob continued to dig in and continued to learn about teaching all the instruments better.

Beginning in 1994 the West Ridge band was named an Honor Band finalist in Class CC and did so again in 1996 and 1998. His symphonic band consistently took Outstanding in Class awards until he retired in 2002. He could not have made it work without the help of Amy Craig and Susan Glover. Susan is the currently the head director at West Ridge.

Bob has been active as a judge since 1972, is a charter member of the Texas Music Adjudicators Association, and has conducted a number of All-Region and other selected groups, as well as summer camp bands. He has also served in various capacities in both TMEA and UIL committees through the years. He received the Legion of Honor Award from the Sousa Foundation in 1992, and he became a member of the board of the Texas Bandmasters Association in 1992 and served as its president in 1998. He was Teacher of the Year at West Ridge in 2002, and has been a member of the ABA since 2006.

Bob is particularly proud of the achievements of former students, many who have continued their interest in music, whether professionally as teachers or performers, as players in community bands, church groups, or as informed concert-goers. He has especially enjoyed recent connections he has made with so many former students in this internet age. Even though music is central to their experience in Bob's bands, he is most proud of how they value what they learned "beyond" the music: about life and how to succeed.

Bob is most proud of his wife Funny, their three children: Emily, Susan, and John, his wife Brigette, and Emily's two children, Jack and Sydney. Funny has worked her way through the same number of schools, leaving a very successful path of career achievement as a middle school social studies teacher. All three children and Brigette are graduates of The University of Texas and have made successful advances in their own careers. Grandson Jack attends Bowie High School, and granddaughter Sydney is a first grader at Mills Elementary in the Austin ISD. Bob would also like to acknowledge his brother Charles and his wife, Nelda, for their continued love and support. Charles was a two-year All-State clarinetist and was the orchestra director at Longview High School for a number of years. Nelda is a registered nurse and was Bob's first choice as drum major in his first year at New Diana High School.

In retirement Bob teaches private lessons three days a week at a local middle school, something he still enjoys doing. He and Funny make several trips a year within the U. S. and did a three-week trip to Spain several years ago. They both enjoy reading and the liberal arts, and Bob maintains an interest in languages and cooking for friends and family.

He and his family are very grateful that Phi Beta Mu has included him in the Bandmasters Hall of Fame.