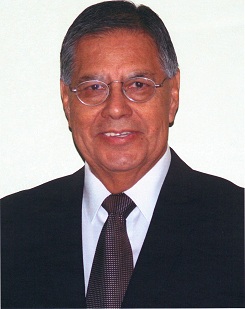 Alfredo "Al" Cortinas is the son of the late Mr. and Mrs. Selso and Beatriz Cortinas from Taft, Texas. He comes from a family of four sisters and two brothers. He was educated in the town's school system where he graduated from Taft High School in 1965. Al's father loved music and played guitar with local groups. This love of music was transferred to his family and Al joined the band in the sixth grade. His beginning band director was Mr. Fred Rotzler who taught him to play saxophone. Al continued in the band and by the eighth grade he was marching with the Greyhound High School band. This experience continued throughout high school. His high school band director, Mr. Sherry Albritton was a big influence in Al's life. He encouraged him to pursue music education. During the summer of 1965, Al began his undergraduate work at Del Mar College in Corpus Christi, the University of Houston, and concluded at Texas A & I University, Kingsville, where he received both his bachelor's and master's degree in music education. While attending college he worked his way through school by being in the work study programs and played professionally with various dance bands and Tejano groups.

Mr. Cortinas has been a successful band director for the past forty-one years, having directed bands in Corpus Christi, Crystal City, Rio Grande City, Roma, and La Joya. He is back in Rio Grande City serving the high school as its head band director. Through the years, his bands have received numerous awards. They range from Sweepstakes awards and representing Region XV at the state marching contest to Honor Band. His bands have also competed at the Carlsbad Music Festival in Carlsbad, New Mexico, Six Flags over Texas in Dallas, Buc Days Music Festival in Corpus Christi, Six Flags over Mid-America in St. Louis, Missouri, and the Contraband Music Festival in Lake Charles, Louisiana, as well as other music festivals in Texas. This past year the Rio Grande City High School band was named Outstanding Varsity Band and Outstanding Band of the La Joya Band Festival while also receiving the UIL Sweepstakes award.

Mr. Cortinas has served in region and state capacities as Region Band Chairman and in several committees for TBA, Phi Beta Mu, UIL, and TMEA. He has also served as a clinician and adjudicator throughout the state. He is a member of TBA, TMEA, Phi Beta Mu and Phi Mu Alpha. He serves on the Hall of Fame Committee for Phi Beta Mu and was instrumental in starting the Rio Grande Valley Band Director Hall of Fame which honors Valley band directors each year. In 2011, Al received the Lifetime Meritorious Achievement Award from the Texas Bandmasters Association.

Countless people have been instrumental in helping Al throughout his career. These people have taken the time to offer their kindness and invaluable experience with him. One of the most influential people in Al's professional life has been Mr. Richard Floyd, Director of UIL Activities for the State of Texas. He was one of the first clinicians to go to Rio Grande City and work with Al's bands. The many different techniques that Mr. Floyd taught the staff and students in Rio and Roma are still being taught to this day. Al says, "I will forever be grateful to Mr. Floyd for all he taught and shared with us." Other influential people were Mr. Roel Elizondo, Mr. Nick Gonzalez, Mr. Robert Botello, the late Mr. Eddie Galvan, Mr. Bob Blanton, Mr. Art Guajardo, Mr. Richard Kole, Mr. Marion Busby, Mr. Edward Zamora, Mr. Bryce Taylor, and all the directors in the Rio Grande Valley who have always been willing to share their musical expertise.

Mr. Cortinas is married to Sonja Smith-Cortinas and they have two beautiful daughters. Abbygail Nicole Cortinas, salutatorian of the 8th grade class at Immaculate Conception School, and Ella-Renee Cortinas, who just completed her first year in the Montessori program at I.C.S. Active parents in the school, Al and Sonja have served on the school council and both have served as president of this organization. He and his family are all active at Immaculate Conception Church of Rio Grande City where he serves as a Eucharistic Minister.

Mr. Cortinas would like to thank the Texas Bandmasters Association and Phi Beta Mu for this opportunity of being inducted into the Hall of Fame. This is a great honor for him and his family. Al extends a special thanks to Ben Gollehon and all the members of the Hall of Fame Committee.