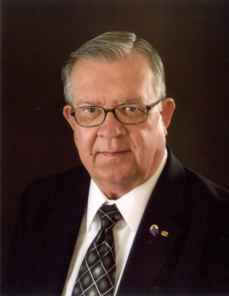 Digital Scrapbook
Buddy Edwin Richardson was born in Henrietta, Texas, on July 21, 1937, to Andrew and Mary Richardson. Buddy started his musical career in the fourth grade when his mother made him start piano lessons. Piano was soon in the rear view mirror and Buddy started trumpet lessons in the fifth grade under the direction of Jimmy Settle, director of bands with the Henrietta ISD.

Dale Reynolds joined Henrietta schools as director when Buddy was in the seventh grade. He attributes Reynolds with inspiring him to become a band director. In those days, U.I.L. had a category for Student Director, where the student would direct the band and receive a rating—similar to today's solo system. Buddy received a first division in both his junior and senior years. Reynolds helped steer the young musician into his destined career path when he took Buddy to TMEA his senior year at the Baker Hotel in Mineral Wells.

Buddy attended Midwestern State University in Wichita Falls and was awarded a band scholarship from Jim Jacobson, just prior to Jacobson's leaving for TCU. Russell McKiski, a Vandercook graduate, became MSU's band director and Buddy learned the essentials he would need to jump start his new career. Upon graduation, he joined the U.S. Army for three years, and studied at the U.S. Naval School of Music in Washington, D.C. After he finished his studies at the Naval School of Music, Buddy was assigned to the 4th U.S. Army Band at Fort Sam Houston, in San Antonio, Texas.

After being discharged in 1963, he married Alma Grace Reuther in August, and became the head band director at Tipton High School in Tipton, Oklahoma. The previous director left two weeks after school started for another job in Texas; Buddy interviewed and accepted the position on September 29th. He started work on September 30th. The principal had been supervising the band, and the administration was so happy to find their new director that on his first day on the job--which coincided with the district's first payday--he received a full month's pay for one day's work! Little did they know that their new director would be so nervous that he would spend his band's first halftime show a week later hiding under the stands—terrified at what he would see. His band did great—at least that's what others told him about the performance! He did get braver at watching his band perform that year, however.

Throughout that year, Buddy commuted from Wichita Falls each day because his new bride was employed by the Wichita Falls ISD. The following year, he was offered a position with the Wichita Falls ISD at Hirschi Junior High School where he was mentored by high school director Carol Magee. In 1966, the band received its own mascot, Buddy's new daughter, Elizabeth, who a year later stayed with true band tradition and walked her first steps on marching contest day after watching her daddy's band march! In 1968, Buddy moved to Holliday High School, in neighboring Holliday, Texas, where he followed his friend, Dee Tucker, as head director.

In 1970, his Holliday Band was the TMEA Class A Honor Band. During that time, Buddy had five private students make the All-State Band, and his Eagle Bands received Sweepstakes for the two years he was their director. Buddy credits much of his success to the support that he and the students received from Principal Ray Coe and Superintendent W. S. Thomas.

The newest "adjudicator" in the house, 3 year-old Elizabeth, knew her Daddy's Honor Band's sound well. Upon hearing a tape of a friend's band at concert contest, she stated quite emphatically, "Daddy's band plays that song…but that's NOT Daddy's Band!" This quote was much to the chagrin of the band director friend who will remain nameless!

During this time Buddy entered the adjudication scene statewide and continues to judge throughout Texas, Oklahoma, and New Mexico. He has served as region band chairman, hosted district and region band clinic concerts, and judged and hosted numerous solo and ensemble contests throughout the years.

After his success at Holliday, Buddy returned to Wichita Falls, as assistant band director at S.H. Rider High School, joining Charles Enloe. At Rider, Buddy was influenced by "The Enloe Sound"—a combination of incredible technique, joined by beautiful musical interpretation. His years at Rider were spent assisting with the first band, charting the marching shows, directing the second and third bands and the Jazz Band. All three bands experienced success, both at U.I.L. and at jazz festivals. The third band participated in marching contests all four years and made first divisions. The band was known as "Buddy's Baby Band."

In 1974, Buddy was offered the head director position at Wichita Falls High School, teaming up with his friend, James Wickersham. Buddy's successes at "The High School" were unparalleled, winning 21 sweepstakes awards and advancing to area marching contest several years. The band won awards and accolades at several national band competitions, including Six Flags over Mid-America, and Colorado competitions in Durango, Canon City and Colorado Springs. Buddy also directed the WFHS Orchestra for two years, receiving sweepstakes awards. He had one of his students serve as Concertmaster of the Texas All-State Symphony Orchestra. His last assistant director, Melanie Hadderton, who worked with him for over 10 years, took over as head director at WFHS upon his retirement.

In 1979, Buddy received his Masters of Education degree from MSU and studied with Dr. Joe L. Haddon. He is a member of Kappa Kappa Psi, Phi Beta Mu, Phi Mu Alpha Sinfonia, TMAA, TBA, and Texas Music Educators Association. He has been active in the local band scene and helped to organize and direct the Annual Oil Bowl Band; co-organized with Dr. Haddon, the Drum and Bugle Corp of Maskat Temple; played with Wichita Falls Symphony Orchestra; played trumpet in Gordie Kilgore Dance Orchestra; and helped to bring Falls Fanfare---a DCI Competition---to Wichita Falls.

In his distinguished career, Buddy has led over fifteen students to pursue careers as band directors and several other students into careers in other music professions. To this day, countless students continue to play in their local communities and music organizations. "Chief", "Coach" and "Mr. R" remain in the hearts of many students, who have encouraged their children to participate in the wonderful world of band due to their experiences with this band director.

Since retirement, Buddy continues to adjudicate contests and serve as special clinician for area high school and junior high bands. He enjoys his hobby of amateur radio, making friends across the world. He would love to utilize this skill to become a storm spotter, but his wife and daughter refuse to let KM5NC be a call sign during tornado season. He and his wife Alma Grace have been married for almost 50 years and thoroughly enjoy their two grandchildren, Ryan and Christine, who live in Cedar Park, Texas, with their parents Gary and Elizabeth Muenzler.
Mr. Richardson passed away in January of 2016.