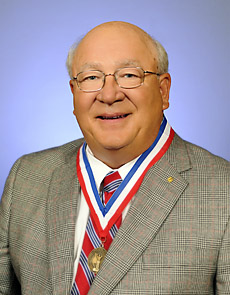 Richard Lee Lambrecht was born on December 12, 1944, in Sterling, Colorado, the first child of Alex and Jolettah Lambrecht. His first musical memories are of piano lessons with his mother. From piano, Rick graduated to public performance: standing on an orange crate, playing accordion in the basement of the Julesburg Catholic Church at age eight. (Learning chords on accordion helped immensely in college theory years later.)

When Rick was entering high school, Lloyd Hillyer, the Julesburg band director (who incidentally was in the American Legion with Rick's dad) called to inform him that there was an opening in the horn section if Rick wanted to join the band. After one year in the marching band, Rick knew without a doubt that he wanted to be in the front with the big baton, rather than the one with the horn mouthpiece bouncing all over his face. He became drum major for the duration of his marching band experience.

The Hillyer family was a great musical influence on Rick. Since Mrs. Hillyer was the high school choir director, everyone in the band sang. Mr. Hillyer's youngest son Howard, a professional horn player who returned to Julesburg, Colorado, to prepare for auditions for the Pittsburg Symphony, became Rick's horn teacher, for the payment of butter, eggs, and cream from the farm where the Lambrecht family were sharecroppers. The other Hillyer son, Harold, was named band director at Texas Western College just as Rick reached college age. Mr. Hillyer arranged for a full scholarship for Rick at what would later become the University of Texas at El Paso.

Rick had spent many hours on a tractor seat, looking at the sky, learning to tell what the weather had in store for him, and planning his escape from the farm. College in Texas would be totally paid for with work study and scholarship; Texas Western was far from home (and he knew all about Texas from the television show Dallas: all the girls were platinum blonde and wore wrap-around skirts). Imagine his surprise when he arrived in the desert city of El Paso where all the girls were black-haired senioritas.

While at Texas Western, Rick became acquainted with Coronado High School, where his college horn teacher Bill Robinson was band director. Robinson had teamed up with Richard and Helen Ann Shanley to establish an outstanding band program. About halfway through Rick's college years, Robinson and the Shanleys left El Paso. This move created two things that greatly impacted Rick's life: an opening in the El Paso Symphony horn section, which Rick filled, and a string of six or seven unsuccessful band directors at Coronado High School.

Meanwhile, while he was in college, Rick had served as drum major, led the basketball pep band (all the way to the NCAA Championship in 1966), became an district officer in Kappa Kappa Psi, and had moved to principal horn in the El Paso Symphony, a position he holds to this day. He met and married Georgia Ross and became a father. Richard Lee Jr. and Christopher David were both born before Rick began work at Coronado.

When Rick graduated from college in December, he was planning a career in horn playing, but the assistant director at Bel Air High School was drafted. With a wife and two children to support, Rick jumped at the chance to make money doing something with music rather than manual labor at the ice plant. His contest ratings that spring included the first-ever first divisions for the second band at Bel Air as well as top ratings at his two middle schools, Loma Terrace and Mesa Vista. That summer, the band job at Coronado re-opened, and Rick, realizing the band's potential, applied (against everyone's advice) for the position. The rest, as they say, is history.

Vivid memory of Day One at Coronado: Rick heard a "ruckus" out on the blacktop where the band members had gathered to socialize before school started. He found the students tossing a snake to and at each other. "City kids," thought Rick as he strode into the mix, scattering them and killing the rattler.

Rick became a fixture at Coronado High School, teaching band there from 1969 until 1996. His successes with his marching bands, concert bands, jazz ensembles, and individuals in Texas All State are legendary. Thunderbird bands were named Grand Champions fourteen times at NMSU's Tournament of Bands, (second place the other four years). They won the Sun Bowl Marching Contest every year but one. Other marching successes included first place at Zia Marching Fiesta, and numerous first place awards in the Sun Bowl Parade.
El Paso ISD schools had seceded from UIL in the 1960's so Coronado High School, while Rick was director, was not allowed to enter UIL competition until his final year there, when site-based management was instituted. Because Coronado didn't compete in UIL regional contests, of course they were not eligible for any state competitions except for TMEA Honor Band, where his bands inevitable made the top five.
Since Coronado's T-bird football team was so successful, Rick took the opportunity to perform at playoff games very seriously. He felt it was the only way people in other parts of Texas could see the quality of musicianship and level of performance of the "Pride of the Westside."
As the fame of the band grew, invitations to perform came from everywhere. In 1985 the CHS marching band was invited to provide half-time entertainment for the Aloha Bowl. Due to the very close relationship between the band and orchestra, Rick added 60 strings to the pit for that season's show. Those string players attended all the ball games, even marching into the stadium. Other joint ventures took the instrumental music department to Torreon, Mexico, and Vienna, Austria, as well as many US cities. Among some of the concert festivals the Coronado Band was recognized as Best in Class included the Invitational Six Flags over Texas, Buccaneer Days, World of Music, and Heritage Festivals. Several times Coronado High School had the largest number of All Staters of any school in the state and Coronado was the third school in the United States to be awarded both the Sudler Flag and Sudler Shield. One record that Rick contributed to and the Coronado Band holds is that the Symphonic Band has never received any rating other than a first division in both concert and sight reading in the history of the school, some fifty years.

One outstanding trip memory for Rick was late in the 80's when he arranged a recording session in one of the major sound studios in Los Angeles. Using professional sound engineers and state of the art equipment that recorded sound tracks during the day, the band began recording John Boyd's transcription of Pictures at an Exhibition at 11 p.m. concluding the session just in time for breakfast.
Perhaps the pinnacle travel experience was reached in 1996 after Rick received a call from the Russian Ministry of Culture inviting the band to perform in Moscow at the May Day festivities. Coronado carried the American flag into Red Square for the first time in 50 years and performed their halftime show, Pines of Rome, for Russian President Boris Yeltsin and 30,000 elite military troops. On that trip, the band played a joint concert with members of the Moscow Conservatory in Tchaikovsky Hall and at Poklana Gora, World War II memorial museum.

In the fall of 1996 Rick changed jobs, teaching horn at UTEP and band at Bassett Middle School for two years, returning to Coronado in 1998 as assistant to his best friend Kenny Capshaw. In 2001 he retired from Texas teaching and joined his wife Barbara as co-director of the Onate High School Band in Las Cuces, NM. During their first year there they transformed the 4th/5th division band to finalist at the Tournament of Bands marching contest and state concert band champions. The Onate Band remained state concert band champs during their tenure, and was also chosen Honor Band of New Mexico.

Some of Rick's honors include the following: TBA Lifetime Meritorious Achievement Award in 2008, TBA president 1985, Region 22 band chairman twenty-five years, principal horn in El Paso Symphony for 43 years (since 1967), principal horn in Roswell, NM, founding member of El Paso Brass, also performed with Ciudad Sinfonico de Juarez, Borosan Philharmonic (Istambul, Turkey), World's Largest Horn Quartet, El Paso Woodwind Quintet. Today Rick teaches at UTEP and serves as a band director "personal trainer" to many directors in Texas and New Mexico. He judges, presents clinics, and mentors many teachers.

Rick credits his success in music to his upbringing on the farm, where the work is hard and unending, and failure is not an option. Besides Lloyd Hiller and Bill Robinson, Texas Bandmasters Hall of Fame members Berne Glover and Ross Capshaw influenced Rick's early years. He'd like to thank the members of El Paso Brass, El Paso band directors over the many years, Ida Steadman, Eddie Green, Gurer Aykal, and especially Kenny Capshaw for encouragement, musical stimulation and support during his career.

Rick's greatest fan is his wife Barbara, a musician who shares his love of music and who is also a member of the Hall of Fame. Rick and Barbara have been blessed with a wonderful family: son Rick Lambrecht, Jr. a teacher in El Paso, and two sons named Chris: Chris Lambrecht, band director in Spring, and Christopher Prentice, actor and composer, daughter-in-law Stephanie, and grandsons Ryan, Collin and Mason, who are the joy of his life.

Throughout his career Rick has impacted many lives. His drive and passion for performing music has served as a model to many. Scores of his students are playing their instruments professionally. Others hold teaching positions in major universities as band director or studio teacher. Some have other careers but are still strongly influenced by his unyielding commitment to excellence. He feels truly fortunate to have been associated with these people.