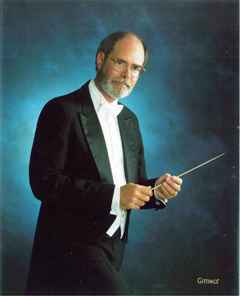 Bob Blanton grew up in Sherman, Texas, and started trumpet lessons during his elementary school years with his father, Tom Blanton, who was an accomplished trumpet player. He played in junior high band under Dr. Ford Lane and high school band under Mr. Eldon Sonnenburg. When he was in junior high school he began studying cornet with Mr. John J. Haynie at North Texas State College in Denton. This involved weekly Saturday morning drives to Denton and was the beginning of a relationship and friendship that would have a great influence on his professional and personal life.

He attended what is now the University of North Texas, playing in the band every semester under Maurice McAdow and graduating with a Bachelor of Music Education degree in 1964. Mr. Blanton student taught under Mr. Vernon Denman at Lewisville High School and received some very valuable help and direction from that experience.

His first teaching position was as assistant band director to Mr. Joseph L. Frank at Richardson High School in 1964. Thus began another personal association that would have a great impact on his life. After one year at Richardson High School he moved to the newly opened West Junior High School, formerly known as Beltline Junior High, and inherited students who had been taught very well by Mr. W.R. Snavely. The West Junior High Band under Mr. Blanton's direction was named the 1967 Class AA-CCC TMEA Honor Band and performed in Jones Hall in Houston for the 1967 TMEA Convention. This was the first time a junior high band had performed at TMEA as an Honor Band. CCC junior highs competed with AA (now AAA) high schools at that time and until then the Honor Band selected from this class had always been a AA high school. The process was changed at the Band Division Meeting the day after the West Junior High concert, when high schools and junior highs were put in separate classes for future Honor Band competitions. The West Junior High Band was also named Outstanding Junior High Band at a number of prestigious area festivals including the Six Flags over Texas Festival in 1969 and began a tradition of consistent superior ratings in UIL competition.

In 1969 Mr. Blanton succeeded Mr. Joe Frank as Director of Bands at Richardson High School. Under Mr. Blanton's direction, the Richardson High School Golden Eagle Band continued the tradition of excellence that had long been established in that program. In addition to consistent superior ratings in all phases of UIL competition and successful participation at festivals such as the Buccaneer Music Festival in Corpus Christi, the Golden Eagle Band made two extended tours to Mexico. One trip was to the Monterrey area on a State Department sponsored series of concerts. Another was a trip to the state of Chihuahua at the invitation of the Mayor. There the band performed several outdoor concerts to large and enthusiastic crowds in addition to other performances in the area.

While teaching in Richardson, Mr. Blanton completed his master's degree during summer sessions at West Texas State University. His studies there, particularly with Dr. Gary Garner, fueled a desire for more serious study of all the wind instruments and led him to formulate and refine his philosophy and approach to teaching. He is also indebted to Dick Floyd, Bob Floyd and Howard Dunn for their friendship and support during his years in Richardson and beyond.

Mr. Blanton began doctoral studies at the University of North Texas in the fall of 1972. Pursuing a Ph.D. in Music Education, Mr. Blanton taught undergraduate trumpet students and brass methods courses for music majors as a graduate assistant at UNT. He also served as a part time faculty member at Southern Methodist University during this time teaching trumpet and music education courses. During his doctoral studies, he was accepted into the first graduate conducting class of Anshel Brusilov and was also influenced and inspired by Dr. David McGuire, professor of music education at UNT. He was selected by the North Texas music faculty as the Outstanding Male Doctoral Student in 1974 and recognized at the annual School of Music Convocation.

His doctoral studies were interrupted in the spring of 1974 when Mr. Blanton was made aware and urged to apply for an opening in the Klein School District for a high school band director and Supervisor of music for the district. When he arrived for his interview the principal met him at his office door with the recent UIL comment sheets from the Klein Band's concert performance which reflected two fourth divisions and a fifth division rating. His first words were, "Mr. Blanton, we have a crappy band here." It turned out the principal, Mr. H.G. Harrington, had been the principal at McAllen High School when they had been a TMEA Honor Band under L.M. Snavely. After meeting with Mr. Harrington and the new superintendent Dr. Don Collins for thirty minutes, Mr. Blanton had determined he would accept the position if offered even though he had not seen the facility, discussed the salary or his budget. The position was offered and in the fall of 1974 Mr. Blanton began as a high school band director and Director of Music Education for the Klein School District. The Klein Band quickly became established as a quality program, earning the first UIL superior rating in the school's history at the region marching contest during Mr. Blanton's first year there. In 1978 the Klein High School Band was the only 5A band in the region to receive the UIL sweepstakes award for superior ratings in marching, concert and sightreading as well as being selected outstanding band at the prestigious Southwest Band Festival in Galveston by adjudicators Mark Hindsley, William Revelli and Frank Wickes. The district continued to grow and in the fall of 1979 Mr. Blanton moved to the newly constructed Klein Forest High School along with assistant directors Paul Worosello and Philip Geiger to start the band program there before moving to full time administration in 1980.

In 1982 Mr. Blanton accepted the position of Director of Bands and Assistant Professor of Music Education at Texas Christian University in Fort Worth. During his time at TCU, the marching band doubled in size and the wind ensemble received increased visibility and recognition for quality performance of quality literature through several TMEA and College Band Directors Association concerts as well as numerous other local and state performances. These included several nationally televised performances and a Blue Bonnet Bowl appearance by the Horned Frog Marching Band. Mr. Blanton also established a chamber winds/small ensemble program and several new courses for instrumental music education majors were instituted under his leadership. Through the award of a faculty grant that entailed three summer semesters of study he received the Faculty of Fine Arts Diploma in Band Conducting and Literature from the University of Calgary, Alberta, Canada, in 1987. Visiting faculty for these summer sessions included John P. Paynter, Donald Hunsberger, Craig Kirchhoff, Frank Battisti, James Croft and David Whitwell.

After ten years at TCU, Mr. Blanton accepted the invitation from his former Klein superintendent Dr. Collins, to return to Klein as Director of Fine Arts, a position he held for 15 years until his retirement in 2007.

Bob has conducted many region honor bands in Texas and the Southwest as well as serving as conductor for the TMEA Texas Junior College All State Band in 1985. He has also been active as a clinician/conductor/adjudicator in almost every TMEA/UIL region of Texas as well as Arkansas, Louisiana, New Mexico, Tennessee, California, Oregon, Washington, Mississippi, Florida, Illinois and Oklahoma. He has served on the staffs of a number of summer music camps including the University of Texas at Austin, West Texas A&M University, Southern Methodist University, San Angelo State University, and the University of Arkansas. He has also presented staff development programs to music teachers in a number of school districts in Texas.

Mr. Blanton was elected to membership in the American Bandmasters Association in 1985 and is a charter member of the Texas Music Adjudicators Association. He and his artist/musician wife Carolyn reside in Houston and have twin sons Robert, a cardiologist, and Thomas, a writer. Bob and Carolyn belong to Trinity Episcopal Church where they serve in several capacities including the church's ministry to the homeless. Bob enjoys sailing and golf and since retirement has become a serious student of the classical guitar. Bob and Carolyn are strong supporters of the arts in Houston and attend numerous concerts, recitals, art functions and other arts related performances that abound in Houston.