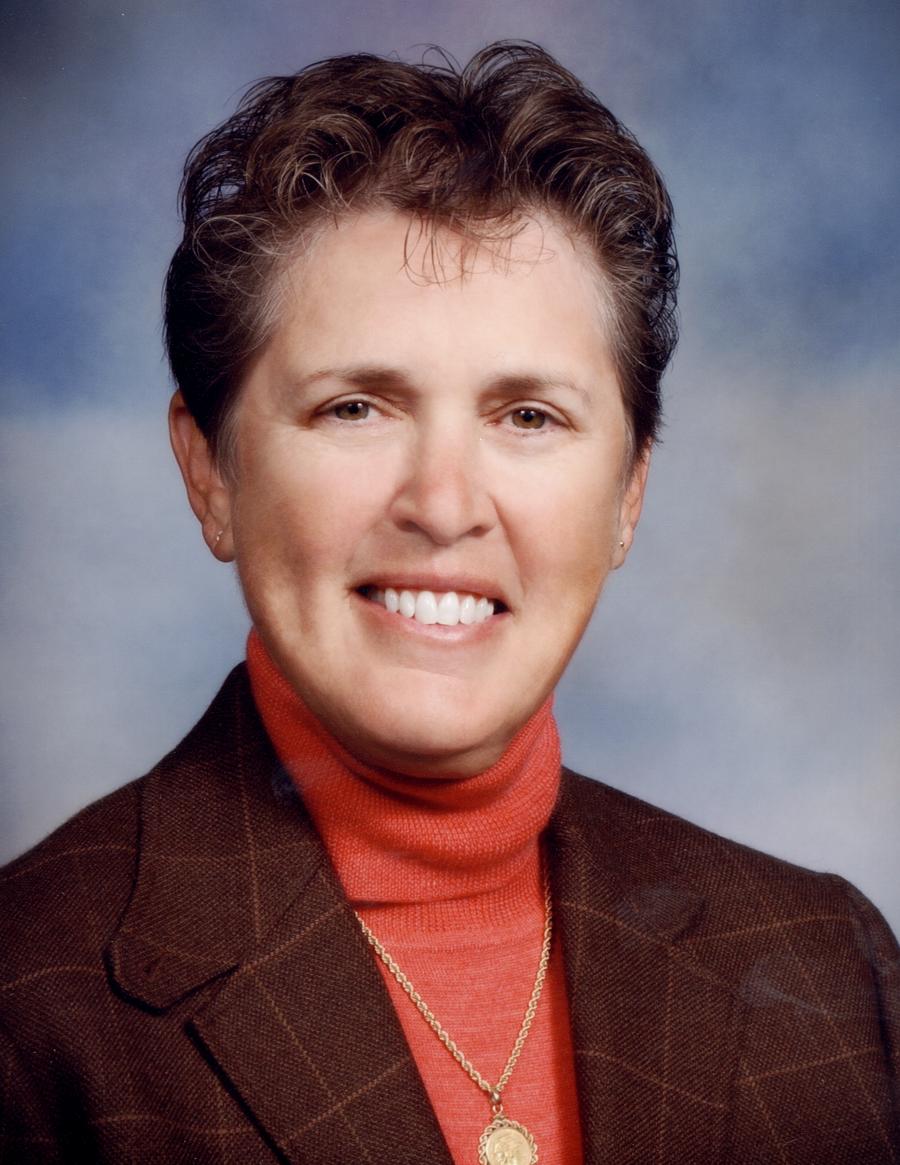 On October 21, 1943, the nurse came from the delivery room to tell Larry Sperberg to bring a box of chocolates to his wife Miriam, because she had just given him a beautiful daughter, Barbara Gwen. The next day, that same nurse confided to the new father, "You're going to have trouble with that one!"

Born second in an eventual family of ten children, Barbara learned early in life to "play well with others," something that has come in handy in the music world. Music was important in the Sperberg household. Early memories are of Mother accompanying Dad on the piano while he practiced the bass solos from The Messiah, listening to Burl Ives and Tennessee Ernie Ford on records and the radio, and attending symphony concerts.

Sperberg children grew up with high expectations: education was paramount, and high grades were expected. They learned not only the benefits of hard work and dedication, but also the importance of the arts (music, art, literature, theater, and dance) in our lives - which explains the musicians, actors, writers, artists, and appreciators of the arts that her siblings became.

Barbara joined the band in Odessa with her used flute and soon encountered the most influential man in her young life (other than her dad.) From J. R. McEntyre she learned all the really important things about band: be on time, work hard, expect much of yourself, everyone is important, and there is no such thing as a day off. Her first spring in the Bonham Junior High Band, she was a seventh grader sitting next-to-last chair in the advanced band. She arose early to prepare for the band trip to Sweetwater. Picture this: It is 4 a.m. and Barbara is rushing around the house wailing, "I can't find my band shoes!" Her mother shakes her head, commenting, "I guess you'll just have to stay home." "I can't stay home; he needs me." Barbara had learned that lesson: In band, indeed everyone is important.

The following year Mr. McEntyre held after-school conducting classes. Barbara attended, eventually winning one of two spots as student director, debuting on Grundman's American Folk Rhapsody #1. That spring she began dreaming of becoming a band director, even though women were rare in the field. According to Mr. McIntyre, the prevailing thought at the time was "women band directors start with two strikes against them."

In the fall of Barbara's freshman year at Texas Tech, she met two women who cemented her decision to become a band director: Barbara Lovett and Kathy Phillips. Three days as substitute for the Ralls Band program during TMEA her junior year at Tech confirmed that decision. She was hooked. Band had always been her life and would continue to be so.

Her first job was teaching band, grades 5 - 12 in Ralls, Texas, where the population was smaller than Barbara's high school alma mater. Previous Jackrabbit Bands played with good fundamentals but had been unable to score higher than second divisions at contest. During Barbara's first year the band cleared that hurdle, winning the first Sweepstakes in the history of the school. Two years later Ralls High won Best in Class and Grand Sweepstakes at the Buccaneer Days Festival in Corpus Christi.

From Ralls, Barbara moved east, toward more trees and more water. Prior to Barbara's arrival, Seymour, Texas' only claim to fame was that it held the record for the highest temperature in the state: In 1936 citizens of the small town fried an egg on the sidewalk. In the summer of 1970, Seymour hit another milestone. The high school band was named State Honor Band, and Barbara became the first woman to conduct an honor band in Texas. Other Seymour Band honors included Best in Class at Six Flags Invitational and at Greater Southwest Music Festival. During her tenure in Seymour, Barbara met and married Fred T. Prentice, band director and Director of Fine Arts in Wichita Falls. (In 1994 Fred was installed posthumously into the Hall of Fame.)

The Prentices moved further east, toward even more water, this time to Arlington, where Barbara took over the Floyd Gunn Junior High Band, a fifth division ensemble. That first year her band began a string of uninterrupted first divisions. In late January 1978, a pregnant Barbara Prentice was conducting a region band in Lubbock, when son Christopher, who was not due until March, decided to be born. The region band had completed all rehearsals except the final, one-hour dress rehearsal onstage, when she went into labor. The organizer, Dick Whitten, nervously conducted the concert that night, the only concert Barbara ever missed.

In 1986 the Gunn Band was chosen as one of the first recipients of the Sudler Cup of Excellence, a national award presented by the John Phillip Sousa Foundation. As a result of that award, the Gunn Band received an invitation to perform on the White House lawn for Ronald Reagan.

Three years later Barbara and son Christopher moved to El Paso where Barbara took over the Hanks High School Band. Barbara loved teaching high school band again, but she chose to move across town to Morehead Junior High just in time to become Chris' band director, a highlight of her teaching career. The 1994 Morehead Band performed at the Midwest International Band and Orchestra Clinic, with Chris and a classmate of his as featured soloists with the band.

Barbara and Rick Lambrecht had been friends since Rick had begun teaching in El Paso in the late 1960's. Once Barbara moved to El Paso, they renewed that friendship, which eventually resulted in marriage. Rick convinced Barbara to retire from Texas teaching in 2001, and, since their house is only a few miles from the New Mexico border, the two became "border jumpers," team-teaching at Onate High School in Las Cruces. During their first year there they transformed the 4th/5th division band to finalist at the Tournament of Bands marching contest, and State Concert Band champions. The Onate Band remained State Concert Band champs during Barbara's tenure, and was also chosen Honor Band of New Mexico.

Too many travel miles, coupled with high gasoline prices convinced Barbara to retire from Las Cruces after four years. Coincidentally, that summer the Seymour Honor Band held a reunion, and a former student, the new chairman of the music department at University of Mary Hardin-Baylor, confided to Rick that UMHB needed a band director. "Barbara will be glad to do it," answered Rick. So Barbara became first the marching band director, and then the Director of Bands at UMHB, living in the Lambrecht Airstream trailer while Rick continued to teach horn at UTEP. She racked up numerous airline miles traveling back and forth from Belton to El Paso. Since her university teaching days, she has been an orchestra director, continues to teach and perform on flute, mentor young band directors, present workshops and clinics and conduct honor groups. She is currently director of the Airstream International Band and plans to start a community band in El Paso this next year.

Besides following in her band directors' shoes, Barbara's other teenage dream was to compose. Recently she has begun to do just that, writing arrangements for Rick's quintet, El Paso Brass, pieces for her own bands, as well as a few commissioned works. She and son Christopher have composed music for UIL Sight-reading, and both of them have had their pieces played at the Midwest Clinic in Chicago. Additionally, Barbara has written articles for several magazines, most notably, The Instrumentalist. Honored numerous times by her colleagues, Mrs. Lambrecht has been recipient of the Texas Chamber of Commerce Cultural Award, National Band Association Achievement Award, TMEA Achievement Award, and twice had her "day" proclaimed by the city council. Most recently she was chosen as one of the 2000 Outstanding Musicians of the 20th Century and named to Who's Who of American Women. Tau Beta Sigma honored Barbara with its Outstanding Service to Music Award, and Texas Tech University honored her as Distinguished Music Educator. She is a charter member of Texas Music Adjudicators Association, and was the first woman elected to membership in the Alpha Chapter of Phi Beta Mu.

Barbara credits her successes to her family and to a number of directors who unselfishly mentored her in her early years. Among them are J. R. McEntyre, Bill Dean, Gene Smith, Robert Maddox, Dean Killion, Dub Crain, Bob Gans, Dick Kole, Gary Garner, Ben Gollehon, Charles Traylor, Charles Enloe, and Fred Prentice.

Barbara and Rick have been blessed with a wonderful family: two sons named Chris: Christopher Prentice, actor and composer, and Chris Lambrecht, band director in Spring, another son - Rick Lambrecht, Jr. a teacher in El Paso, daughter-in-law Stephanie, and grandsons Ryan, Collin and Mason.

In a career spanning forty-three years, Barbara has touched many lives. Her drive and passion for music served as a model to many. Her students are now playing their instruments in service bands and major symphony orchestras, on the soundtracks in movie theaters, in university studios, drum corps, and in church, jazz and community bands. One former student is a university music department chairman, others teach band in public schools or private lessons in their homes or studios. Some are doctors, lawyers, dentists, teachers, court reporters, school board members, movers and shakers in the business world, parents and grandparents of young school musicians. Her hope is that they all continue to love music and give it a place in their lives, no matter what career path they follow. She feels blessed to have been a part of their lives.