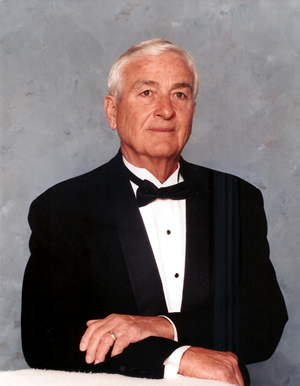 Jack Fariss, the last of ten children, was born in Giddings, Texas, into a family that loved band music. Nine of the ten children played in the band, with the oldest brother, Bill, and the youngest, Jack, becoming band directors. Big brother Bill Fariss, fresh out of Baylor University, started the very first band in the town of Bellville where he served as band director and coach. Their mother thought being a band director was of the highest calling. All her life she proclaimed that she liked "music better than singing." (Jack's choir director friends didn't particularly like to hear this story).

As a boy, Jack was greatly influenced by the Longhorn Band and the Texas Aggie Band which he followed down the streets of Austin as they paraded in preparation for the famous turkey day football rivalry. Jack, along with other Giddings Boy Scouts, would hitch-hike to Austin to serve as ushers for free admission to Memorial Stadium to see the bands and watch the games every year.

Jackie Fariss played cornet in the Giddings High School Band and also served as the drum major during his senior year. He played basketball, tennis, baseball, and was also on the Student Council.

Jack attended Blinn College in Brenham where he changed from cornet to French horn…and was ping pong champion at the student union building. In those days, he practiced ping pong more than French horn!

At Sam Houston State Teacher's College, he met Pat Harvey, a clarinet player, on the fifty yard line while marching a diamond drill in the Bearkat Band. They were married on Homecoming Day their senior year….after the traditional band's marching through the dorms at 5:30 a.m., waking up the student body, marching in the morning homecoming parade, and performing with the Bearkat Band at the afternoon football game. On October 27, 2008, Jack and Pat will celebrate their 46th wedding anniversary.

Mr. Fariss began his teaching career in the small schools of Shepherd ISD and Tidehaven ISD. At the age of twenty-eight, he took over the band program in Pearland, Texas. For the next twenty-nine years, Mr. Fariss led the Pearland High School Band program as it grew from one band to five performing groups.

Under Jack's direction the concert bands of Pearland High School received many honors, including TMEA AAAAA Honor Band, as well as Outstanding Band awards at festivals in Texas, Florida, and Washington, D.C.

With thirty-five consecutive years of first divisions in marching, the Pearland High School Band qualified for the state marching contest almost every AAAAA competition year since its inception and performed in the finals on numerous occasions.

A distinguished festival judge wrote, "I've never heard of a band program anywhere that has five bands that are this good." That has always been Mr. Fariss's approach to teaching: that every band and every student was very important. He appreciates the many fine directors who worked with him over the years to achieve this level of excellence.

Mr. Fariss earned his bachelors and masters degrees from Sam Houston State University in Huntsville, Texas. He is a member of TMEA, Phi Beta Mu, Texas Bandmasters Association, TSTA, and ABA. He is a charter member of Texas Music Adjudicators Association, as well as a board member and past-president of TBA. Personal honors for Mr. Fariss include being named Texas Bandmaster of the Year, as well as being invited to membership in the American Bandmasters Association.

A 1998 retiree, Jack served thirty-five years in Texas public high schools. He remains very active professionally through clinic work, consulting, and adjudication. He always enjoys working with students and their directors.

Jack and Pat Fariss have two beautiful daughters: Rhonda Fariss of Round Rock, pianist and all-state clarinetist and Kristin Fariss, mother of three wonderful grandsons, Zachary 18, Andrew, 12, and Chandler, 6.

Mr. Fariss is most honored to be named to the Phi Beta Mu Texas Bandmasters Hall of Fame.