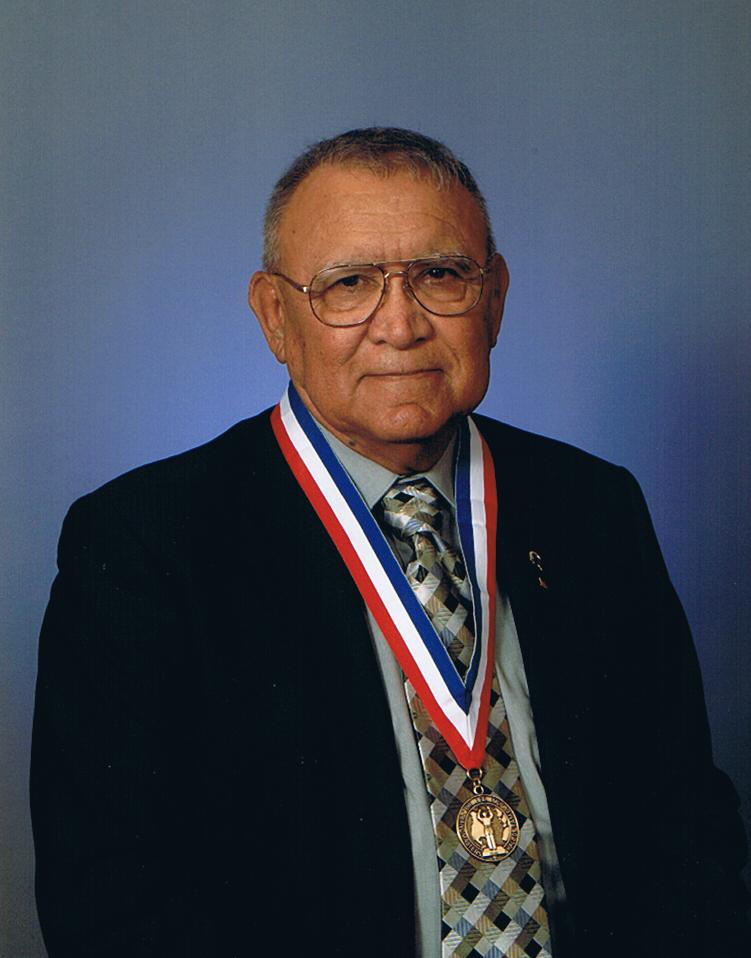 Digital Scrapbook
For Ralph M. Zamarippa, Jr., family and military traditions reinforced the connection between music and life.

Ralph was one of eight children born to Rafael and Jessie Losoya Zamarippa in San Angelo, Texas on Jan. 23, 1937. The Losoya family had four sons who were active in the San Angelo Bobcat Band under the direction of Homer Anderson. One uncle, Henry Losoya, became a career soldier and drum major for the 101st Airborne Division band at Fort Campbell, Ky. The Zamarippas regularly attended the Bobcat concerts, especially during the summer. The most memorable selections for these concerts were Sousa's "The Thunderer" and Goldman's "On the Mall." Ralph has used "On the Mall" to close many of his spring concerts.

Ralph began his musical career in the Lakeview Independent School District in San Angelo. He joined band in the sixth grade with encouragement from his next-door neighbor and best friend Geryl Knight. Their parents bought two cornets and the fun began. There were no beginning band classes—Ralph and Geryl were enrolled in the only band class of the day, the performing school band. The two were self-taught and did not read music until about the tenth grade. Throughout high school, Ralph and several band students lent their talents to the Angelo State Junior College marching band and the Shriner Suez Temple for performances and parades.

Following graduation, Ralph enlisted in the Army. At the induction in Abilene, Texas, Ralph was told he couldn't be in the infantry because he had flat feet and a heart murmur. As a musician, he was ordered to audition for the 6th Army Band, Fort Ord, Calif. Of course, he passed the audition. After basic training he was assigned to the 62nd Army Band at Fort Dix, N.J. The 62nd was a collection of musicians called upon to fill vacancies in Army musical organizations throughout the world. Ralph was selected to go to Ft. Bragg, N.C. and became a paratrooper/baritone player with the 82nd Airborne Division Band from 1956 to 1959. During his tenure with the 82nd, the band performed for the Queen of England in Williamsburg, Va. in 1958, in New York City for the 82nd Airborne Convention, and entertained the Division's sweetheart Marlena Dietrich and the legendary Sergeant York.

Ralph obtained his bachelor's degree in 1964 and his master's in 1969 from Sul Ross State University, Alpine, Texas. His student teaching supervisor was Permian High School director J.R. McEntyre. J.R., Tommy Fry, Dan Gibbs, Harris Brinson, Bill Dean, Wesley May, and Jerry Duncan were among Ralph's most influential personal and professional friends.

In 1964, Ralph began his teaching career in Van Horn, Texas, where he taught sixth grade through high school. During his 15 years at Van Horn, the bands received 11 sweepstakes and countless festival awards. Ralph's Van Horn band was selected as the Class A Honor Band and performed for the 1972 Texas Music Educators Convention in Fort Worth. From 1979 to 1989 he was the high school assistant in Fort Stockton; from 1989 to 1992 he served as Lincoln Middle School Director in Abilene. After retiring in 1992, Ralph began a second teaching career in 1994 to help a dear friend, Dennis Teasdale, at Jim Ned Middle School. At Jim Ned, Ralph achieved 10 sweepstakes and numerous outstanding band awards at Schlitterbahn and Six Flags. He is still an active teacher, invited by David Fortenberry in 2006 to teach at Estacado Junior High School in Plainview, Texas.

Ralph is a member of KKY, TMEA, ATSSB, TBA, TMAA and Phi Beta Mu. He is the proud father of three children—Rae, a French horn player, and Ralph III and Ruben, both tuba players. He has two grandchildren, Ralph IV and Jessie. Ralph's mother Jessie, ninety years young, is always in the audience. Accompanying her is nephew Colin Zamarippa, eighth-grade cornet player.