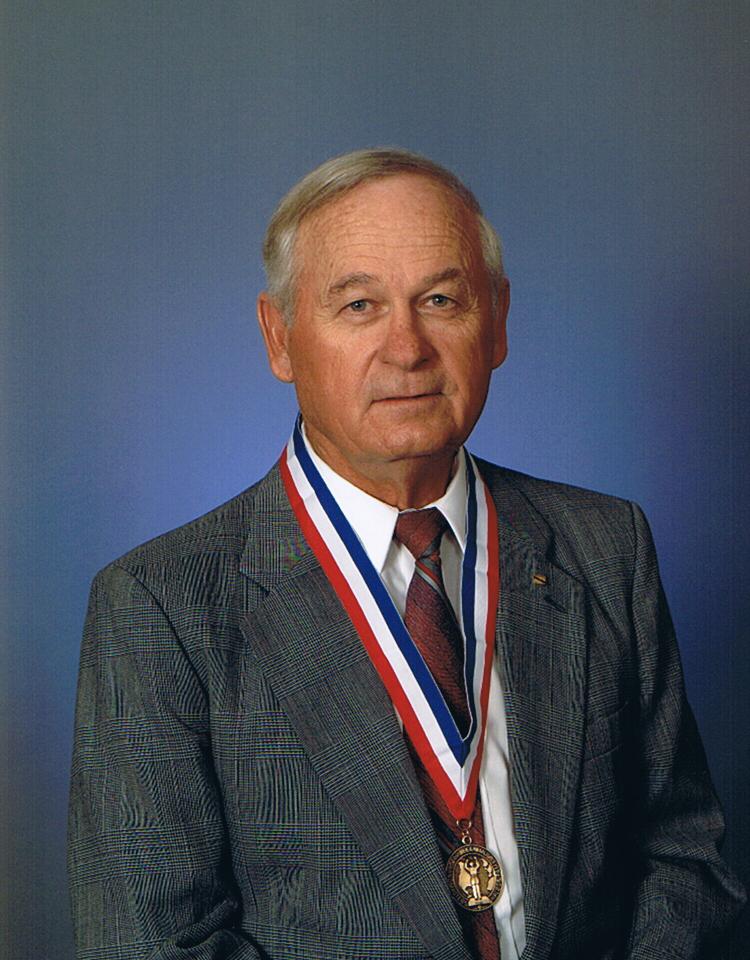 Clyde Wilson grew up surrounded by music. His father Cecil was a violin and guitar player credited with writing more than 100 country and western songs.

Born in Anderson, S.C. on May 26, 1941, Clyde moved to Pecos, Texas in 1942, where he spent the next 10 years. Clyde learned a few chords on the guitar from his father, and he became somewhat of a novelty in school with his ability to strum and sing the current country tunes. He never took to the violin although his father tried to encourage him. After moving to Midland, Texas in the summer of 1953, he first held a trombone supplied by Hall of Famer Robert Gans, the band director at Cowden Junior High. Hall of Fame member Wesley May provided the first horn from his store in Midland, but it soon wore out with four to five hours of daily practice as Clyde worked to master the "Easy Steps to Band" books and other methods.

Strongly influenced in high school by Hall of Famer Carl Lobitz as his private teacher, Clyde soon became proficient and placed fourth chair in the 1957 All-State Band and first chair in the 1958 and 1959 bands.

Clyde's high school band director at Midland, Dr. Joe Haddon, also a Hall of Famer, had a profound influence on Clyde. He took Clyde to New York and Columbia University during the summer of 1958. Many aspiring young directors were working on advanced degrees, and Clyde was included in the curriculum and began his career in conducting there with the summer University orchestra. He took private lessons from famous New York Philharmonic players Bill Bell and Louis Van Haney, and this experience cemented his ambition to be a band director. Already he had taken up clarinet, oboe, cornet, baritone, French horn and tuba because Dr. Haddon insisted that he become adept on other instruments.

After graduation, Clyde went to West Texas State College, where Ted Creager had just begun his tenure as band director. Other notables attending at this time were Harlon Lamkin, Harris Brinson, Charles Nail and Jeff Doughton. Clyde auditioned and was awarded the Amarillo Symphony scholarship. Conductor A. Clyde Roller and later Thomas Hostadt became tremendous influences on Clyde, along with teachers Don Baird, Gerald Hemphill and Houston Bright.

In the summer of 1962 a young director in Hereford hired Clyde as part-time assistant and junior high school band director. Clyde spent the next four years in this perfect learning environment with Ben Gollehon, also a Hall of Famer. The concept of "team teaching" was just beginning to surface and Ben and Clyde made the most of it with the Hereford program. The Hereford Honor Band performance at the Texas Music Educators Association convention in Austin received a rousing standing ovation. Ben Gollehon was truly a master, friend and mentor.

In the summer of 1965 Clyde met and married Barbara Jean Thompson, a flight attendant for American Airlines, in Buffalo, N.Y. Barbara experienced "West Texas shock" after moving to Hereford, Texas and soon to Tulia. The Gollehon family, especially Ben's wife Virginia, helped smooth the transition to Hereford.

In the summer of 1968 Clyde was completing his master's degree at West Texas and beginning duties as band director at Midland High School. He supervised summer band in Midland, rewrote his graduate recital paper in the afternoon, drove 225 miles to Canyon, found professors for corrections and changes, and drove back to Midland for the summer band the next morning. This went on for five days with very little sleep, but persistence paid off and the master's was secured.

Clyde spent 21 years at Midland High School and six years at Lee High School. His bands amassed many UIL sweepstakes awards and were honored at national festivals. The band traveled and performed in California, Arizona, Nashville, St. Louis, Orlando, Monterey, Mexico and Colorado. During a concert in Monterrey in 1972, a zealous local spectator came up on the stage to direct the band. He pushed Clyde away and took over. Shortly others came on stage and promptly removed the rude spectator. Later that evening at the hotel, the intruder showed up at Clyde's door apologizing for the act. Behind him was an entourage of locals making sure he was sincere.

The successful years in Midland were realized thanks to Randy Storie. When Randy was hired to be the director at San Jacinto Junior High, the program at Midland took off. Team teaching was used and never discarded. The band participated in the 1982 and 1985 Tournament of Roses Parades in Pasadena, Calif. with more than 250 students, and most of these band members had been in Randy's junior high bands. Five years later, Clyde joined Randy's team at Lee High School as freshman school band director, where he served until his retirement in 1995. Important influences in Midland included Hall of Famers Wesley May, J.R. McEntyre, Bill Dean and Dan Gibbs.

Clyde's most memorable musical moment was the Midland Band's performance at the honor concert in Gammage Hall in Tempe, Ariz. after winning the Mountain States Festival. The Hall was packed and the band received a standing ovation. Another special moment was conducting a piece with Randy Storie and the Midland Lee Band at the Midwest Band and Orchestra Clinic in Chicago.

Clyde holds membership in Kappa Kappa Psi, Ph Beta Mu, Phi Mu Alpha Sinfonia, TMEA and TBA. He is a PTA life member and charter member of TMAA.

The Wilsons recently celebrated their 42nd anniversary. They have two children, Kristin and Michael, and a grandson, Nicolas. After retirement, Clyde and Barbara moved to Colorado, where they spent the next 10 years building their dream home in the mountains (literally building it). They now reside in Granbury, Texas and spend their time on the lake, golf course and the back porch. To escape the heat they plan to spend summers in Colorado. Clyde noted that he is honored and humbled to be included in the Phi Beta Mu Hall of Fame.