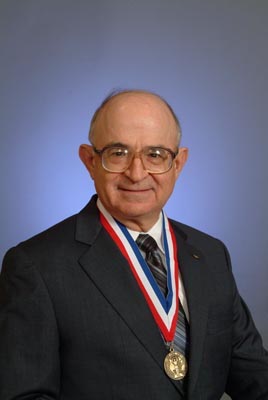 Digital Scrapbook
As a child growing up in the Rio Grande Valley, Edward Zamora dreamed of conducting as he listened (and directed) the NBC Symphony Orchestra on the radio every Monday night. He had a passion for music and knew that he had to play the cornet. He joined Dr. George Nelson's beginning band in the sixth grade at Edcouch-Elsa public schools. After one year in beginning band, he was promoted to the high school band as a mere seventh-grader. Little Eddie was quite a sight in the high school marching band because he stood only about three-feet tall. By the time he graduated, however, Eddie was student conductor and had made the All-State Band. He learned from his mother and teachers that if you wanted something bad enough, and were willing to work hard for it, any goal could be reached.

Eddie worked his way through college as a dishwasher, soda jerk, short-order cook, butcher and as a professional musician in dance bands. He did undergraduate work at Del Mar College, The University of Texas and Pan American University in Edinburg, where he received a bachelor's degree. He received his master's degree from Texas A & I University in Kingsville.

Eddie began his career as a junior high and assistant high school band director at La Joyce in the valley and credits the area band directors with teaching him a lot. After two years he went to San Diego High, which was just 10 miles from Alice, where Bryce Taylor was teaching. He talked with Bryce about the job, and Bryce told him that he would have to put any concepts of band sounds in deep storage for about four years because it would take him that long to get the band to produce a sound in marching, concert and sight-reading. San Diego had been a fifth-division band for five years in marching, concert and sight-reading. People would come from miles just to see and hear this "funny" band.

Eddie took the job and started working with the group of 20 students. The school did not own a sousaphone, French horn or baritone. At his first rehearsal, a couple of seniors came up to Eddie and told him they had one goal: they did not want anyone laughing at them any more. He told them he understood, and that they would work together to achieve that goal. Three months later, at the very first football game, people no longer laughed – instead they gave them a standing ovation. This was the first time the home crowd experienced a good sound and saw the band march with straight lines. At the beginning of the school year, Eddie also recruited several seventh and eighth grade beginners into a fast moving class. By Nov. 1, he had trained 15 of them to march and play music written especially for them that included only half notes and quarter notes. When the band went to the marching contest in Laredo in December, there were 35 marchers and one drum major. When they performed, nobody laughed. When ratings were announced, everybody roared: San Diego had received straight ones from all three judges. This was the first time that a band in Texas had gone from a fifth division to a first division in one year. Eddie attributes that accomplishment to goal setting, hard work, and not being afraid to ask for help, especially from Bryce Taylor, Marion Busby, and Eddie Galvan. Eddie stayed in San Diego for two years. The band received first division in marching and concert both years.

Eddie then became the band director of the Hebbronville High School Band where again, the band had not had much success and had never received a sweepstakes award. By setting and achieving one goal after another, the Hebbronville band was named State Honor Band in 1973 in class AAA and performed at the TMEA convention in San Antonio. Many remember that year, not only because of the band's performance and achievement, but also because it snowed! That evening at lights out students could be found lying on the floor in their open doors at the La Quinta Motel, looking at the snowfall.

Eddie then moved to Port Lavaca where he was band director and music supervisor at Calhoun High School. The seniors there also had a goal: they wanted to go to Six Flags over Texas like the band had done many years before. They had not been able to go for the prior four years because they had not received a first division in anything. They achieved that goal, and during the four years Eddie was at Calhoun, the band received the Sweepstakes Award every single year.

Eddie realized that his many successes were the result of being able to work with young students, especially beginners. He had a drive to teach basic fundamentals. So in 1978 he moved to Bedichek Middle School in Austin, where he taught young students for 17 years.

Throughout his career, many of his students made the All-District, All-Region, and All-State bands. His bands received 32 consecutive superior ratings in regional concert competitions, and 27 Sweepstakes Awards. In addition, they received many superior ratings at Six Flags over Texas and Buccaneer Music Festivals.
Eddie has served in regional and state capacities, including as regional and band chairperson. He has served on the State Prescribed Music List Committee and on the State Marching Band Advisory Committee. In addition, he has served on TBA, TMEA, TSTA, and TMAA committees. He has served as adjudicator and clinician throughout the state for more than 35 years. He is in frequent demand as band clinician/conductor throughout Texas. In 2003, he conducted the Oahu ninth-grade select band in Honolulu, Hawaii.

His affiliations include TBA, TMEA, TMAA, Phi Beta MU, and the Phi Mu Alpha Sinfonian. He has been awarded the Leadership and Achievement Award by the Texas Music Educators Association, and was named a Teacher of the Year fi nalist by the Austin Independent School District. In 2003, Eddie received the Lifetime Meritorious Achievement award from the Texas Bandmasters Association. Being inducted into the Phi Beta Mu Hall of Fame is a big honor for him and members of his family.