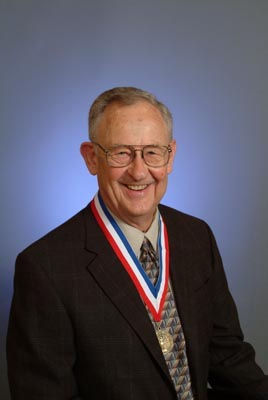 Digital Scrapbook
Born into a musical family to Lawrence and Thelma Wiehe, Douglas Dean Wiehe exhibited a talent and appreciation for music that he has shared with his own family and students. His father, Pop Wiehe, was determined from the beginning that his sons, Doug and younger brother Larry, would study music. When the Wiehe brothers were ages seven and five, their dad wrote Herbert L. Clark for advice in selecting a good brass teacher in the St. Louis area. Clark replied that he should take his boys to St. Louis to study with Joseph Huber, who was one of Clark's former students. Pop Wiehe bought Doug a second-hand trumpet and Larry an old trombone. He sold their home during the depression and moved in with grandparents so the family had enough money to pay for the trip to St. Louis and weekly lessons thereafter. Pop Wiehe insisted that the boys practice three hours every day except Christmas. He would sit at his desk and occasionally give each of them a lick on the rear if he heard too many mistakes; he had a good musical ear.
While Doug was in grade school, his band director, Harvey Pike, was drafted.

Maurice McAdow, who lived in Greenville, Ill., volunteered to drive twice a week to conduct the Centralia Grade School Band, where he met the Wiehe brothers. He invited them to solo with his high school band in Greenville. After McAdow moved to Denton to become the director of bands at North Texas University, he asked the brothers to come to college there.

In 1944, after graduating from Centralia High School, Doug enrolled in the Eastman School of Music in Rochester, New York where he studied trumpet with Pattee Evanson. Later that year he enlisted in the Army Air Corps. When the Air Corps discontinued pilot training, Doug volunteered for jump school and became a paratrooper in Germany. After returning to the states he was assigned to the 82nd Airborne Division Band at Ft. Bragg.

Doug played trumpet in the North Texas band with Mr. McAdow, in the North Texas orchestra with Dr. George Morey and with Fessor Graham's Aces. He studied trumpet with John Haynie – later playing golf with him and becoming a close friend – and clarinet with Lee Gibson. Mr. McAdow played cupid, introducing Doug to the woman he would marry, Donna Miller, who was an oboist in his band; they were married Dec. 28, 1951 in Crane, Texas.

While at North Texas working on a master's degree in music history, Doug was Mr. McAdow's graduate assistant. When Doug graduated, Mr. McAdow drove to Beeville, Texas and encouraged the school board and Superintendent Floyd Parsons, to hire Doug and Donna Wiehe. Doug was hired as director of the high school band, junior high band and the high school choir. In addition to his regular duties he gave every student free private lessons. The Beeville band performed in Enid, Okla. at the Tri-State Music Festival and at the New Orleans Mardi Gras. In 1954 the Wiehe's first son, Stephen, was born in Beeville.

While in Big Spring, Doug began spending time in the summer to work on a doctorate at the University of Colorado. He asked Royce Lumpkin to run his high school summer band program while he was away at school, opening the opportunity for Royce to meet his future wife who played in Doug's band.

In 1966, Doug was asked to be a full-time assistant director of bands at North Texas University. He also taught music history, band methods and brass methods. He later finished his doctorate at the University of Oklahoma.

In 1971, he was named director of bands at Southwest Texas State University in San Marcos. In 1974, Doug became supervisor of fine arts in the Brazosport Independent School District. He was a member of the state textbook committee for all subjects, served as TMEA region chairman and for more than 20 years was executive secretary for UIL Music Region 17. Doug conducted summer musicals for the local theater and was on the Brazosport Symphony Board.

After retiring, Doug and Donna moved to Seguin. They play regularly with the San Antonio Municipal Band, under the direction of Tom Rhodes and Richard Gonzalez. Doug volunteers for church activities, works in the yard and spends as much time as possible on the golf courses in and around San Antonio. He and Donna judge solo and ensemble contests for UIL in various regions in the San Antonio and Austin areas and are able to attend many programs when their grandchildren are performing.

When Mr. Parsons became superintendent in Big Spring, Texas he asked Doug and Donna to come with him to teach band and elementary music. Doug continued the free private lessons with every band student in the Big Spring High School Band. When Tommy Fry was hired to teach junior high band, the Frys and the Wiehes spent much time together discussing band music and students over many delicious meals in their respective kitchens. While at Big Spring, two more children were born to the Wiehe family: Donald in 1958 and Angela in 1963.

In 1964 the Big Spring band had 12 wind and percussion students in the all-state band and orchestra, more than any other school in Texas. Wiehe's band earned sweepstakes for six straight years. At the first marching contest they followed immediately after Odessa High school's more than 200-member band, directed by Bob Maddox. Doug thought quickly, and triple-spaced his 48 students on the field to make the band look larger.

The Big Spring Junior Chamber of Commerce selected Doug as the Outstanding Teacher of the Year in 1961. In 1964, the Big Spring band traveled to California where Dr. Clarence Sawhill heard them and invited them to perform in a band festival the next day. This same year the band was selected first runner-up in the TMEA honor band competition.

The band performed in the New Orleans Mardi Gras, at the World's Fair in Seattle, Wash. and Enid, Okla., where one of the judges was Edwin Franco Goldman, Jr. Goldman told them that it was refreshing to hear a small band play musically. For sight reading, the march trio was in the key of C with instructions to whistle. Disaster struck when Doug asked them to play their instruments instead of whistling – the parts were not transposed.

Mr. Wiehe passed away in April of 2015.