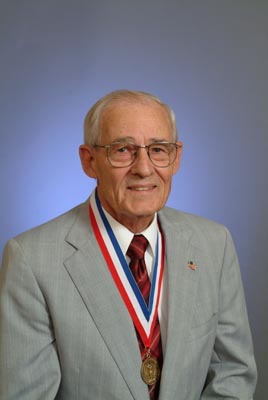 Digital Scrapbook
In today's public schools, Joe Rogers would be classified as an "at risk" student. Although he later received his master's degree and was a respected leader of schools and in the community, he did not graduate from high school. His parents divorced when he was six years old, and his mother moved Joe and his younger sister frequently. They attended various schools in Texas and Missouri, ending at a high school in Garwood, Texas where he started playing the trombone. In 1944 when Joe turned 17, and without graduating from high school, he enlisted in the U.S. Navy. He served as Coxswain and landed Marines in the Battle of Iwo Jime and Okinawa. His destroyer served as an escort ship in Tokyo Bay at the scene of the surrender of the Japanese in August 1945.

Using the GI bill, he attended and graduated from Southwest Texas State College in August 1949, with a bachelor's degree in music education. During the next few years he also earned credits and hours from the Vander School of Music. In 1955, he earned his master's degree in public school administration. He served as Mission High school band director from 1949-1951, Seguin band director from 1951-1962, Kingsville band director from 1962-1965 and New Braunfels band director from 1965-1976.

He served as vice-principal in New Braunfels from 1976 – 1981. He also owned and operated the Rogers Music Company in New Braunfels and Seguin until 1984. From 1984 to 1996, Joe served as principal of Smithson Valley High, with two years as Comal Independent School District superintendent.

During his years as a band director his bands earned UIL Sweepstakes Awards at all schools. His New Braunfels band was named the top band at Tri-State in Enid, Oklahoma. In 1991 his New Braunfels band was named the Best Marching Band at the Texas State Fair Contest in Dallas.

Joe judged band contests throughout Texas for 21 years and also served as clinician for many band programs. During Joe's time as a band director in Seguin, Kingsville and New Braunfels, he supervised many of the student's teachers from Texas Lutheran College, Texas A & I, and Southwest Texas State College.
A number of his former band members became outstanding band directors, including Henry Schraub, Glenn Richter, Fred Schroeder and Rolando Molina.
Joe was elected and served as president of the Texas Bandmaster Association in 1967-1968.

Joe has also been a leader for the City of New Braunfels and was elected to two terms on the New Braunfels City Council. The New Braunfels Chamber of Commerce awarded him with the President's Award, Hall of Honor Award, and the Besserung Award (outstanding citizen). He is an active member of the Wurstfest Association and has served as entertainment chairman, president and Grosse Opa and now serves as Opa Emeritous. He was recently selected for the "Community Builder" Award by the Masonic Lodge #1109 of New Braunfels.

He has sung in the choir and been a member of the New Braunfels Presbyterian Church for 41 years, and is an elder in his church.

In retirement he serves as song leader for his Lions Club, plays golf and delivers Meals on Wheels. After 44 years in Texas Public Schools, he still attends school functions, including band concerts and contests, and continues to judge band contests.

Joe and Ann (Teltschik) have been married 58 years, and they have two sons and four grandchildren.

Mr. Rogers passed away in July of 2016.