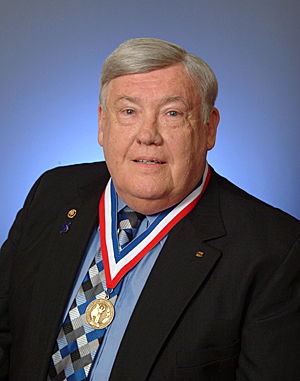 David Pennington was born in Temple, Texas in January 1938 and graduated from Temple High School in 1956. He started his band experience in 6th grade with Durward Howard who taught all band classes. Pennington remembers how he became a beginner: "The principal came into the classes during the first few days of school and asked who was interested in beginning band. My friends raised their hands, so I did too. I've always wondered how different my life might have been if I'd been absent that day."

David progressed as a flutist and was one of eight 8th grade players moved into the high school band - the last group of students below 9th grade to be in the THS band.
As a high school junior, Pennington made his first of two trips to the Texas All State Band in Dallas. Temple students rode the train and met Vincent R. DiNino who was on his way to the TMEA Convention. DiNino had just come to UT as director of the Longhorn Band and meeting him was a big event. Durward Howard was a UT grad and it was just understood that Pennington would attend UT and become a band director. While earning a BME degree at UT, Pennington was a member of the symphonic band, symphony orchestra, Longhorn Band and substituted on flute and piccolo with the Austin Symphony. He was a member of Phi Mu Alpha and Pi Kappa Lambda, honorary music fraternity. At the end of his sophomore year, he was one of three students who earned an A on the dreaded full-faculty jury. David gave a solo recital his junior year that was not required and received a Certificate in Performance.

After graduation in 1960, Pennington returned to Temple as the first assistant band director at THS and began work on a MME at North Texas during the summers. In Admission Seminar class, he met Linda Smith, an elementary music teacher in Dallas. They married in 1964 and moved to Killeen where Linda taught junior high choirs and David was a junior high band director. Three years in Killeen were followed by one year as high school director in Brenham, and then a move to Austin where Pennington was the first director at Crockett High School. In 1970, it was back to Killeen at KHS where Pennington began a string of Sweepstakes bands over eight years. During those years, the KHS band grew from 200 to 400 in three grades. When Ellison High School opened in 1978, David and Linda went to Denton for one year and then to Temple as THS director when Durward Howard became Director of Fine Arts. David introduced THS to UIL Marching Contest, continued a long history of concert performances and traveled to numerous competitions. When Mr. Howard retired in 1986, Pennington took the Director of Fine Arts position until the district offered an early retirement incentive in 1994.

During the years as Director of Fine Arts, David taught an AP/IB music theory class. Many of his theory students earned high scores at the state contest and two tied for top score in 1992. It was also during this time that he was elected the Band Division Chairman for TMEA. His two-year term was followed by election as President-Elect, President in 1998 and then Past President. Pennington served many years as Region Chairman, various TMEA offices, and was a charter member of TMAA, serving widely as an adjudicator of marching and concert bands.

After returning to direct junior high choirs in Killeen, Linda added a Masters in Counseling to her MM degree from NTSU. When they moved to Temple, Linda served as an elementary counselor in TISD for 18 years. This was followed by work as a clinical therapist at a hospital and residential treatment center for children and adolescents, and later as an LPC with a private counseling center. Linda continued her love of choirs by facilitating clinics, consultation and judging. She is a charter member of TMAA, and a was TCDA officer.

From 1994-2003, Pennington was Executive Director of the Cultural Activities Center in Temple. The CAC is a 42,000 square foot visual and performing arts center. The CAC was in trouble when David became the director but after nine years, it was financially sound and had reserves in funding. Pennington continued his commitment to music and arts education by establishing many children's activities and all schools in the Temple area were served with arts activities through programming, classes and exhibitions. Throughout his career, David has helped mentor and financially support deserving students and promote opportunities for musical growth and education.

Pennington became a member of Phi Beta Mu in 1975 and in 1996 was elected to the eight-member International Board of Directors. He worked to help charter new chapters and was instrumental in forming chapters in Nebraska, Hawaii and South Dakota.

When not involved in promoting music education, David can be found playing or teaching duplicate bridge, his hobby. Time to play became available after his retirement from the CAC, certainly not when he was a band director. In 2003, he attained Bronze Life Master, and in 2004, he was one of fifteen Texas players to receive the Star of Texas Service Award from ACBL.

Pennington's dedication to education continued with his election over three opponents to be a member of the Temple ISD School Board for a three-year term. In 2007 he was elected to a second term of office.