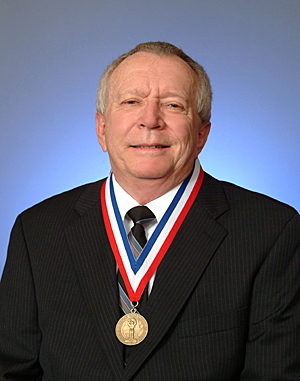 Digital Scrapbook
Eddie Green is the son of the late Neal and Sena Green of Shackelford county in the state of Texas. He was raised on a ranch during his childhood and teenage years, and graduated from Breckenridge High School in 1956. He attended Sul Ross State College and studied with Dr. Joseph Bellamah. Mr. Green received his Bachelor of Music Degree from Texas Western University in El Paso, and graduated magna cum laude. His master's degree in music was earned at Southern Methodist University in Dallas, where he graduated summa cum laude.

Eddie Green was the band director at Albany High School from 1960-1962 and Ozona High School from 1962-1964. He opened Lake Highlands Junior High and taught there from 1964-70, and at Lake Highlands High School from 1970-1976. From 1976-1979 he was Director of Bands at Western Michigan University, and at University of Houston from 1979-1999. Since officially retiring from the University of Houston, Mr. Green has been named Director Emeritus of the UH Wind Ensemble, and has maintained an active role working with Tom Bennett and David Bertman during the past three years. Mr. Green currently works as a band consultant for a large number of school districts throughout Texas.

During the 2003-2004 and 2004-2005 school years, Mr. Green and John Benzer-with the help of David Bertman and Evelio Villarreal-wrote Essential Musicianship for Band-Ensemble Concepts, which is published by Hal Leonard Corporation as part of the Essential Elements series. In November of 2004, this textbook was officially adopted in Texas, and is being used not only in school districts across Texas, but internationally as well.

While director of the UH Wind Ensemble, Eddie Green's Grainger Series CD was named a "CD of the Year" by Stereophile magazine. The Wind Ensemble was the first college instrumental ensemble to receive a Grammy award nomination. Mr. Green's Lake Highlands Junior High band was named CCC Honor Band, and his Lake Highlands High School band was named 4A Honor Band. The Lake Highlands band was also selected to perform at the MidWest Clinic in both 1971 and 1975. He received the "MAC" award for outstanding high school band directing in America. Mr. Green was honored Texas Bandmaster of the Year in 1990. He was awarded the Grainger medallion, given by the Grainger Society for contributions to Percy Grainger's music. During his tenure at UH, Mr. Green was given a UH Teaching Excellence Award, the "Favorite Teacher Award" given by the Moores School of Music Alumni Association, and the Outstanding Teacher of the Year award given by the Moores School of Music Society.

In his over forty years of teaching, Eddie Green has developed many of our past and present leading music educators. In the past twenty-five years, the majority of the Texas directors who have been selected to perform at the MidWest International Band and Orchestra Clinic have been former students of Mr. Green. Many Texas state Honor Band winners and finalists have also been former students of Mr. Green. He has mentored and guided numerous band directors and students at the middle, junior high and high school levels.

While Mr. Green taught in the Lake Highlands cluster, there were many dedicated and talented adult private lesson instructors who helped develop the concepts that are prevalent in band programs across our state. Guiding forces in this almost fifteen-year process include Claire Johnson, Jim Irwin, Joe Dixon, Wallace Roberts, Kyle Crain, Bob Johnson and Mac Guiderian.

Here today with Eddie Green is his sister Mary, who resides in North Richland Hills, which is in the Dallas/Fort Worth area. His brother, Don, resides in Albany, Texas.