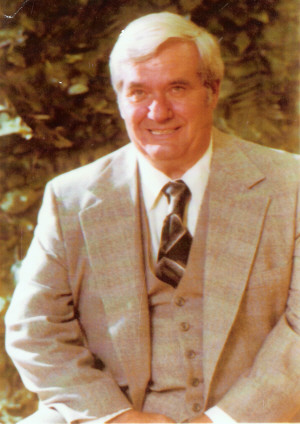 Digital Scrapbook
Berne Alton Glover was born December 17, 1922, in Floydada, Texas. His family moved to Slaton and then to Abilene where he attended Abilene High School for a year and a half, playing clarinet and saxophone for the orchestra and the Eagle Band. After graduation he performed with the Jack Crawford Orchestra and toured throughout the South and Midwest.

He enlisted in the U. S. Army Air Corps in April of 1943. He successfully completed flight training, flew fifty-six combat missions in Europe as a P-51 Mustang fighter pilot, and was awarded many distinguished medals. In a 1943 letter to Berne's mother, the Major General at Randolph Field wrote that qualified army pilots have to have a certain degree of "precision, daring, and coolness" and "a high level of mental and physical alertness" in order to both pilot an aircraft and win the war. It was with these and other qualities, that Berne would lead his future students to performance success.

After military service, Berne returned to Abilene and married Rosemary Hambrick in 1946. They toured with dance bands for a few years before Berne earned his Bachelor's of Music from Hardin Simmons University in 1951. He later earned his Master's of Music from Sul Ross State University in 1978.

The Glovers moved to El Paso in 1953, and Berne established and ran an instrument repair shop for the El Paso Public School District. His career as band director and Music Department Head began mid-semester at Thomas Jefferson High School in 1955. One student remembers that first year and how Berne brought order and discipline to the band, and would not allow one bad note to be played. While at Jefferson, he repeatedly directed his bands to superior ratings. Jefferson High School was in a racially and economically segregated neighborhood, and Mr. Glover was the first band director in the state of Texas to take a black student to an All-Region contest.

On November 2, 1963, the Jefferson band emerged at the top of eleven other bands at the Southwestern Marching Contest held at New Mexico State University. According to an article in The Branding Iron, Berne's choreography and the band's "stereo sound" on the field had a powerful effect on the audience. Parents from competing schools commented on how after witnessing the precision marching and hearing the first few notes, they knew "Jeff' was the winning band. When their winning scores were announced "the roar of the crowd shook the rafters of the stadium." The band had the honor of performing again that night during the half-time show at the NMSU/Wichita University football game. On the bus trip back home, the band members repeatedly sang to their director, "For He's a Jolly Good Fellow." The band's president said they could not have done it without Mr. Glover, because he was the one who made them look good
.
Another highlight was November 14, 1964, the day the Jefferson Band participated in two area competitions. That morning, they won a Superior rating at the NMSU Annual Invitational High School Band Competition, in Las Cruces, New Mexico. In the afternoon, the band traveled the 40 miles back to El Paso to compete in the 7th annual High School Band Pageantry and Marching Contest. Out of 13 bands, Jefferson won the only first division rating and was chosen as the official high school band for the 30th annual Sun Carnival Parade.

In 1964, under the sponsorship of the Crossroads of the Americas, Mr. Glover and the Jefferson High School Music Department won international attention by traveling to Chihuahua City, Mexico and Parral, Mexico and performing goodwill concerts
.
In 1966, Berne transferred to Burges High School where he continued to direct award winning high school bands. In 1969, the band had the largest number of members in the All-City Band (26) and in the All-Region (15). In 1970 the BHS band won the Grand Prize Sweepstakes trophy, setting a record number of points in the history of the highly ranked Western States Music Tournament in La Mesa, California. Also, in 1970, the band received a "Superior plus" rating in the 13th annual El Paso ISD Invitational High School Band Marching and Pageantry Contest. An El Paso Times reporter wrote, "What some bands considered sweeter than the [few] superior ratings was being ranked with Burges, long a standout in such activity."

The BHS band went on to collect many more awards. In 1971, they won the Sweepstakes Trophy in the first ever band judging in the 37 year history of the annual Sun Carnival Parade. In 1973, the band again won the Grand Prize Sweepstakes Trophy at the Western States Music Tournament, and in 1977, they won their 20th top rating in 21 years of competition in El Paso.

After retiring, Berne expertly restored furniture for the antique business he co-owned for several years with his wife. He stayed active in music education as a band clinician and as an adjudicator for band contests in the southwest region. He also wrote a book, Correct Tone Production – The Band Method that Works for Wind and Percussion Instruments, and dedicated it "to the most important of all, the beginning band director."

Berne Glover passed away in El Paso on November 6, 2003, and is buried at Fort Bliss National Cemetery. He is survived by his wife, Rosemary, four children, eleven grandchildren and three great-grandchildren.

At his funeral service, many former students spoke about the positive impact he had on their lives. They remembered his strict discipline, but also noted his sense of humor. One 55 year old ex-Jefferson student put it simply when he said, "Mr. Glover took us from nowhere to somewhere." And according to one of his colleagues from Burges High School, Berne "planted seeds of excellence... in his students" that "are a legacy that will extend far into the future. Burges High School was a better place because he was there. We celebrate the exceptional man that he was."